These are the Ant-Man and the Wasp: Quantumania Easter eggs you might have missed. So, what's it gonna be, Ant-Man? The Marvel Cinematic Universe might be shrinking down to squeeze us into the Quantum Realm for Ant-Man and the Wasp: Quantumania, but that hasn't stopped Peyton Reed's threequel sowing some of the biggest seeds the MCU has ever seen.
Marvel's Phase 5 is gathering a loyal army of ants and marching into action, introducing Jonathan Majors as Kang the Conqueror – following the star's debut in sci-fi series Loki. Although Paul Rudd and Evangeline Lilly are back as the titular MCU characters Ant-Man and the Wasp, some have rightly given Quantumania the nickname of The Big Kang Theory.
Considering Kang has been a mainstay of Marvel Comics since 1963, there's plenty of source material to pull from for the blue Marvel villain. As with any Marvel movie, there's an anthill of references to the wider world of the Multiverse, the first four phases of the MCU, and beyond. If Anton, Antonia, and Anthony are ready, here are the Ant-Man and the Wasp: Quantumania Easter eggs you might've missed.
The Young Avengers
Even though Avengers: Endgame did Emma Fuhrmann dirty by recasting Cassie Lang, Kathryn Newton is now locked in as Ant-Man's daughter. Keeping it in the family, Cassie is sure to follow in her father's footsteps and has even required her own Pym Tech suit.
Quantumania stops short of using Csssie's superhero name, but we assume she'll take the mantle of Stature. The MCU has been teasing the Young Avengers for what feels like an eternity, but alongside WandaVision's Wiccan and Speed, we've got the likes of Hawkeye's Kate Bishop, Ms. Marvel's Kamala Khan, and even Loki's Kid Loki.
Cassie's giANT transformation honours her dad's part in Captain America: Civil War, with her praying it works before going supersized. Just like Scott, she craves citrus before shrinking back to normal size.
Look out for the Little Guy
It's safe to say Scott's Avengers fame has gone to his head, with the man behind the ant releasing his own memoir titled Look out for the Little Guy. Like Iron Man and Star-Lord, Scott's inflated ego is part of his swagger.
As well as reading an excerpt to a bookstore, we find out Scott has been listening to his audiobook in the car. Look out for the Little Guy is packed with Easter eggs of its own, referencing Avengers: Endgame events like meeting Rocket Raccoon and being turned into a baby by Hulk.
If you're disappointed you won't get to dive into the life of Scott Lang, worry not – you can actually buy Look out for the Little Guy. The book is out on September 5, and even if that's a while to wait, at least Quantumania will likely be on Disney Plus by then.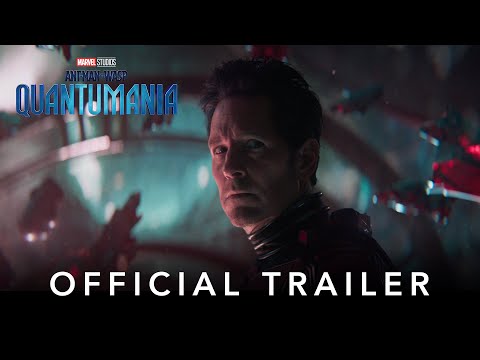 Mocking MODOK
The road to MODOK (Mechanised Organism Designed Only for Killing) in the MCU has been a long one, with the character being tipped for the first Iron Man movie. Peter Dinklage was later cast for Captain America and the Winter Soldier – before the baddie was swapped out for Alexander Pierce (Robert Redford).
We finally get MODOK in Quantumania, but giving us a typical MCU revamp, he's played by Corey Stoll. In the comics, MODOK was an Advanced Idea Mechanics employee called George Tarleton. Hoping to improve his intelligence, Tarleton underwent genetic experimentation that went wrong.
While Quantumania MODOK keeps his giant head, Tarleton is replaced by Ant-Man character, Darren Cross. Instead of genetic experimentation, Cross' MODOK is caused by the accident that brought him into the Quantum Realm. Instead of being the terrifying baddie he's supposed to be, this MODOK is the butt (literally) of the joke.
The Magical Jimmy Woo
It's obvious that Quantumania is there to set the stage for Kang, but for those who were excited to see the return of Randall Park's Jimmy Woo, it's sad to learn his magic act is coming on a little too well and he's done a vanishing act.
Woo first appeared in Ant-Man and the Wasp, assigned to watch over Lang's post-Civil War house arrest. Impressed by Ant-Man's sleight of hand, Woo continued working on his magic act when he returned for WandaVision. Having escaped the Westview Anomaly, Woo makes the briefest cameo imaginable.
During Quantumania's opening montage, Scott is enjoying his peaceful life – set to the theme tune of Welcome Back, Kotter. In a blink-and-you'll-miss-it moment, we see Scott Lang and the FBI agent are still friends, with the pair enjoying a light lunch.
Jack From Baskin-Robbins
How much has Baskin-Robbins paid to be the prominent ice cream brand in the MCU? When Scott was trying to support his family financially in the first movie, he briefly got a job at Baskin-Robbins under the alias of "Jack."
Having lied on his application form and taking an alias due to his criminal past, Scott was fired by the manager, Dale (Gregg Turkington). Jump forward to Quantumania, Ant-Man celebrity status means Baskin-Robbins has declared Lang "Employee of the Century."
The joke goes deeper, and when Scott tries to reach the Multiversal core, one of the many Ant-Men that comes to help is a variant of Jack. The whole alias is an Easter egg in itself, with it honouring Rudd's real-life son. Jack Rudd is just 17 years old and recently went viral for being a doppelganger for his dear dad.
Bring Back The Illuminati
A highlight of Sam Raimi's Doctor Strange in the Multiverse of Madness was the introduction of Earth-838's Illuminati. Led by a returning Patrick Stewart as Charles Xavier, there was Hayley Atwell's Captain Carter and a fan-casted John Krasinski.
There are questions about how/if the Illuminati could return, but there's an interesting nod to them when Kang mentions "incursions." Multiverse of Madness ended with Stephen Strange and Clea (Charlize Theron) dashing off to stop another incursion.
Kang says that if he doesn't leave the Quantum Realm, there will be multiple incursions. As these mutliversal tears lead to the events of 2015's Secret Wars comics, you can bet it'll be a jumping-off point for 2026's live-action Avengers: Secret Wars.
Who You Gonna Call?
The Quantumania trailer confirmed the A-list cameo of Bill Murray, and while some originally thought he'd be playing MODOK, he's actually a Quantum Realm official known as Krylar. In the comics, Krylar was a minor character in 1972's The Incredible Hulk #156 and died in the same issue.
Quantumania's Krylar doesn't get much of an origin story, although it's heavily implied that the Governor of Axia has some sort of romantic dalliance with Janet van Dyne when she was trapped down there. As only Murray can, he channels his inner Peter Venkmann with his usual comedic timing.
Because Janet left Krylar and his citizens to fend for themselves against Kang, Krylar ends up portraying our heroes to the Conqueror. The team manages to escape by enlarging a squid-like creature that tries to eat Krylar. Whether we'll see Murray again in the MCU remains to be seen.
Hiding A Villain
Alongside Janet's wink to shacking up with Krylar, Hank Pym admits that he also hit the dating scene while his wife was away. There's a throwaway mention of a woman called Linda, and although she fulfilled Hank's "needs," things didn't work out.
There's no one called Linda who he dated in the comics, however, he was originally married to a woman called Maria before he created his suit. The pair had a daughter together, with Nadia van Dyne becoming a villain known as the Unstoppable Wasp when she was raised as an assassin of the Red Room.
The MCU has already reworked the Pym family, with Lilly's Hope van Dyne being a new creation. Assuming that Hank and Hope are back for the next movie, some awkward family genre could make Nadia the movie's big bad. Also, it might actually give Lilly some lines this time around.
A Fan-Favourite Cameo
Critics lamented that Quantumania didn't feel like your "classic" Ant-Man movie, swapping the Earth-based adventures of the first two for a more cosmic outing. It also means we left behind a lot of side characters, including Luis (Michael Peña), Dave (T.I. Harris) and Kurt (David Dastmalchian).
Even if the X-Con crew were MIA, you might've been able to hear Dastmalchian in a new role as Veb. The pink blob got most of Quantumania's funniest lines, and when he wasn't pumping ooze into your mouth, he was getting personal about holes.
Veb took a blasting from Kang's forces, but as order was restored to the Quantum Realm, Veb (now with added holes) survived the war. Whether coming back as the Baba Yaga-obsessed Kurt or more from Veb, we're sure Dastmalchian will be back in the inevitable Ant-Man 4.
Watch Out Thor
Like Kang repeatedly warns us, time isn't as simple as you'd think. Unlike going in a line, it's more like a circle, meaning the multiple versions of the Avengers he's faced before have blurred into one.
We don't know who's suiting up for the next Avengers movies, but it wouldn't be an Avengers lineup without Chris Hemsworth's Thor. When Kang asks whether Ant-Man is "the one with the hammer," it's an ominous foreshadowing that the Conqueror has killed at least one Thor.
As Loki showed with alligators and Richard E. Grant, that doesn't mean it's Hemsworth's Thor that has kicked the bucket and will again. Still, with The Kang Dynasty and Secret Wars promising similarly franchise-shattering effects as Infinity War and Endgame, it would be the perfect time to write out another Phase 1 Avengers.
The More The Merrier
The big one is the Council of Kangs. This dangerous ensemble is pulled from the comics and appears in the Ant-Man 3 post-credit scene as a colosseum filled with Kang variants. There's even a one-for-one shot of the council from 1962's Avengers #292.
Exiled Kang said that others were coming and that our heroes should've just let him leave. Majors will presumably be pulling double duty on a lot of characters moving forward, but the big three we meet in the first post-credits are his Egyptian-themed Rama-Tut, what looks like the Scarlet Centurion, and the one known as Immortus.
The bearded Immortus is the oldest version of Kang and the monster he eventually becomes, so it makes sense he's the de facto leader here. Someone Majors presumably won't be playing is the Young Avengers hero known as Iron Lad, aka Nathaniel Richards. We're just hoping we'll get to see Kangaroo the Conqueror. Yes, he's an actual character.
A Timely Arrival
The second post-credit scene teases Kang's future and a potential plot point for the upcoming Loki Season 2. Victor Timely looks to be another Kang variant, hiding out in the early 20th Century and catching the attention of Tom Hiddleston's God of Mischief.
When showing off his "temporal marvels," Timely says, "Time is everything. It shapes our lives, but perhaps, we can shape it!." Is this just another Kang Variant, or is it THE Kang whose fate was left up in the air at the end of Quantumania? In the comics, Timely was Prime Kang, who travelled back to 1901, founded a town, and declared himself mayor.
Mobius (Owen Wilson) asks what they have to be scared of when looking at this mild-mannered inverter, but as Loki and fans of the series will know, he could mean big trouble. Even though the plot of Loki Season 2 is being kept under wraps, it looks like Loki and Mobius could travel the timeless to hunt down Kang Variants.
For more ant-sized misadventures, have a look at our guide to the Ant-Man cast, as well as our ranking of all the Marvel series. Check out our list of all the new movies, while you're here, too.