Who is in the Knock at the Cabin cast? Knock at the Cabin is the 2023 release from renowned thriller movie director M. Night Shyamalan.
Knock at the Cabin is M. Night Shyamalan's newest movie and it isn't one that fans of the director will want to miss. As we say in our Knock at the Cabin review it's comfortably the best movie he's released in several years. It follows a family on vacation, who find themselves under attack from a group of four strangers who tell them that they are the key to preventing the apocalypse.
Part of what makes the horror movie so effective is its excellent — small — cast. So let's take a look at the Knock at the Cabin cast, and learn more about the stars of the latest Shyamalan thriller movie.
Who is in the Knock at the Cabin cast?
Dave Bautista as Leonard
Ben Aldridge as Andrew
Jonathan Groff as Eric
Kristen Cui as Wen
Rupert Grint as Redmond
Nikki Amuka-Bird as Sabrina
Abby Quinn as Adriene
Dave Bautista as Leonard
Dave Bautista has, arguably, the biggest role as the leader of the four invaders. He gives his best performance here since starring as Sapper Morton in the science fiction movie Blade Runner 49, similarly soft and brimming with pathos. This is a great contrast to his physical size and intimidation and means that we're never quite sure what to make of Bautista as Leonard.
After Knock at the Cabin, Bautista will return to his superhero movie franchise as the MCU character Drax in Guardians of the Galaxy 3. When he's done with that, he'll be sure to take on more interesting roles like Leonard.
Ben Aldridge as Andrew
Ben Aldridge is best known for his roles on British TV series, such as the drama series Fleabag, and Our Girl. This is his biggest role to date, and he gets to step up to the plate alongside great performances.
His romantic connection with Jonathan Groff is utterly convincing, and heartfelt, and acts as the emotional core of the movie.
Jonathan Groff as Eric
Jonathan Groff has had a fascinating career, and his choices continue to be interesting with Knock at the Cabin.
Previously starring in the action movie The Matrix Resurrections as Agent Smith, and leading the Netflix series Mindhunter, Knock at the Cabin is his first foray into horror. Groff is also a ridiculously talented singer, as proved in the musical Hamilton and comedy series Glee, and uses that to great effect in this new movie.
Kristen Cui as Wen
Kristen Cui is the first face we see in the movie, as the young and inquisitive Wen. She plays the daughter of Andrew and Eric, who first meets Leonard while she's catching grasshoppers. Her performance as Wen is her first acting role, and it's an impressive debut for the young actor. Expect to see more of her down the line.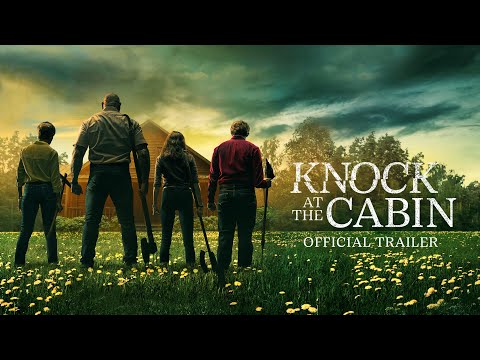 Rupert Grint as Redmond
Rupert Grint's role in Knock at the Cabin as Redmond is his second collaboration with M. Night Shyamalan, coming in alongside the TV series Servant. It's also his first major movie release since the end of Harry Potter, and will be the first time that a large audience has seen the actor in something new since the Harry Potter movies ended.
And, if you're expecting Grint's role in Knock at the Cabin to be anything like his turn as Ron Weasley then you're set for a shock. As Redmond, Grint plays an angry, violent, and ambiguous character, giving him a chance to highlight his range and flex his muscles as a performer.
Nikki Amuka-Bird as Sabrina
Nikki Amuka-Bird is one of the standouts in the Knock at the Cabin cast, but it's likely that audiences won't be too familiar with her work. She's starred in plenty of small TV roles but recently took on a main role in the sci-fi series Avenue 5. She's also worked with Shyamalan before, and she appeared in Old in 2021 as Patricia Carmichael.
Abby Quinn as Adriene
Abby Quinn plays Adriene in Knock at the Cabin. Adriene is a line-cook, and a mother, and gives an impressive performance here as someone wracked with fear and uncertainty.
If you recognise her, that could be from her minor role in Better Call Saul, where she plays Kristy Esposito. Despite only appearing in one episode, she stands out there just as she does here.
For more on Knock at the Cabin check out our guides on how to watch Knock at the Cabin, learn more about the Knock at the Cabin ending and everyone who dies in Knock at the Cabin, and you can also read our Knock at the Cabin interviews with director M. Night Shyamalan and Rupert Grint, and Ben Aldridge.