What is the Insidious 6 release date? Horror fans have been given another chance to delve into the ghost train darkness of The Further this year with a fifth Insidious movie. But is this the end, or are there more demonic beasties on the way?
Insidious fans have been treated to another entry in the series that has given us some of the best horror movies in recent years, and possibly some of the worst too, but we won't talk about those. As we explained in our Insidious 5 review, this is one of the best movies the franchise has produced in the last few years. With that in mind, the stage is set for another terrifying journey through the Red Door and into the chaotic realm of The Further. Surely?
Well, here's everything we know about the potential for future new movies in the Insidious series. Let's take a look at when the Insidious 6 release date might come around, which members of the Insidious 5 cast will return, and what the story might be.
Insidious 6 release date speculation
We think the Insidious 6 release date is unlikely to come around until 2026 at the earliest, but the movie has not even got the green light just yet.
In fact, we might have even longer to wait than that. Producer Jason Blum told Discussing Film the franchise is set to go dormant. He said: "It may not be a forever rest, but it's certainly going to be a very long rest. So, if someone comes up with some idea in 10 years, who knows? But there's not a plan — as there has been with every prior Insidious movie — there's no current plan in place for number six."
We don't think we can wait 10 years. It will seem weird as a horror fan to live in a world without another Insidious movie in the pipeline. They've become regular delights for us all.
However, the stars are very keen for more. In our Insidious 5 cast interview, Lin Shaye explained that she has loads of ideas for Elise, and Ty Simpkins was also open to making another movie. Hopefully the wait is shorter than Blum is planning.
Insidious 6 cast speculation
We think Patrick Wilson and Ty Simpkins will be back for more scares, and we suspect Lin Shaye will again return from the depths of The Further to be a part of the Insidious 6 cast.
The Insidious 5 ending very much left the door open for Josh and Dalton to use their astral projection abilities again. There's no hypnotist to make them forget this time.
And of course, it wouldn't be Insidious without Lin Shaye as Elise, as well as her ghost-hunter buddies Specs (Leigh Whannell) and Tucker (Angus Sampson). They're like the C-3PO and R2-D2 of the franchise at this point.
Insidious 6 predicted cast list:
Patrick Wilson as Josh Lambert
Ty Simpkins as Dalton Lambert
Lin Shaye as Elise Rainier
Leigh Whannell as Specs
Angus Sampson as Tucker
What will Insidious 6 be about?
The Insidious 6 plot is likely to journey into The Further, exploring the ways in which Elise is able to communicate from beyond the grave.
The conversation between Josh and an ethereal Elise at the end of Insidious 5 would seem to imply that Josh and Dalton have further adventures ahead of them in The Further. They now have knowledge of their powers, and how they can use them for good.
As for Elise, we've had two prequels exploring her life in the run-up to the first Insidious movie, and her demonic death at the end of it. We've had multiple hints of what Elise is still capable of doing within The Further, so it's time for the movies to actually give us more of her existence in the astral plane.
Perhaps we could get an entire movie set within The Further? That seems like the best way to go bigger and better with the franchise.
Is there an Insidious 6 trailer?
No, there isn't an Insidious 6 trailer yet, and you'll have to wait a long time yet as the movie hasn't even got the green light.
However, while you wait, we'd recommend you watch this short compilation of unsuspecting members of the public getting the crap scared out of them by a viral marketing stunt for Insidious 5.
It's always funny to watch people being terrified… as long as it's not us. Schadenfreude is alive and well. Sorry not sorry.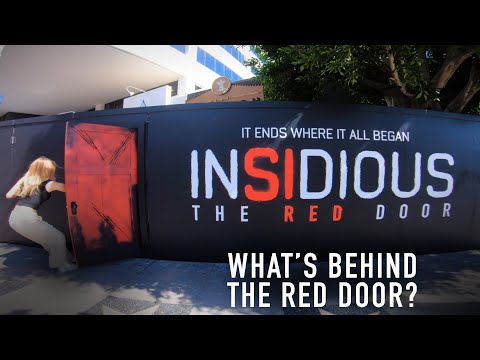 Where can I watch Insidious 6?
Insidious 6 has not yet been released, and so you can't watch it just yet. However, we've got a guide on how to watch all the Insidious movies in order, so you can get yourself up to date on all of the demons and scares so far. We've also explained how to watch them. Don't say we never treat you.
Meanwhile, check out our Patrick Wilson interview to find out whether Insidious 6 could be a musical. We've also explained why Josh and Renai split up in Insidious 5 and how to watch Insidious 5 on the best streaming services.
Or for more spookfests, find out why FNAF could be the start of an exciting horror movie trend and learn about how the best horror movie villain ever is saying goodbye. We've also delved into how Stephen King saved the Evil Dead franchise.