How long is Gran Turismo? This unusual video game movie is in theaters now in the UK, and from August 25 in the US. This movie is actually based on a true story of how a gamer who was obsessed with the racing game Gran Turismo won a competition and became a real race car driver. But what is the Gran Turismo runtime?
Video game movies are currently all the rage, and we've lost count of the crazy number of announcements there have been in the last couple of years saying that a movie based on a game is in development. The success of TV series The Last of Us, and the highest-grossing movie of 2023 being The Super Mario Bros Movie means that this trend is not going anywhere.
Gran Turismo is similar to Tetris (starring Taron Egerton) that was released earlier in 2023. It tells the true story of Jann Mardenborough, a teenager who won a contest to enter the GT Academy and trained to become a real racing driver. The Gran Turismo cast is led by Archie Madekwe, David Harbour, and Orlando Bloom. So – how long is Gran Turismo?
How long is the Gran Turismo movie?
Gran Turismo's runtime is 2 hours and 15 minutes. The movie based on a true story has a lot to pack in, starting with Mardenborough becoming one of the best Gran Turismo players in the world, then entering the academy and progressing through the rounds to compete as a real driver. The movie also covers a devastating crash that happened involving Mardenborough in 2015. You can find out more about the Gran Turismo true story in our guide.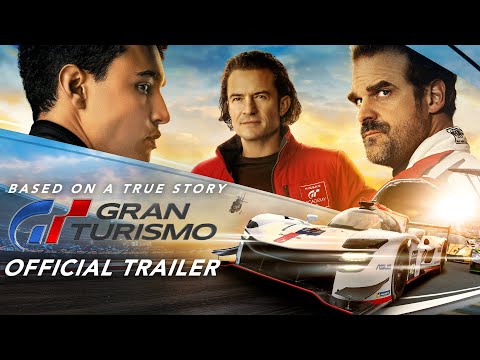 Despite this sports movie having an awful lot of plot to pack in, our Gran Turismo review says that it "gets off to a painfully slow start" and that it's "a shame that everything else around [the racing sequences] has the potential to make you fall asleep." Ultimately, the "lackluster scenes between the action kill what should have been a racing rush."
Therefore, although the 2 hour and 15 minute runtime doesn't sound too bad, it seems as though the movie would have benefitted from losing 15-30 minutes off the track. It may be wise to find out what other new movies are out at the moment.
If you're looking elsewhere for some speed and adrenaline, check out our guide to the best action movies and the best thriller movies.
If you're feeling the need, the need for speed, check out our guides to watching the Fast and Furious movies in order and to the Mission: Impossible movies in order.