The trailer for Gran Turismo has garnered plenty of attention. Not because it's particularly impressive or surprising, but because audiences have developed a Stockholm Syndrome-like affliction with it. If you've been to the movie theater at any time in the past few weeks (as we all undoubtedly have), then you'll have seen the Gran Turismo trailer.
It's become so prominent that it's become a meme in itself. Scroll along on social media, and you'll likely come across mention of this particular teaser accompanied by a GIF of Homelander from The Boys looking typically psychopathic as he stares at the big screen.
Whether this accidental marketing tactic will prove effective at the box office remains to be seen until the Gran Turismo release date hits, but if there's one thing we can confirm, it's that this trailer's attention is perfectly appropriate. Because, for better or worse (probably worse), the Gran Turismo movie itself plays like a trailer parody video for a fictional racing movie.
But fiction this is not. As the sports movie's marketing will tell you a hundred times over, Gran Turismo is based on the true story of Jann Mardenborough. As one of the best Gran Turismo players in the world, Mardenborough was awarded the opportunity to compete in the GT academy, and would go on to become a bona fide world-class racing driver. It's the stuff of dreams. Gran Turismo explores the dangers of this dream, and follows Jann in his admittedly incredible journey.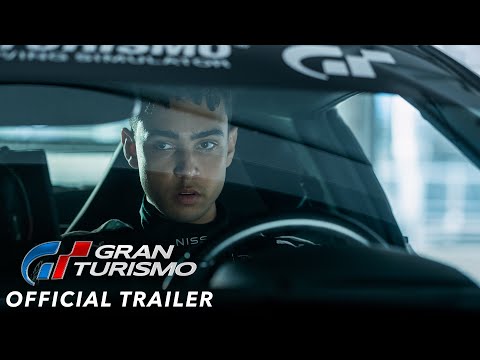 It's not surprising that we're beaten over the head with the fact that this is, in fact, a true story. If we weren't, then it would be easy to mistake Gran Turismo's premise for a plot point from The Office's Threat Level Midnight episode ("each year, the National Hockey League accepts one civilian amateur to play in the All-Star game"). Although this movie is based on real events, it doesn't stop it from appearing like a Saturday Night Live fake movie sketch come to life.
There's nothing wildly unpredictable or innovative about Gran Turismo's beats. You have the overzealous marketing bulldog Danny Moore (Orlando Bloom), the jaded ex-racing driver with both physical and emotional scars, Jack Salter (David Harbour), and of course, the young, plucky wunderkind Jann Mardenborough himself (Archie Madekwe).
Gran Turismo gets off to a painfully slow start and spends a good amount of mileage trying to catch up to itself. We begin establishing that Jann is obsessed with Gran Turismo and ranks as one of the best players around. His father (Djimon Hounsou) disapproves thoroughly and makes it known as much by walking around and asking Jann non-stop questions about what he wants to do with his life. The dynamic between the family is stilted, overflowing with exposition, and doesn't– wait, is that…Geri Halliwell?!
The action movie achieves the astonishing feat of being both built from cliché and also raising many questions that prod at the internal logic. If the GT Academy competition is supposed to have included all the best gamers in the world, then how is it that the winning group is composed solely of slim, attractive teens? Why are the characters reading their texts aloud when we're also being shown the texts on screen? Did Orlando Bloom just take off his blazer during a presentation, only to put it straight back on again?
Bloom's performance, all-in-all, is baffling. Granted, it's not his fault that the movie's dialogue seems plucked straight from the final piece of a performing arts course for tweens, but his inexplicable delivery and grandiose gestures may leave you wondering if the entire film is a very expensive skit.
Archie Madekwe is perfectly serviceable, if not slightly unenthusiastic and not particularly endearing, which is a problem when the entire premise revolves around him being the underdog we're supposed to root for. The anchor of the entire tale is David Harbour, who does his best with bland characterization and injects some much-needed charisma.
The movie fares better when it cuts to the chase (literally) and focuses on the racing sequences themselves. This is where a sense of style comes into play. Often, the visuals from the Gran Turismo game are utilized, which are sometimes needed to keep the audience on track during the most visually frantic peaks. The racing sequences, particularly during one horrific moment, have the ability to make your heart stop. It's just a shame that everything else around them has the potential to make you fall asleep.
It would be easy to misconstrue that the problem with Gran Turismo is that it's an adaptation of a major commercial IP, which is wrong. (It's the summer of Barbie, after all.) Gran Turismo has a problem because it's simply not as thrilling as it needs to be when it's not on the race track. Because of this, it'll never be able to compete against other, better movies of its kind.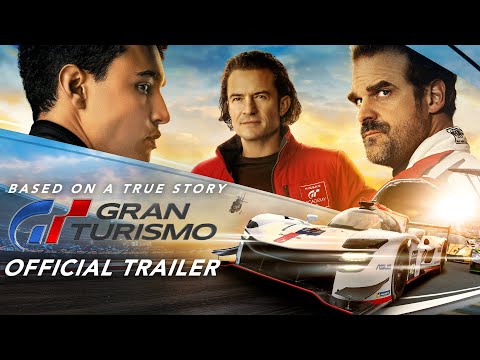 Take a look at the best thriller movies for some heart-stopping stories. Elsewhere, see what other new movies are coming out this year, and take a look at our list of the best movies of all time. You can also get a full breakdown of the Gran Turismo cast.
To see what big-screen dramas are to come, find out everything you need to know about the Dune 2 release date and Killers of the Flower Moon release date. You can also check out our Haunted Mansion review and Oppenheimer review, to see how other movies are faring.
Gran Turismo's unimaginative dialogue and lackluster scenes between the action kill what should have been a racing rush.