Since Ted Lasso hit our screens in 2020, we've had plenty of time to get used to his aggressively positive outlook. From the Ted Lasso cast to the famous biscuit recipe, the Apple TV Plus series has become something of an obsession for most.
But did you know that the first appearance of Ted Lasso was in the form of an NBC Sports commercial? In fact, this first round of the character was quite a bit different from the one we know now in the comedy series.
What's more, there's an unexpected reason behind the change that involves a certain US president.
The original Lasso character first appeared with a more quick-fire personality, with a little more pop and fire than the man we're used to. Even Sudeikis himself described him as "belligerent".
As it turns out, this newer, happy-go-lucky version of Ted Lasso could be down to a particular political influence, and one that vastly shaped the world at the time.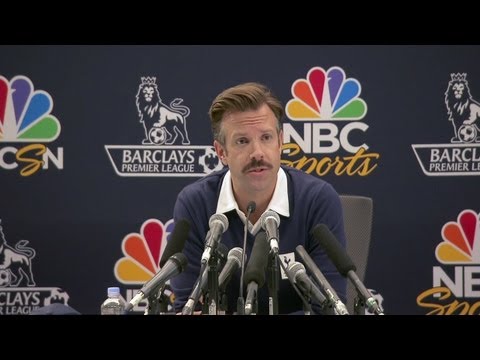 "It was the culture we were living in," Sudeikis told The Guardian with regard to the desire to change the character. "I'm not terribly active online and it even affected me. Then you have Donald Trump coming down the escalator. I was like, 'OK, this is silly,' and then what he unlocked in people… I hated how people weren't listening to one another."
"Things became very binary and I don't think that's the way the world works. And, as a new parent – we had our son Otis in 2014 – it was like, 'Boy, I don't want to add to this.' Yeah, I just didn't want to portray it."
Whether you prefer the slightly more hostile version of Ted in the commercials, or the puppy-dog optimism of the newer iteration, it's hard to deny that the upbeat nature of the TV series has added some much-needed sunshine into our culture.
All warmed up? Check out our list of the best sports movies of all time, the best action movies of all time, and our Ted Lasso season 3 episode 9 recap. Or, you can learn more about the unlikely origin of Ted Lasso's success.