Is Demerzel from Earth in Foundation? The ongoing mystery of Demerzel (Laura Birn) has been a core element at the center of Foundation, with the character increasingly moving to the forefront throughout the events of the second season.
In the latest episode of Foundation, which we examined in our Foundation season 2 episode 9 recap, one of the best sci-fi series on screens right now dropped a big revelation. We were granted an extended flashback sequence, telling us a lot more about Demerzel and how she came to be in the service of the Cleonic Dynasty.
That origin tale saw one of the best Apple TV shows make reference to a planet a long way from the fictional worlds of Trantor and Terminus. But is Demerzel from Earth in Foundation? We've grabbed hold of the Prime Radiant to answer the question as best we can in the complex universe of one of the best TV series on Apple TV Plus.
Is Demerzel from Earth in Foundation?
Yes, Demerzel is revealed to be from Earth in Foundation season 2 episode 9. So it's quite possible that the last person from Earth isn't a person at all, but a robot.
In the episode, Demerzel meets Cleon I as a child while she's imprisoned beneath the palace on Trantor. She tells him various stories about her 18,000 years of life, including of "a home planet called Earth". During his adult years, he brings her a gift from Earth in the box we've seen her with before, which features a design similar to the planets in our solar system.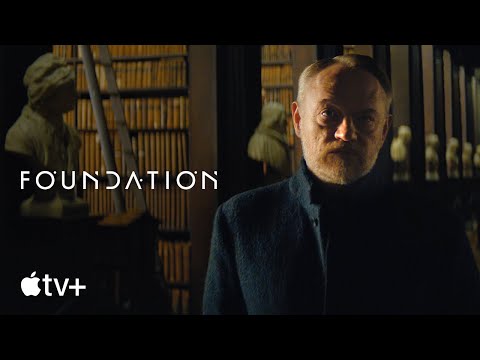 It's not the first time Earth has been name-checked in Foundation, with the first season featuring a scene in which Salvor Hardin's father said there was a myth or rumor that human beings originally came from a planet called Earth.
Those who've read the Asimov books will, of course, know more about the origins of Demerzel on the page. However, David S. Goyer's show has always used Asimov as a loose framework rather than a bible for adaptation, so there are few clues to be found there.
It's fascinating for Foundation to explicitly introduce the idea of Earth as a quasi-mythical location. We expect that we might have plenty more to learn about our own planet in the season two finale and beyond, which provides another wrinkle to the many worlds on which Foundation is set.
We're nearing the end of the Foundation season 2 release schedule now, so find out how to watch Foundation and have a look at the Asimov change we think made Foundation better. You can also learn more about Queen Sareth of Cloud Dominion.
Elsewhere, find out more about Apple's sci-fi output as we explain why For All Mankind is the natural successor to Star Trek and look ahead to the For All Mankind season 4 release date.