When Forrest Gump was released in 1994, nobody could have predicted just how successful the drama movie would become. Not Tom Hanks, who ended up earning one of his best pay checks of all time after taking a revenue-based salary. Not the filmmakers, who ended up becoming Oscar winners. And not even audiences, who ended up seeing the film in such astounding numbers that it became the second highest grossing movie of that year.
Forrest Gump spans genres, taking us from romance movie atmosphere to full-on war movie spectacle. Some even consider it to be one of the best movies of all time.
Amid the success of the movie, perhaps it has been lost on some audiences that the movie is actually an adaptation of a novel that was released in 1986 by Winston Groom. And, if it had followed the original plot of the book a little more closely, the movie's ending would have wound up looking very different.
In case you need reminding of the ending of the 90s movie, here's how it goes: Forrest (Tom Hanks), after spending the majority of the movie regaling his life's tale from a bus stop bench, finally tracks down his long-lost love Jenny. When they reunite, he discovers that not only does he have a young son, but also that Jenny has been diagnosed with a then-unknown disease.
The rest of the movie passes in a tear-filled haze. Jenny dies, we have a tearful monologue from Forrest, and the film ends with him sending his son to school. Cue music, and fade to black. But the novel's original ending would have given us something a little less…well, gutting.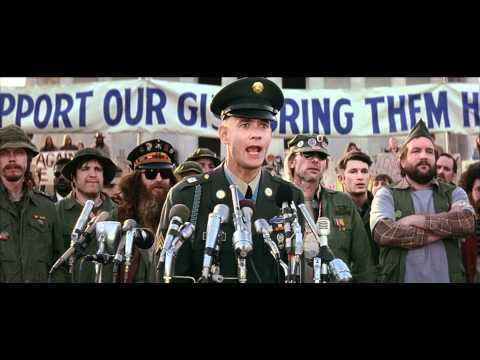 In the book, the ending follows a similar beat. Forrest locates Jenny, who tells him that he has a son. However, since Jenny is now married and has moved on, Forrest doesn't stick around. Instead, he moves to New Orleans with Lieutenant Dan and a (wait for it) orangutan named Sue.
It's not quite the poignant bittersweet ending we're used to thinking of when it comes to Forrest. But at least Jenny doesn't meet her untimely demise in this version. So while we're happy with the version we ultimately got, it's nice to know that Jenny, in another world, lived.
For more intense big-screen drama, check out how to watch The Whale, how to watch Everything Everywhere All at Once, and how to watch Elvis. Don't forget to also check out all the new movies coming your way this year, as well as all the best streaming services to watch them on.