What's the Five Nights at Freddy's 2 release date? After spending five nights at Freddy Fazbear's, the question of whether there'll be a sequel to follow the 2023 adaptation of the world-famous horror game still remains.
Although Five Nights at Freddy's didn't receive the best reactions from critics (find out where we stand with our own Five Nights at Freddy's review), there was always potential for new movies, and based on the box office earnings, we wouldn't be surprised if there were franchise plans to follow the video game movie. Step inside the pizzeria, and we'll tell you what we know.
Five Nights at Freddy's 2 release date speculation
There are no plans for a Five Nights at Freddy's 2 just yet, but director Emma Tammi has shared hopes for a sequel.
"I'm really hopeful that we'll be able to make a sequel," Tammi said [via Dexerto]. "And should we be able to, I think we would see our animatronics again. But I also think we would have some new friends to meet as well."
Let's look at the facts: We know that Five Nights at Freddy's made the budget back before it even hit theaters, thanks to the streaming and distribution rights. But on top of this, the movie set monster records at the box office over opening weekend, making an eye-watering $130 to start, and it's now the highest-grossing horror movie of 2023.
It was also reported that Matthew Lillard signed a three-picture deal for Five Nights at Freddy's. This, paired with the mammoth box office opening, means a sequel (and ongoing franchise) for the horror movie seems very likely to us.
In November 2023, The Hollywood Handle reported that sequel had already been greenlit, with Emma Tammi returning to direct. As of now, this claim hasn't been confirmed by the studio, so we might have to take this one with a pinch of salt.
The first movie took around two months to film and then had six months of post-production. Assuming another half year or so would be needed for development, if we got confirmation on a sequel by the end of 2023, then we could be looking at an early 2025 release date.
Five Nights at Freddy's cast speculation
Matthew Lillard and Elizabeth Lail would likely return to the Five Nights at Freddy's cast as William Afton and Vanessa, considering how the first movie ended.
In the first movie's final scenes, William Afton ends up being attacked by his own animatronics, and we think he could potentially wind up as the big bad (Springtrap) in the next movie. As we mentioned above, Lillard's supposedly got a three-picture deal, meaning he'd be more or less guaranteed.
Equally, Vanessa survives the violent chaos of the movie, and we know she'll have plenty to reckon with after finding out the truth about her father. Plus, these guys could both easily be featured even if the sequel ends up being set before the events of the first movie.
It's also perfectly possible that Josh Hutcherson and Piper Rubio would come back as Mike and Abby, especially considering how much of a connection Abby formed with the animatronics.
Here's the expected cast list for Five Nights at Freddy's 2:
Matthew Lillard as William Afton
Elizabeth Lail as Vanessa
Josh Hutcherson as Mike Schmidt
Piper Rubio as Abby Schmidt
Five Nights at Freddy's plot speculation
The appearance of Balloon Boy at the end of the FNAF movie makes it very likely that Five Nights at Freddy's 2 will focus on adapting the second game in the franchise.
The second game in the canon is a similar concept: a night security guard defending themselves against the evil animatronics at Freddy Fazbear's. It's a tale as old as time, really. Only this time, the night guard is Jeremy Fitzgerald. The restaurant is supposedly "new and improved," although the animatronics themselves are looking a little worse for wear.
Most of the elements are the same, with the exception of several new antagonists, and the ending reveals that it actually takes place in 1987, before the events of the first game. We could reasonably guess that the sequel movie would follow these events, making it a trend to adapt the FNAF games in order.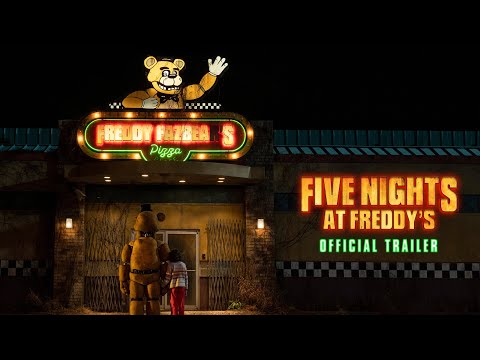 That said, a follow-up movie could mix up the arc of the games and include plot points from Five Nights at Freddy's 3, too. Since the first movie ended with William Afton (Matthew Lillard) being spring-locked (crushed inside the animatronic bunny costume), it would make sense to borrow elements from the third game, wherein the animatronics essentially make a haunted house, with Springtrap being the main villain.
Of course, we could also see Vanessa making a return as the sequel's villain, and we have a theory that she could end up playing Vanny, her murderous alter ego that's introduced in FNAF: Security Breach. Basically, there are nine FNAF games that could be used to inspire future stories, so that's a lot of material to pull from.
Is there a Five Nights at Freddy's 2 trailer?
There's no Five Nights at Freddy's 2 trailer since the sequel hasn't been greenlit yet.
Assuming our 2025 release date estimation has legs, we could guess we'd be getting a first look/teaser at the end of 2024. Until then, there's plenty to watch when it comes to FNAF since there are endless hours of game playthroughs online.
Or, you could dip into the games yourself! (If you're brave enough, that is.) In the meantime, there's also a behind-the-scenes video you can watch about the new movie, with some insight from the cast:
Where can I watch Five Nights at Freddy's 2?
Five Nights at Freddy's 2 would likely follow the same release pattern as the first, meaning the movie would be released in theaters and on Peacock.
Of course, if the first movie ends up being a box office flop, there's the possibility that the sequel could head straight to streaming services. Hey, it's not the first time it's happened. But we're movie theater lovers here, so we'd hope to see any follow-ups shine on the big screen.
For more on Freddy, check out our director interview with Emma Tammi to get the scoop on some behind-the-scenes details on the adaptation and learn about all the Five Nights at Freddy's Easter eggs. Plus, we've got a breakdown of the 10 things you didn't know about Five Nights at Freddy's.
You can also check out the best monster movies and best movies of all time. And, for future releases, we've got guides on Dune 2 and Deadpool 3.