What is the Fire Force season 3 release date? Indeed. It feels like we've been waiting forever for new episodes of Crunchyroll's hottest (literally) anime, so here we're going to go into all of the available information so you don't need to scroll through pages and pages of scraps.
The last time we had a new Fire Force was back in December 2020, which is far too long if you ask the fans of one of Crunchyroll's best anime series. Adapting the manga with success, Company 8 tried to snuff out the spontaneous combustion taking place across a burning Tokyo in the Shonen anime.
With a unique vibe and intense visuals, it's no wonder the Fire Force season 3 release date is highly anticipated. Read on for details on the expected cast, when the new anime could drop, and if it'll again be on the best streaming service for animated adventures.
Fire Force season 3 release date speculation
There's no official date, but given the length of production, delays during the pandemic, and more, we suspect Fire Force season 3 won't be released until the Spring of 2024.
Season 2 was announced officially back in May 2022. The final volume of the manga went on sale on the same day of the announcement, which lends itself to some murmurs of the anime hanging back to let the manga run its course to provide the series with more material.
Given that there's been no further details released, we don't expect to see it come out in 2023. Mid 2024 is probably the earliest we'd guess.
Fire Force season 3 cast speculation
We believe all of Company 8 will be back in the cast of Fire Force season 3 to snuff out some more flames, including Gakuto Kajiwara as Shinra.
There's no official word on the full roster of best anime characters for the new installment yet, but we'll get that in due time. See below for the expected Japanese voice actors as well as the English dub.
Expected Japanese Fire Force season 3 cast list:
Gakuto Kajiwara as Shinra
Kazuya Nakai as Captain Obi
Mao Ichimichi as Iris
Kenichi Suzumura as Takehisa
Aoi Yuuki as Tamaki
Yuusuke Kobayashi as Arthur
Saeko Kamijou as Maki
Kenjirou Tsuda as Joker
Expected English dub Fire Force season 3 cast list:
Derick Snow as Shinra
Jeremy Inman as Captain Obi
Alexis Tipton as Iris
Christopher Wehkamp as Takehisa
Jad Saxton as Tamaki
Eric Vale as Arthur
Sarah Roach as Maki
Sonny Strait as Joker
What is Fire Force season 3 about?
We think Fire Force season 3 will tie up the loose ends of the 'Stigma' arc from the end of season 2 before moving onto the 'Obi's Rescue' arc, which involves Company 8 fighting to get Captain Obi out of jail.
While there's no official plot synopsis yet, season 2 left some things unresolved, which gives season 3 a jumping-off point before diving into new territory. Well, sort of new; expect the manga plot to be the blueprint here.
With most of the source material used across the first two seasons of Fire Force, it's starting to make sense why we've had a long pause. There's now more to adapt, but with the manga ending in 2022, this could be the last installment of new episodes. It all depends on how the series chooses to pace itself.
Is there a Fire Force season 3 trailer?
There's no teaser trailer or footage of any kind for season 3 of Fire Force yet, but we expect some sort of poster or short teaser clip to come, perhaps in early 2024.
While we're probably far off from a full-length trailer, teasers and other key art are often released much earlier. So we'll likely have something to hold us over not too long from now.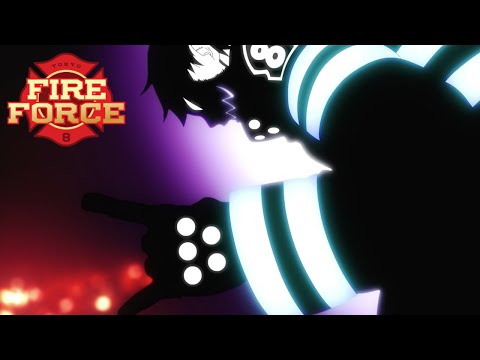 Where can I watch Fire Force season 3?
Season 3 of Fire Force will stream on Crunchyroll, but you'll also be able to buy it on VOD platforms such as Apple TV.
You've got good options if you'd like to revisit earlier seasons too, with episodes on Hulu and Funimation as well as Crunchyroll.
How many episodes of Fire Force season 3 will there be?
Considering there are 24 episodes in Fire Force seasons 1 and 2, we suspect season 3 will follow suit.
And with every episode so far in the 23-24 minute range, that's the length we imagine they'll be, too. We don't have episode descriptions or any details yet, though — they'll show up on Crunchyroll's Fire Force landing page in due course.
Unlike the best TV series from the prestige world, anime still usually ops for lots of serialized storytelling and higher volume. Different strokes.
There's not a lot to go on, but we do have other anime content to fan your flames. Check out the Baki Hanma season 3 release date and the Blue Exorcist season 3 release date (this is a lot of third seasons, huh?) guides for similar speculation or find out about the best anime movies and new movies of all genres coming soon.
Also, sorry to do this to you, but One Piece manga is now available for free, so you can ruin your life.