What is the Blue Exorcist season 3 release date? Based on the manga of the same name by Kazue Kato, in 2011, the world saw Blue Exorcist take the anime world by storm. However, with season 2 releasing in 2017, fans have long been waiting for news on a new chapter in the supernatural story. And thankfully, all our anime-viewing prayers have finally been answered.
That is right, Blue Exorcist (aka one of the best anime series of the 2010s) is finally coming back. If you need a quick recap, the anime follows the life of Rin Okumura, who finds out he is the son of Satan. With the goal of defeating his evil dad, Rin and his twin brother Yukio enroll at True Cross Academy, where we see them live a not-so-peaceful school life. Like most of the best shounen anime, Blue Exorcist is packed with action, drama, and plenty of cool powers.
And fans can expect to see even more twists, turns, and juicy story details revealed in the long-awaited upcoming season. So, to get you ready for the Blue Exorcist season 3 release date, here is our guide breaking down everything you need to know about the show's new cast, plot, trailer, and more.
What is the Blue Exorcist season 3 release date?
Good news, anime fans! Blue Exorcist season 3 will be released sometime in January 2024. The new release window was confirmed, with Aniplex dropping a teaser clip for the upcoming chapter on September 10, 2023.
While we don't have a solid date just yet, confirmation that the series will return in early 2024 is a treat. Blue Exorcist season 2 ended back in 2017, so any news about a follow-up season is overdue and welcomed, to say the least.
The new teaser also cleared up the confusion on whether this is a Blue Exorcist reboot or a continuation of season 2 – something fans have been wondering for quite some time.
Well, we now know that Blue Exorcist season 3 is titled Blue Exorcist: Shimane Illuminati Saga, and will cover volumes 10–15 of the original manga. This means that it isn't a reboot. So you better go watch seasons one and two for a story refresher before January, folks!
Who is in the Blue Exorcist season 3 cast?
Blue Exorcist season 3 will see the main cast from season 2 reprise their roles. So Nobuhiko Okamoto will be back to voice Rin Okumura, and Jun Fukuyama will be back as Yukio Okumura.
We also know that Izumo Kamiki will be a big anime character in the upcoming season, with her past explored in the Shimane Illuminati Saga. So Eri Kitamura is expected to return. Mephisto Pheles is also a big character in the manga chapters set to be covered in season 3, so Hiroshi Kamiya will be back on our small screens, too.
Here's the expected Blue Exorcist season 3 cast list:
Nobuhiko Okamoto as Rin Okumura
Jun Fukuyama as Yukio Okumura
Eri Kitamura as Izumo Kamiki
Kôji Yusa as Renzo Shima
Katsuyuki Konishi as Juzo Shima
Hiroshi Kamiya as Mephisto Pheles
Ayahi Takagaki as Kuro
Yuuki Kaji as Konekomaru Miwa
Kazuya Nakai as Ryūji Suguro
Keiji Fujiwara as Shirō Fujimoto
Rina Satou as Shura Kirigakure
Kana Hanazawa as Shiemi Moriyama
We also expect to see more casting news soon since we know that Izumo's mother and family will be making an appearance. And finally, expect to see the anime villain, Michael Gedoin, getting some evil screen time this season. Stay tuned for more updates!
What will Blue Exorcist season 3 be about?
As mentioned above, Blue Exorcist season 3 will cover volumes 10 to 15 of the original manga. This means that fans can expect to see two arcs adapted in the anime: the Shimane Illuminati arc and the Academy Seven Wonders arc.
So, the upcoming season will have two major focuses. The first is Izumo's tragic past and backstory. The second plot thread will revolve around the evil Illuminati group. For those new to Blue Exorcist, the Illuminati group is the organization whose main goal is to merge the realms of Assiah and Gehenna together and completely revive Satan.
The group is also a fan of horrific human experiments, and things get messy once an investigation reveals that the evil organization has a spy at True Cross Academy. War is declared, but this secret group is also involved with Izumo's family.
It turns out that Izumo belongs to the prestigious Kamiki family. And her mother holds the power of the Nine-tails demon fox. Fans can expect to see Illuminati researcher Michael Gedoin experimenting on Izumo's mother as he tries to transfer the Nine-tails to Izumo instead.
We don't want to give too much away, but let's just say the whole experience is pretty heartbreaking and offers some quality insight into all the characters. In terms of plot, let's be honest, though, things can change. Past seasons of Blue Exorcist did have filler and add tweaks to the source material (we are looking at you, season 2).
So, we don't know if season 3 will still be strictly faithful to the manga or not yet. Hopefully, the series doesn't stray too far from the original story since we are heading into one of the most exciting arcs that Blue Exorcist has to offer. We'll keep you posted if any big story revelations are announced.
Is there a trailer for Blue Exorcist season 3?
Yes! The first teaser trailer for Blue Exorcist season 3 dropped on September 10, 2023.
In the short clip, fans got a firm release date window for the new chapter and a brief look at some fresh footage. In the clip below, we see some cute foxes (hinting at Izumo's upcoming storyline) and witness characters constantly mentioning betrayal – it looks like they are really pushing the dramatics for season 3, right?
The footage is still too short for us to gain a full picture of what the upcoming season will look like, so we are still looking forward to a full trailer release soon. But for now, this teaser is enough to get us excited for the long-awaited chapter in Rin's story. Check out the trailer for yourself down below: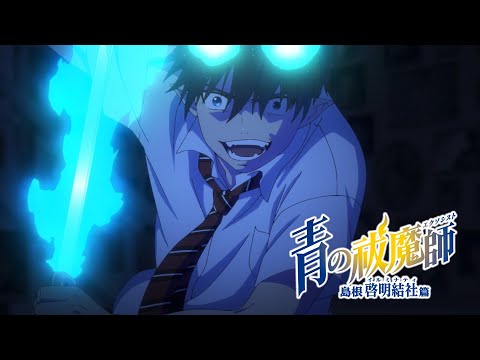 Where can I watch Blue Exorcist season 3?
Fans will be able to watch Blue Exorcist on Crunchyroll when it releases.
That is right, Netflix fans; unfortunately, Blue Exorcist is no longer on the streaming service, and there are no current plans to bring it back to the streamer either. However, the good news is that Crunchyroll is the best home for anime, and you can watch all the past seasons of Blue Exorcist over there, too.
There are also plenty of other shounen anime for you to enjoy, such as One Piece, and Demon Slayer. So, we highly recommend signing up for a Crunchyroll membership if you haven't already.
How many episodes will Blue Exorcist season 3 have?
We expect Blue Exorcist season 3 to be on the longer side and have 25 episodes. Season 1 of the series had 25 episodes, while season 2 had 12.
However, since the upcoming chapter is expected to cover two arcs, we are guessing it will need to have more than 12 episodes to get through all the source material. We could also see the anime get broken up into two parts, which seems to be the trend with releases recently.
Baki Hanma season 2 had a scattered release, and don't get us started on the upcoming second part of Attack on Titan season 4, part 3 release date. Hopefully, a release plan for Blue Exorcist season 3 will be announced soon. Until then, keep your eye on this page for more updates.
For more top picks, here are our lists of the 10 best anime for beginners to watch right now, all the new anime heading our way, and the best horror anime of all time. We also have guides on everything you need to know about Demon Slayer season 4, and Baki Hanma season 3.
Finally, if you need an anime break, check out our lists of the best TV series of all time and the best movies you can watch right now.