Is Air streaming? Ben Affleck and Matt Damon joined forces once again this year for a business biopic set in the offices of Nike as the shoe company tries to target the basketball market by wooing Michael Jordan. If early reviews are anything to go by, the movie could be a slam dunk.
The new movie sees Ben Affleck behind the camera as director for the first time since the thriller movie Live By Night in 2016. He also stars in this new contender for the best movies based on a true story as Nike co-founder Phil Knight, with Matt Damon as salesman Sonny Vaccaro. Viola Davis and her real-life husband, Julius Tennon play Michael Jordan's parents.
If that's enough to get you intrigued, you'll want to know how to watch Air. Fortunately, we've got you covered on how to get your eyes on one of the best sports movies of the year as soon as possible.
Where can I watch Air?
Air is still showing in some cinemas, and is available to watch on Prime Video globally from May 12, 2023.
There are a few options to watch one of the best Ben Affleck movies in years, but Amazon Studios had a hand in getting the film out into the world. So its debut on the Prime Video streaming service is the main place to find it online.
Is Air streaming?
Air is available to stream on Prime Video worldwide from May 12, 2023. The movie has finally set its streaming service debut, and it will be available for Prime Video subscribers.
Can I watch Air online?
You can watch Air online via Prime Video from May 12, 2023. That's likely to be the only place to watch one of the best Matt Damon movies in years online, for now at least.
Is Air on Netflix?
No Air isn't streaming on Netflix. Sorry! And given we know that Air is streaming on Prime Video, it's likely to remain bad news for Netflix subscribers in the near future.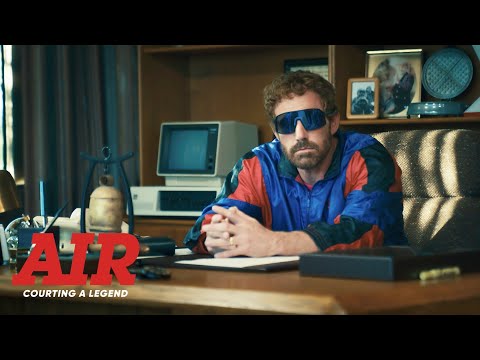 Is Air on Disney Plus?
No, Air is not on Disney Plus. And, to be honest, it's very unlikely that the movie will show up there in the near future. Disney Plus tends to host movies made by the Mouse House, or one of its other companies.
Is Air on Prime Video?
Good news, Air is on Prime Video in more than 240 countries from May 12, 2023. Amazon Studios had a hand in getting the movie made, so it's debuting on the Amazon-owned streaming platform.
Is Air on Blu-ray?
No, Air is not on Blu-ray. We don't know for sure whether the movie will be available as a physical media release, but we'll keep our eyes open.
To find out more about the best movies you can stream right now, check out our lists of the best Netflix movies, the best Disney Plus movies, and the best Amazon Prime movies.
And for some of the other big-hitting 2023 movies heading to the big screen, we've got you covered on the Fast and Furious 10 release date, The Meg 2 release date, and the Oppenheimer release date.