Hulu is getting rid of The Lord the Rings movies next month — so if you were planning on revisiting the Shire, you better make it quick.
The epic adventure movies, which are based on JRR Tolkein's novels, are indisputably among some of the best movies of all time. A timeless tale of friendship, power, and corruption, the Lord of the Rings trilogy was directed by Peter Jackson.
The three movies are all centered around the One Ring — a mysterious, powerful relic that contains part of the might of the Dark Lord Sauron. The Ring's extraordinary power and ability to corrupt all those that come into contact with it means that the fate of Middle-earth hangs in the balance if it is not destroyed.
After The Ring finds its way to Frodo Baggins (Elijah Wood), he and eight others, who form the Fellowship of the Ring, decide that in order to prevent Sauron's return to power, the Ring must be destroyed.
So, Frodo and his best friend Samwise Gamgee (Sean Astin), undertake the long and dangerous journey to the only place where the Ring can be truly destroyed: Mount Doom in Mordor.
Along with Wood and Astin, a number of famous faces made fantasy movie history by bringing beloved Lord of the Rings characters to the big screen, including Ian McKellen, Christopher Lee, Cate Blanchett, Andy Serkis, Sean Bean, Orlando Bloom, John Rhys-Davies, Billy Boyd, Dominic Monaghan, Hugo Weaving, Liv Tyler, and Viggo Mortensen.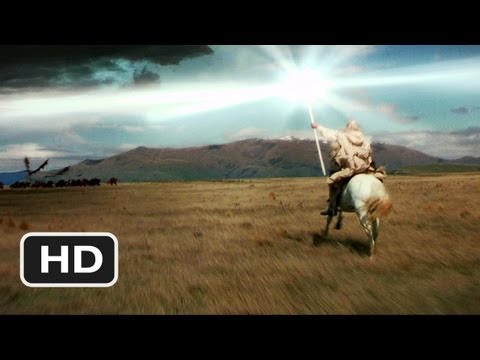 Cumulatively, the trilogy has been nominated for 30 Academy Awards — of which they won seventeen. But the second and third chapters of the trilogy — The Two Towers and Return of the King, will be leaving streaming service Hulu on September 30.
In other words, if there was ever a time to watch the Lord of the Rings movies in order, it's now. But even when the films come off Hulu, all is not lost. The original trilogy is available to stream for free for Max (previously HBO Max) subscribers in the US, and digital editions of all three of the films are also available to purchase and rent on both Apple TV Plus and Amazon Prime Video. So, while you may have to make Unexpected Journeys to stream Jackson's trilogy, it's by no means impossible.
While you're here, check out our guide on the new Lord of the Rings movie along with our explainers on The Lord of the Rings cast, Gollum, Aragorn, and The Lord of the Rings War of the Rohirrim release date. Or, keep it broad by checking out all the new movies coming out this year.