Too often, videogame adaptations are dismissed in the land of TV and film. Granted, there have been some bad video game movies over the years (cough, Mortal Kombat: Annihilation, cough), but really, the virtual medium is packed with tons of thrilling stories and has a well of untapped potential.
The most recent testament to this fact is HBO's hit horror series The Last of Us. Based on the 2013 survival game of the same name, The Last of Us proves that a good story can stand the test of medium changes, shattering the false videogame adaptation curse once and for all. Telling the story of The Last of Us characters, Joel and Ellie, as they navigate a post-apocalyptic world filled with cordyceps-infected monsters, the TV series has heart, suspense and has already marked itself as one of the best shows of 2023.
And let's make this clear, HBO's success isn't a fluke. The Last of Us is considered to be one of the best videogames ever made, thanks to its writing. With that in mind, tons of other amazing videogame narratives are dying for the TV treatment, too. So, here are our top five videogame series that we believe should be the next titles to blow us all away after The Last of Us finishes its run.
5 videogame TV series that need to happen:
L.A. Noire
A Plague Tale: Innocence
Red Dead Redemption
Hotline Miami
Grand Theft Auto V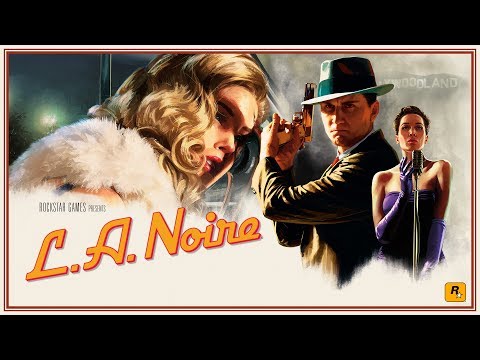 L.A. Noire
At the top of our list for videogames that need a TV adaptation is L.A. Noire – the detective adventure from Rockstar Games. It has drama, suspense, car chases, and all the moody and sun-soaked aesthetics of old-timey Hollywood. What more could you want?
Set in 1947 Los Angeles, the game follows detective Cole Phelps who soon finds his life in turmoil after investigating a morphine distribution ring involving several of his former comrades from World War II. The game is visually stunning, brilliantly written, and has plenty of side quests, cases, and enough substance in its main story to justify a season or two.
It is no secret how popular crime series are, and with a script that is as cinematic and intriguing as L.A. Noire's story, it's obvious that we would have another hit show on our hands. So what are you waiting for, networks? Give us what we want!
A Plague Tale: Innocence
Videogame series such as The Last of Us and The Witcher have proven that fans love to watch some dark fantasy and gruesome pandemics when it comes time to turn the TV on. With that in mind, a drama series about two orphans navigating a world gripped by the black plague would have no problem racking up those viewership numbers.
During the Hundred Years' war in 1348, siblings Amicia and Hugo become orphans after their family is slaughtered by the French Inquisition. It turns out that the Inquisition is after Hugo since there is an ancient curse that is attached to their family's bloodline. Their quest for survival and to find a cure for Hugo leads to constant danger, death, and some pretty gnarly plague rats.
A Plague Tale: Innocence is already made for TV, it has the tragic Game of Thrones characters' mentality, high stakes, and a mystery. Also, just think of how cool it would be to see swarms of killer rats on our small screens.
Red Dead Redemption
If the hit drama series Yellowstone has taught us anything, it is that people love TV cowboys. Released in 2010, Red Dead Redemption is considered to be one of the best videogames ever made – largely due to its impressive narrative that runs like an award-winning Western movie.
The story is clean and simple but incredibly effective. The outlaw John Marston is forced to hunt down the members of his old gang in order to see his wife and son again. There are plenty of TV options for a Red Dead Redemption series too.
We could have a show that focuses purely on Red Dead Redemption, and then a spin-off for the game's sequel, Red Dead Redemption 2 (the prequel which focuses on Arthur Morgan) – think Breaking Bad and Better Call Saul.
Or we could have a straight chronological epic starting with Red Dead Redemption 2 leading up to the ending of Red Dead Redemption. The possibilities are endless, and this game is just dying to have someone adapt it for TV.
Hotline Miami
Hotline Miami would undoubtedly make for one of the best surreal thriller series if it were ever to be adapted. The top-down action videogame, published by Devolver Digital, is set on the neon streets of Miami in 1989 and follows Jacket – a man who puts on various animal masks and has a tendency to engage in some massacres.
The main hook of Hotline Miami is the mystery behind who keeps contacting Jacket to put out hits on the Russian mafia, and Jacket's overall warped psyche unravelling with each killing spree. It is psychological, violent, and filled with strange narrative decisions that all keep you hooked.
In short, a Hotline Miami series would make great weekly cliffhangers, and with the game's lead narrative influence being David Lynch movies, the story is already suited for gasps and intrigue.
Grand Theft Auto V
Grand Theft Auto is a videogame series with history and accolades to back its name up. However, Grand Theft Auto V is a title that can hold its own away from the franchise's legacy – thanks to its killer story.
The plot of Grand Theft Auto V screams with potential and has the capacity to give us the next big crime-focused series like The Sopranos or Breaking Bad. Following three 'protagonists'— the retired robber Michael De Santa, gangster Franklin Clinton, and drug dealer Trevor Philips – the game details a number of high-stakes heists, as the trio find themselves under mounting pressure from a corrupt government agency.
There are strong interpersonal relationships, heists to work as a basis for episodes, and plenty of adrenaline, tension and violence that can keep us glued to our small screens. Let's just hope that we won't be waiting for a GTA 5 show as long as we've been waiting for the game's sequel title.
If you are keen for more Last of Us content, here are our guides explaining FEDRA, and who are the Fireflies. You can also check out our guide to The Last of Us cast. Or, for new releases, here are all the new movies heading our way in 2023.