When is the Gen V release date? After three seasons, The Boys is branching out to show us more of the utter depravity that exists within the world of supes.
Stepping away from Butcher and Homelander, Gen V focuses on up-and-comers. The thriller series, based on a volume of the original comic, takes place in a school for gifted youth. Don't be fooled; this won't be anything like the teachings of Professor X in the X-Men movies.
Given what The Boys has accomplished so far, we have high hopes for this sci-fi series. Well, "high hopes" mightn't be the right phrase, you understand. So, when is the Gen V release date? Scroll right this way.
Gen V release date speculation
Gen V is expected to be released in late 2023. Filming was completed in 2022, so the show won't be delayed by the 2023 Writers Strike, and a 2023 release window was given without further update.
We'll keep you informed should this move. Either way, expect to hear more soon!
Gen V cast
The cast of Gen V is led by Jaz Sinclair and features Clancy Brown and Jensen Ackles. Sinclair portrays Marie Moreau, one of the leaders of the team that can manipulate her blood.
She's joined by Chance Perdomo, Maddie Phillips, Patrick Schwarzenegger, and more at Godolkin's school. All young people hoping to become the best heroes they can be — who knows, maybe they'll get some guidance from The Boys cast too.
The confirmed Gen V cast list:
Jaz Sinclair as Marie Moreau
Chance Perdomo as Andre Anderson
Lizze Broadway as Emma Shaw
Maddie Phillips as Cate Dunlap, a mind empath.
Derek Luh and London Thor as Jordan, a gender-shifter.
Asa Germann
Shelley Conn
Patrick Schwarzenegger as Golden Boy
Sean Patrick Thomas as Polarity
Marco Pigossi as Doctor Edison Cardosa
Jason Ritter
Alexander Calvert
Clancy Brown as Richard 'Rich Brink' Brinkerhoff
Jessie T. Usher as Reggie Franklin/A-Train
Colby Minifie as Ashley Barrett
P.J. Byrne as Adam Bourke
Jensen Ackles as Ben/B.C.L. RED/Soldier Boy
What is Gen V about?
Gen V focuses on a group of college students at Godolkin University School of Crimefighting, essentially the X-Men of The Boys universe. The show will follow one group of students in particular as they grapple with their aspirations, the dark underbelly of becoming a super, and each other.
There's one volume of the comics as source material, and like a lot of The Boys in print, it's pretty dark and satirical. Gen V should retain that bite without being quite as mean and callous, though only time will tell on that.
Gen V trailer speculation
The first trailer for Gen V arrived in December 2022. We don't get many story details, but it's a bloody affair that features a couple of stars from The Boys.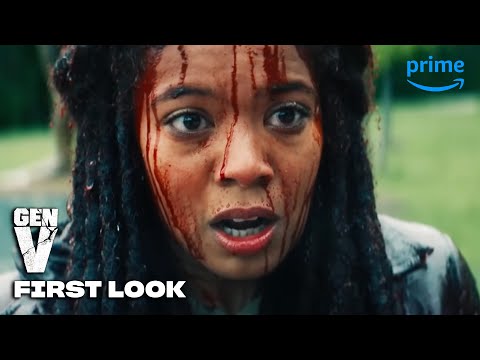 Where can I watch Gen V?
You'll be able to watch Gen V on Amazon Prime Video, exactly the same place as The Boys. We expect episodes to come out weekly, just like The Boys.
You can sign up for a free trial on Amazon Prime here, so you'll be all set up when Gen V arrives!
How many episodes will be in Gen V?
Based on The Boys, Gen V will have eight episodes per season. This is how many each season of The Boys has had, and we don't imagine there'll be much deviation.
Of course, we could get more, and we could get less — stay tuned!
That's everything we know about Gen V. Our lists of the best Disney Plus shows, and the best Apple TV shows will give you more great telly to stream, and we have guides on The Boys season 4 release date and the Invincible season 2 release date. Or, check out the best TV series of all time.