What happens at the end of Talk to Me? If you're a fan of a good horror film, then we've got a recommendation for you. We loved the incredible Talk to Me from directors Danny and Michael Philippou.
Talk to Me follows Mia (Sophie Wilde), a teen girl trying to move past the unexpected death of her mother. When her friends start playing with a porcelain hand that allows one to contact the dead, Mia's inexorably drawn to The Hand, which promises the possibility of contacting her mom. But you don't need me to tell you that. If you're here, you've probably already seen the film and know it's one of the best horror movies of the year (Read our Talk to Me review if you don't believe us).
No, you're here because you've seen Talk To Me and have been left scratching your head by the ghost movie's bamboozling ending. Well, don't worry, dear reader, we've written a Talk to Me ending explained to relieve that itch in your brain. Just don't stay too long, OK? Otherwise, we might never let you go. Warning, spoilers from this point on…
Talk to Me ending explained
At the end of Talk to Me, Mia is driven insane by the spirits of The Hand, specifically one that takes the form of her mother, and she tries to murder her friend Riley. At the last minute, she overcomes the ghosts and sacrifices herself instead. Unfortunately, this act dooms Mia to purgatory, and as Talk to Me draws to a close, we see her spirit being summoned by The Hand.
But how did we get here? Well, Mia and her friends actually begin the movie by having fun with The Hand. Mia describes summoning the ghosts and being possessed by them as euphoric, and it appears using The Hand has an addictive quality.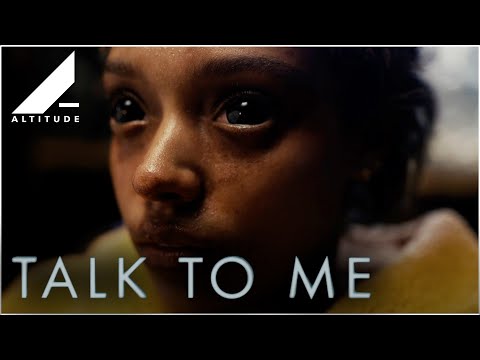 This leads to Mia using it with a group of friends, including her bestie Jade and Jade's brother Riley. Unfortunately, Riley, who's younger than the rest, becomes enamored with the idea of having a go, but when Mia finally lets him, things take a dark turn.
The spirit that enters Riley's body begins to talk with Mia's mom's voice before slamming Riley's head into a desk. As the ghost mutilates Riley's body (even attempting to rip out one of the boy's eyes), Mia and her friends do what they can to stop the spirit, eventually knocking the boy out.
Horrified at what happened, the group calls the police and is sent home by officers. Mia, however, has secreted The Hand in her bag and begins using it by herself to talk to the ghost of her mother. As she uses it more and more, her perception starts to alter to the point where she no longer needs The Hand to hear or see spirits.
Desperate to try and help Riley, who's placed into a coma after the ghost possessing him once again tries to kill his host body, Mia and Jade use The Hand by Riley's hospital bed, where they learn what the ghosts want. They're trying to kill Riley so they can keep his soul forever, and we get terrible flashes of his spirit being tortured by the ghosts.
With seemingly no way to help Riley, Mia returns home, where she's confronted by her father. The ghosts, however, use this moment to manipulate Mia, and she ends up seriously wounding her dad, believing he was attacking her when he was, in fact, trying to help.
With Mia increasingly under the spell of the spirits of The Hand, the ghost of her mother convinces her to kill Riley so she can "look after him". Mia then makes her way to the hospital and takes Riley out of the ward towards a busy highway. As the cars race by, the ghosts tell Mia to push the boy into the road, but Mia refuses.
Instead, she throws herself into the path of a car. As a dazed Mia wanders back inside the hospital, she sees her friends and family leaving the hospital, seemingly unable to hear her. As the lights in the hospital go out one by one, Mia starts to move towards a distant light, eventually finding a burning candle and The Hand on a table.
Gripping The Hand, Mia finds herself facing a Spanish-speaking man who flinches in horror at the site of Mia, just as she and her friends did earlier in the movie. The implication is that Mia has died and become a spirit of The Hand (Check out our article explaining everyone who dies in Talk To Me for more on that).
If you've been left as haunted by the events of Talk to Me as us, you'll want to check out some of our incredible ghostly content. We've explained what the ghosts in Talk to Me are, where The Hand came from, and looked into whether that ghost was really Mia's mother.
We've also got a list of the best monster movies and individual guides to the Saw X release date, The Conjuring 4 release date, and The Nun 2 release date.
Finally, check out our list of all the new movies coming out this year and our guide to the 101 best movies of all time. You might find some horror greats on there.