Talk to Me is the new horror on the block, and what an entrance it makes. While a demonic hand and some unrelenting ghouls are the stars in this genuinely unnerving tale, Talk to Me focuses on Mia, a young woman who is spiraling from the unexpected loss of her mother and finds solace in a bizarre new party trick discovered by her schoolmates.
The teenagers take turns in holding an embalmed hand, from which they can communicate with the dead and let them take possession of their bodies for no more than 90 seconds.
The rush that comes from the experience is addictive, like a paranormal drug, and the kids soon become completely blind to the dangers that come with this strange form of adrenaline seeking.
It might sound like Flatliners-meets-Point Break, but Talk to Me is something entirely different. Possession is a trope we've seen played out time and time again in some of the best horror movies, and Talk to Me is a fresh and sharply executed take on this sub-genre that keeps the audience guessing at every electrifying turn.
Directed by Australian brother duo Danny and Michael Philippou (who previously found fame from their YouTube channel RackaRacka), this feature film debut is no doubt a strong one. From the opening sequence that drops us in the middle of a party where a tragic attack strikes, the audience is thrust into a sense of unease and never given reprieve throughout the rest of the movie.
Talk to Me has all the elements of a good horror flick; a dog, inebriated teenagers, and spooky visions, but still manages to remain genuinely unpredictable. There's a lot of flair hidden in the simplicity of the concept, which neither over-explains nor leaves us floundering for more context.
Talk to Me is gory, almost shockingly so at times. Not because it strives to be sadistic, but because it's impeccably executed. The movie knows when to both obscure and bombard us with horrific imagery, striking the perfect balance between heart-dropping jump scares and long drawn-out shots of almost unbearable visuals.
There is a sense of distinct style here, particularly in the possession scenes themselves. Talk to Me achieves the tricky thing of combining visual art with effective scares. Some notably dynamic sequences and clever camera trickery have you looking at every corner of the screen, wondering if there's something you're about to see. That's the trick, but the fact that you rarely see the thing when you think you're supposed to is the magic.
Talk to Me trusts its audience by not wasting time with an overt backstory for the all-important hand. Aside from a throwaway line, not much attention is spent on the whys or hows of the hand doing what it can do, meaning more time is dedicated to the shtick, resulting in a much slicker form of entertainment.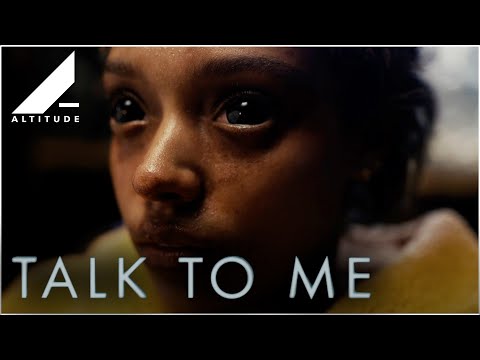 It's a shame that Talk to Me will likely fly under the radar considering it will drop during the Barbie and Oppenheimer fallout. But if you have even the smallest ounce of cinematic energy leftover, be sure and make time for the little horror that could. It's well worth it.
Talk to Me will be released in theaters on Friday July 28, 2023.
For more on what's to come this year, you can see our breakdown of all the new movies, or revisit some classics with our best movies of all time list. Elsewhere, see what we thought of 2023's other films with our Mission Impossible 7 review, Barbie review, and Oppenheimer review.
And if you want more horror, be sure and check out everything we know about The Exorcist: Believer release date and Five Nights at Freddy's release date. Plus, find out how to be a final girl in 2023.
Slick, scary, and wildly entertaining, Talk to Me is one of the most original and memorable horror movies of 2023 that holds you in its grip and refuses to let go.