The best sci-fi introduces us to new worlds and new creatures, with the ability to tell us something about our own real world in the process. Also, sometimes, it's just really, really cool to zip around in a spaceship.
That's certainly what we're hoping for from Starfield when it arrives on the video game landscape in September. Starfield will allow us all to explore hundreds of different worlds throughout the Settled Systems amid the turmoil of the Colony War, as our friends at PCGamesN explained in their Starfield review.
Fans of the best sci-fi series and the best science fiction movies will, of course, be very familiar with the joy of interplanetary exploration and the terror of spacefaring war. But if you need more great entertainment to scratch that Starfield itch, here are some of the best TV series to watch while you wait for the game's arrival.
5. Star Wars: The Clone Wars (2008 – 2020)
Bit obvious, innit, to include Star Wars? When you're thinking of war among the stars, there's only one place to go. But The Clone Wars particularly suits those of you wanting to scratch the Starfield itch because it's the series that has shown us more of the galaxy far, far away than any other.
As the Jedi and the Grand Army of the Republic battle the droid army of the Separatists, they visit dozens of new planets and new races of creatures – sometimes for diplomacy and sometimes to swing a lightsaber around. It's not all gold, but when Darth Maul turns up, the presence of one of the best Star Wars villains takes things to a new level.
4. Stargate Atlantis (2004 – 2009)
A spin-off of Stargate SG-1, Atlantis introduced a new team of intrepid adventurers as well as a whole new galaxy to explore. Based in the ancient city of Atlantis (It turns out it didn't sink beneath the waves. It flew off into space), our heroes regularly encountered new civilizations, exotic worlds, and deadly aliens – the most notable of which was the vicious Wraith.
Like SG-1 before it, Atlantis managed to have a bold and adventurous spirit about it, which separated it from the slightly stuffier and claustrophobic sci-fi that was popular at the time (We're looking at you, Battlestar Galactica and Enterprise). It's this liveliness and good humor that makes it the perfect accompaniment for anyone exploring the Settled Systems. Plus, it'll give you a renewed appreciation for Jason Momoa (Trust us on that).
3. Firefly (2002)
The best way to get any nerd to embark upon an hours-long rant is to bring up the cancelation of Firefly. It ran for just 14 episodes in 2002 before Fox pulled the plug, but it has a hugely devoted army of fans, who even got a spin-off movie, Serenity, made in 2005.
Inspired by the best Westerns as much as its sci-fi predecessors, Firefly followed the renegade crew of a spaceship as they adventured across various planets and moons.
2. Star Trek Voyager (1995 – 2001)
Honestly, any Star Trek series would probably scratch the Starfield itch you're experiencing right now (Although Deep Space Nine may be a bit static for your tastiest). Still, we've decided to highlight Voyager as the series to watch. Why? Well, unlike The Original Series and The Next Generation, Voyager is a show with exploration and adventure at its heart. After all, this is the only Star Trek show to be set in an entirely new quadrant of space.
As such, the crew of the USS Voyager had an awful lot of exploring to do, cataloging never-before-seen species, instigating first contact with newly discovered worlds, and running away from the insidious Borg. Best of all, the show is entirely episodic, so if you get distracted by a cool-looking moon, it doesn't matter if you miss any plot details.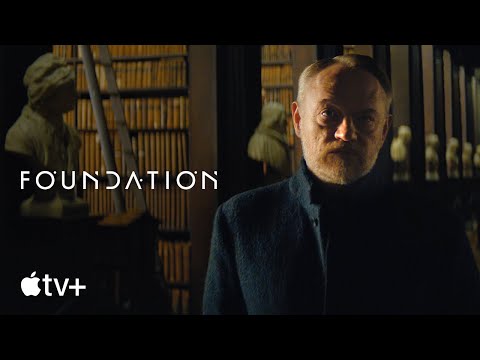 1. Foundation (2021 – present)
We're borderline obsessed with Foundation at the moment, with the Foundation season 2 release schedule in full swing. The tale of psychohistory and the centuries-long plan carried out by mathematician/death enthusiast Hari Seldon is the jewel in the crown of Apple TV's sci-fi output, which also includes the likes of For All Mankind and Invasion.
Foundation has everything. It's got conflict, it's got clone emperors, it's got Machiavellian robots, and it's got spaceships capable of jumping around the galaxy. What more can you want?
If you're after more sci-fi, find out everything we know about one of the most exciting new movies of 2024 with the Dune 2 release date. We've also explained how the Dune director's bad experience with drugs shaped one scene for a different take on one of the best movies of recent years.
We've also got all of the information you need about the For All Mankind season 4 release date and delved into why For All Mankind is the natural successor to Star Trek. Speaking of which, we've explained how to watch the Star Trek movies in order. It's a big task but an enjoyable one.
And if you're after more on Starfield, here's everything you could ever want to know about Starfield companions, Starfield traits, Starfield guns, and Starfield backgrounds.