Do Spock and T'Pring stay together in Star Trek, or break up? The latest episode of Strange New Worlds was a big one for the development of the relationship between Spock and his Vulcan fiancé T'Pring.
Star Trek Strange New Worlds' new episode saw Spock become fully human (it's a long story, trust us) for a short portion of time. During this period, the famous Star Trek character still had to engage in a traditional pre-marriage Vulcan ritual, which saw him meeting his in-laws while in the presence of his fiancé T'Pring.
The whole charade was overseen by Star Trek Captain Pike, but despite that it all collapsed as Spock voluntarily revealed that he had been made human by the Kerkhovians. This led to to T'Pring suggesting that they put their relationship to one side for an indefinite period of time, allowing Spock to explore his feelings for Nurse Chapel. So what happens to the relationship between Spock and T'Pring in the long-term in the Star Trek series?
Do Spock and T'Pring get back together?
From the TOS episode Amok Time, we know that Spock and T'Pring don't end up together and their proposed marriage fails.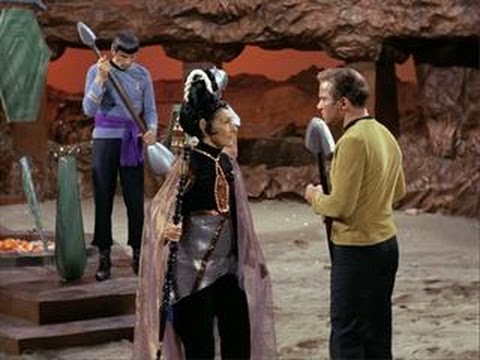 After the difficulties in the relationship as seen in Strange New Worlds, in Amok Time T'Pring engineers a deadly situation which puts Spock and Kirk in a fatal situation, pitting them against one another in a fight to the death bound by Vulcan law. She does this in order to annul her bonding to Spock because she has instead decided she wants to be with the Vulcan Stonn.
Though he and Kirk nearly ended up dead, Spock appreciated T'Pring's use of logic as they both say goodbye to their long and complex relationship.
Even though he leaves T'Pring, we know from TOS that Spock does not begin a serious relationship with Nurse Chapel. Strange New Worlds could break canon – and has been doing so already this season – but for now we know that it's in Spock's destiny to remain single.
For more on Star Trek, find out more about the relationship between Nurse Chapel and Spock. Or read our Star Trek Strange New Worlds season 2 review and interview with Anson Mount and Rebecca Romijn before checking our the status of Star Trek Legacy and the Star Trek Discovery season 5 release date and see our ranking of the Star Trek movies. Finally, you learn about the one question Stephen Hawking asked William Shatner, and see which Star Trek captain would survive in a zombie apocalypse.