What are the Kerkhovians in Star Trek Strange New Worlds? Minor spoilers ahead for the new episode of Strange New Worlds.
Star Trek absolutely loves an powerful and mysterious alien species, whether it's the Q Continuum, the Changelings, the Cytherians, or whatever the hell Nagilum was. Now, thanks to the freshest Star Trek series Strange New Worlds we have another: the Kerkhovians.
But what are the Kerkhovians, and what exactly do we know about this species? These Star Trek characters are something new entirely, so here goes.
What are the Kerkhovians in Star Trek Strange New Worlds?
The Kerkhovians are a powerful, intelligent, and ethereal race of aliens who are governed by strict bureaucracy. Visually, they look like a swirling mass of connected particles. They are native to the planet Kerkhov, but disappeared through a mysterious transport tunnel and now seemingly reside in a physical part of sub-space.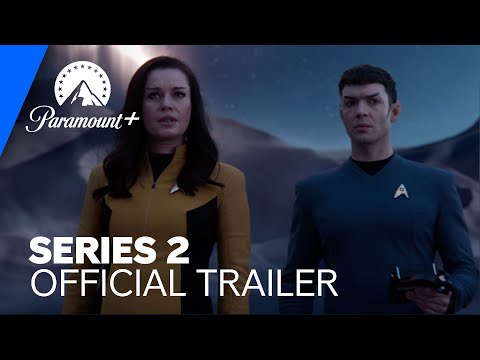 First contact was made with the Kerkhovians by Captain Pike following on from the exploration of the planet Kerkhov. With names like 'Yellow' and 'Blue' the Kerkhovians appear to be a relatively simple species with a straightforward outlook, despite their power. This power allows them to alter the genetic code of individuals in a way that Starfleet researchers can't replicate (as with when they made Spock fully human).
The social rules of the Kerkhovians, and their interactions with non-Kerkhovian species, are determined by their rigid and well-defined laws. When the crew of the Enterprise attempted to contact them the Kerkhovians rebuffed their demands because 'remediation had been made as per laws'. In order to have their requests met, the crew of the Enterprise had to work within their framework to find a loophole to allow the Kerkhovians to share their 'cure' for Spock.
The Kerkhovians were a fascinating 'antagonist' in the episode, and hopefully they come back in some capacity in Star Trek's future.
For more on Star Trek, read our Star Trek Strange New Worlds season 2 review. Or, read our interview with Anson Mount and Rebecca Romijn before checking our the status of Star Trek Legacy and the Star Trek Discovery season 5 release date and see our ranking of the Star Trek movies and Star Trek captains. You learn about the one question Stephen Hawking asked William Shatner, and see which Star Trek captain would survive in a zombie apocalypse.