These are the Scream 6 Easter eggs you might have missed. To quote Scream 6, "Who gives a f*ck about movies?" Well, if you're a fan of the slasher series, chances are…you do. The phone is ringing from inside the house, and the Jiff Pop is already burning, as a new crop of Ghostfaces are ready to slice and dice legacy characters, requel favourites, and fresh-faced newcomers alike.
After the underrated Scream 4 left the horror movie franchise's water-logged corpse afloat for 11 years, Scream 5 resurrected Wes Craven's legendary horror like Jason from the bottom of Crystal Lake in 2022. Now, directors Matt Bettinelli-Olpin and Tyler Gillett are back – swapping Ghostface's signature knife for a loaded shotgun.
The dynamic duo are blasting even the most hardened fans' expectations right out of the cinema, thanks to Scream 6 being another blend of the old and new. With 27 years of Scream to pick from, it's a trip down memory lane. If you're ready for the corn syrup to flow, here are 12 Scream 6 Easter eggs you might've missed.

Samara Weaving
Before Scream 5, Bettinelli-Olpin and Gillett were known for black comedy horror, Ready or Not. Margot Robbie lookalike Samara Weaving starred as a young woman who was thrown into a brutal game of cat and mouse against her husband's unhinged family.
Weaving goes full Drew Barrymore as Scream 6's opening kill, playing a character called Laura Crane. The Blackmore University Film Studies professor's name is a homage to Marion Crane from Psycho, but also, her lime turtleneck is a wink to Tatum Riley's (Rose McGowan) iconic outfit from the original slasher movie.
Later, the Easter egg-packed subway scene features an unknown NYC resident cosplaying as Ready or Not's Grace le Domas for a typically meta nod from the Screamverse.
Jason Takes Manhattan
With a strapline of "New York, new rules," we knew we were leaving Woodsboro behind in Scream 6. Setting our sights on the Big Apple, it's not just a change of location that gives us similar vibes to 1989's Friday the 13th Part VIII: Jason Takes Manhattan.
There might not be any supernatural Ghostfaces rampaging through New York with a machete, however, Bettinelli-Olpin told Bloody-Disgusting they couldn't resist sneaking a Jason Takes Manhattan egg into the Scream movie.
Similar to Weaving, Tony Revolori has a blink-and-you'll-miss-it cameo as Jason Carvey. More than his name giving The Crystal Lake Killer a nudge, Scream 6's Jason is also watching Jason Takes Manhattan in his apartment.
For Wes
Whereas Scream 5 dedicated the movie "For Wes" and had a character called Wes in the form of Dylan Minnette, Scream 6 is more subtle in honouring the Guru of Gore.
After The Last House on the Left, Craven had a cameo in 1975's The Fireworks Woman, which was written and directed by a mysterious "Abe Snake." Abe Snake is a pseudonym Craven reportedly used to direct the "adult" film, while the bodega Ghostface shoots up in Scream 6 is called Abe's Snake.
Bettinelli-Olpin confirmed the connection to Dread Central and said it was the brainwave of Ice Nine Kills singer, Spencer Charnas. The band has a Scream-inspired song called "Your Number's Up," and if you look closely, there's a flyer for the Ice Nine Kills in Jason's apartment.
Scream 2
Scream 6 is a love letter to Scream 2, with the Easter eggs coming thick and fast. Notably, Dermot Mulroney's Wayne Bailey channels Nancy Loomis (Laurie Metcalf) as an unhinged parent seeking vengeance for the final girl killing their son in the previous outing.
Kirby trying to trace Ghostface's call mirrors Randy's (Jamie Kennedy) tragic van death in 1997, with Mindy (Jasmin Savoy Brown) even mentioning this is how Uncle Randy died. Mindy's new rules mention the group going into higher education being an echo of the Windsor College murders.
The best one is Tara (Jenna Ortega) saying she might pledge Omega Beta Zeta. This was the sorority that Sarah Michelle Gellar's Cici Cooper was part of in Scream 2. 1997 was a huge year for Gellar, starring in Scream 2, Buffy the Vampire Slayer, and I Know What You Did Last Summer.
Agent Kirby Reed
She's baaaaack. Many agree that Hayden Panetierre's Kirby Reed is one of the best Scream characters of all time. It was a stab to the gut when she was killed off in Scream 4, but after wild theories, she survived a knife from Charlie Walker (Rory Culkin), a sneaky Easter egg in Scream 5 teased her survival.
Back in action as the slasher-loving film fanatic, Kirby has turned her brush with death into an actual career. Returning to the Scream cast as Special Agent Kirby Reed, she's also sporting a gnarly scar from Charlie's botched butchering.
Detective Bailey claims Kirby has been discharged from the FBI, but in reality, it's to try and convince the group she was Ghostface. Although we're warned legacy characters can kick the bucket in this new era, Kirby thankfully scrapes through into the inevitable Scream 7.
A shrine to slashers
When the first full Scream 6 trailer dropped, wannabe sleuths went wild for the shrine of Ghostface paraphernalia. The abandoned theatre is used as Ghostface's lair and honoured the previous nine killers, as well as Richie's obsession with the fictional Stab movies.
Serving as an Easter egg within an Easter egg, there's everything from Nancy Loomis' white pantsuit to the garage door that killed Tatum. We question how/why some of these items would've been acquired, but either way, the Woodsboro evidence locker must be pretty empty right now.
Other highlights include Steve Orth's varsity jacket to honour the franchise's first kill, the charred fax machine from Scream 3, a drawing of Henry Winkler's Principal Himbry, and Stu Macher's robe. Speaking of Stu…
'Stu' gotta be kidding me?
We were off the mark with the theories Matthew Lillard would be back as the comedic Stu Macher. As well as some thinking a Scream 6 poster teased Stu's return, it actually had a pretty solid foundation.
Back when Kevin Williamson wrote an outline for Scream 3, a cult of teens were going to be Ghostfaces, with Stu being revealed as the mastermind from behind bars. Instead, the Columbine High School Massacre meant the violence had to be dialled down, Williamson's notes were discarded, and he reused the idea for The Following.
In Scream 6, Kirby and Mindy joke about the Stu conspiracy, while Ethan (Jack Champion) is killed by the same TV that finished Stu in the OG. Even though we've seemingly closed the book on Stu's Scream 3 plans, there are plenty hoping we'll hear Lillard say "liver alone" in the franchise's future.
Gone but not forgotten
With the absence of Dewey Riley (David Arquette) and Sidney Prescott (Neve Campbell), it's over to Gale Weathers (Courteney Cox) to carry the torch of the OGs. Like Sidney, there's a Dewey-shaped hole in the Screamverse.
There's a poignant moment when Gale mentions never letting go of your "one," accompanied by Marco Beltrami's melodic "Dewey's Theme" that's become synonymous with him. The Ghostface shrine also has scrawlings of Dewey's demise in 2022's Scream.
Thankfully, Chad Meeks-Martin (Mason Gooding) is this generation's Dewey. As well as surviving being stabbed in the requel (like Dewey was in 1996's original), Chad miraculously survives Scream 6 and is wheeled out on a stretcher — just like Dewey in Scream 2.
Hello Sidney
Despite some thinking it wouldn't be Scream without Neve Campbell, the series is carving a new legacy in a post Sidney Prescott era. We rightly questioned how Scream 6 would handle Sidney, and thankfully, it didn't go full Halloween Resurrection to kill her off.
There's a brief mention of Sidney taking Mark and the kids somewhere safe. Gale agrees that she deserves her happy ending, and after surviving nine Ghostfaces, it's a plausible way to write Sid out of the franchise. As for Mark, it's a heartwarming callback to Patrick Dempsey's Detective Mark Kincaid from Scream 3.
In real life, things weren't as rosy. Campbell was unhappy with what she was offered to reprise her role for Scream 6, telling Vanity Fair that she didn't believe a man would've been offered such a low fee to return after leading five entries. It doesn't rule Sidney out of Scream 7, but wait and see whether Paramount will be reaching for the chequebook.
The subway scene
Much like the Ghostface shrine being a treasure trove of Easter eggs, we could do a whole listicle on the subway scene. Speaking to Variety, Costume Designer Avery Plewes estimates that she made around 200 costumes for this scene — serving as an A to Z of horror movies.
Plewes started with Cravens's back catalogue and characters, including A Nightmare on Elm Street's Freddy Krueger. She then added the likes of The Shining, Friday the 13th, and Halloween. More modern interpretations include the Babadook and someone dressed as Keke Palmer's Emerald from Nope.
Bettinelli-Olpin and Gillett confirmed their cameo as Kurt Cobain and a guy with a prop knife through his head. It's similar to how Craven played a Freddy Krueger-esque Fred the Janitor in 1996's Scream. Look out for Sonic the Hedgehog at the request of Bettinelli-Olpin's son.
Team Loomis
Like we saw de-aged Skeet Ulrich pop up in Scream (2022), the ghost of Billy Loomis still looms large. The big reveal that Sam was Billy's illegitimate daughter raised the stakes in the requel, but in Scream 6, Sam bears the burden of her psychotic lineage.
Sam went full Loomis and stabbed Richie a whopping 22 times, meaning her therapist has to report her violent tendencies. Although we didn't manage to count, she gets similarly stab-happy with Detective Bailey. Scream 6 ends with Sam holding onto her father's mask and an ominous tone playing in the background.
Is it setting Sam up for a psychic break and taking on her father's legacy as a new movie villain in Scream 7? Unlikely, but in a franchise that just revealed a who family of psychopaths, stranger things have happened.
A middle finger to Marvel
Scream 6 might have a post-credit scene, but don't expect it to cue the sequel. Firstly, the main credits are a '90s inspired montage of the characters and actors. It's the same as the first three movies and 2022's Scream, right down to the same font.
There's also a split-second glimpse of Ghostface with a gun, which is similar to the first movie. For those who hang around until the bitter end, we revisit Mindy going over the new rules. Loudly shouting, "Not all movies need a post-credits scene," Scream 6 goes about as meta as it can.
Even though post-credit scenes appeared in the 1960s, they weren't exactly popular around the time of the first Scream. They've become a staple of the MCU, as well as being attached to everything from The Batman to Puss in Boots: The Last Wish. Scream 6 gives us the franchise's first post-credit scene, and while it'll likely divide fans, we're all here for it.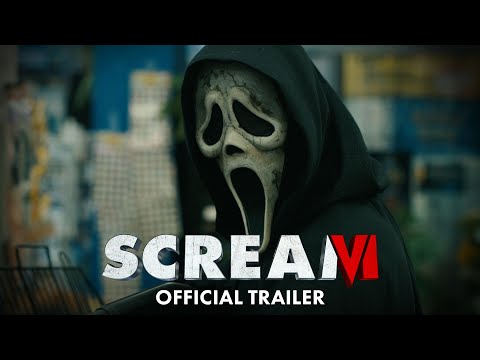 There you have it! All the Easter eggs you need to know about in Scream 6. Thankfully, we've got plenty more Ghostface goodies to keep you going, including a guide on the killers in Scream 6, everyone who dies in Scream 6, as well as our Scream 6 review.
And if you'd like to keep your Easter egg knowledge up to date, have a look at our guides for the Avatar 2 Easter eggs and Ant-Man 3 Easter eggs. Don't forget to check out all the new movies coming out this year, too!