It's no secret that live-action anime adaptations don't have the most flattering history. And, let's be honest, after seeing the attempts of Dragon Ball, Death Note, and Cowboy Bebop crash-land in the real world, many anime fans were rightly cautious about Netflix's One Piece series. However, despite a couple of dips in tone and pacing, the Straw Hats managed to break expectations and, dare I say, even make a crack in the perception of the unbreakable live-action adaptation curse.
Developed by Matt Owens and Steve Maeda, it follows most of the East Blue Saga from the One Piece anime, with our main character, Monkey D Luffy (a rubber-limbed pirate), gathering up his crew and searching for a map to a dangerous sea route known as the Grand Line. His main goal: to find Gol D Roger's famous treasure called the One Piece and become king of the pirates.
Now, Netflix's One Piece live-action series had the mammoth task of living up to the reputation and vastly impressive style and story of one of the best anime series of all time. With over 1000 episodes, the show is a lifestyle for some and paired with the fact that its world is surreally wacky, a live-action retelling was always going to be a major risk. However, where One Piece differs from its predecessors is in its focused script that honors its source material.
Throughout the first season of Netflix's One Piece, fans see Luffy (Iñaki Godoy) fight villainous criminals after the same map as him, ranging from treacherous Fish-Men to superpowered clowns. We also see plenty of Easter eggs and colorful designs inspired by the anime as Luffy continues his journey and faces off against the Marines, who are anxious to squash his swashbuckling dreams.
With eight episodes running for around 50 minutes each, Netflix has packed its adaptation with titbits and details for fans to latch onto. And, while story tweaks do occur, most aren't incredibly canon-breaking. Instead, changes to the known One Piece plot tend to offer a more detailed look at staple anime characters such as Nami (Emily Rudd), Zoro (Mackenyu Arata), and Usopp (Jacob Romero Gibson) as fresh dramatic dialogue is sprinkled in to build on their existing backstories.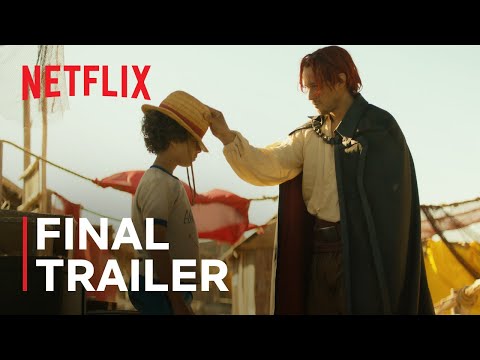 In short, it's easy to see that One Piece creator Eiichiro Oda worked on the production, since we finally have an adaptation that keeps fans in mind. Unlike the 2009 flick Dragon Ball Evolution, which changed the story completely while piggybacking on the beloved IP, here we get a true attempt at Luffy's story in a new medium. But let's get one thing clear. While One Piece proves we are moving in the correct direction, it isn't a perfect adaptation yet.
Netflix's One Piece live-action series has a great script, but its tone is still shaky. The world of One Piece is wild, surreal, fun, and thrilling. However, at points, Netflix's show breaks away from One Piece's iconic tone to give us overly dramatic exchanges and character confrontations with a gritty crime drama feel. For example, Arlong (McKinley Belcher III), who is one of the main baddies of the season and one of the best anime villains in One Piece as a whole, is filmed more as a serious crime boss than an evil Fish-Man pirate.
Similarly, some of the tragic backstories from the main Straw Hat crew set the tone for the entire episode in which they are shown. With minimal humor to offset the rest of the 50-minute-long episodes when these moments happen, there is a feeling of inconsistency, which results in certain sections dragging the overall pace of the season.
Yes, the anime One Piece is filled with serious scenes, too, and this IP is no stranger to tragedy. But what makes the series so unique is its focus on fun, wonder, and adventure in the face of heartbreak. Netflix's understanding of this One Piece quality fluctuates, and its deviations into a more serious, darkly lit thriller stick out like a sore thumb because, occasionally, it does give us what we want – embracing the anime's style every now and again.
In the first episode, we see Gol D Roger's execution as a delightfully dramatic and almost light-hearted event, reminiscent of the cheeky tone of Disney's Pirates of the Caribbean franchise. Buggy the Clown (Jeff Ward) and Dracule Mihawk (Steven Ward) also fully embrace their anime personas, with each of their confrontations with the Straw Hats breaking the laws of physics and reason in the most entertaining way possible.
The thrills we want from One Piece are also carried into all of Luffy's fights, with his Devil Fruit-powered rubber body bouncing bullets and propelling his fists with full force. Iñaki Godoy fully embraces the main One Piece character, keeping us smiling as Luffy powers through naysayers and waves of enemies with a massive grin and hankering appetite.
It is during these moments that Netflix's One Piece truly shines. Seeing Shounen anime come to life in all its unrealistic and heart-thumping glory is everything fans have been asking for, and now that we've seen a taster, we want the whole package. But despite all my criticisms of One Piece, I have to admit that Netflix has managed to give us one of the best anime live-action adaptations yet.
The series ends on a massive high, with the Straw Hats formed and finally kickstarting their journey to the Grand Line. With all the characters' backstories established, there is also a feeling that we are heading into the true meat of the story with action at the forefront. The live-action One Piece series will leave you dying for season 2, and will undoubtedly grip newbie and veteran fans alike.
One Piece will be available to watch on Netflix from August 31, 2023. For more pirate fun, here are our guides on how to watch all of One Piece in order, all the One Piece filler episodes, and Luffy's Gear 5.
We also have the lowdown on everything new on Netflix this month and what the best TV series of all time are.
One Piece season 1 review
While its tone falters in moments, Netflix's live-action One Piece series is the best anime adaptation that the streamer has released yet.