Ahead of The Marvels release date, we finally have a first trailer and, as is customary with any upcoming release in the MCU, the sneak peek is full of tantalising clues as to what's to come. If you want to watch the trailer and catch all the little Easter eggs for the new movie, you've come to the right place.
With Ant-Man 3 out of the way and the Guardians of the Galaxy Vol 3 release date just around the corner, our attention is slowly starting to turn to the third entry in Marvel's Phase 5. We can't wait to see MCU characters like Carol Danvers, Kamala Khan, and Monica Rambeau join forces on the big screen, but a little trailer will sate our appetite for now.
The hotly-anticipated Marvel movie is due for release on November 10, 2023, and now we can start to dive into theories about what will happen in the flick and who the big Marvel villain will be this time around.
The trailer confirms what we suspected, in that the plot of the superhero movie will revolve around something of a Freaky Friday style situation between Carol Danvers and Kamala Khan. If you remember the end of the Marvel series Ms Marvel, something strange happened in Kamala's bedroom and Carol appeared in her place looking mighty confused.
It seems Monica Rambeau is also involved in this three-way connection. The hero is seen approaching the jump point perimeter and communicating with Nick Fury, before being zapped and disappearing, with Kamala taking her place in outer space. This link between the three heroes appears set to bring them together as a team, much to the delight of Kamala.
We get our first look at the movie villain, too, who will be played by Zawe Ashton. She will be the antagonistic force against which Kamala, Carol, and Monica have to contend, but we still don't know her character's name at this stage. The MCU movie looks like it'll be packed full of epic action set-pieces across various different settings, both on Earth and off-planet.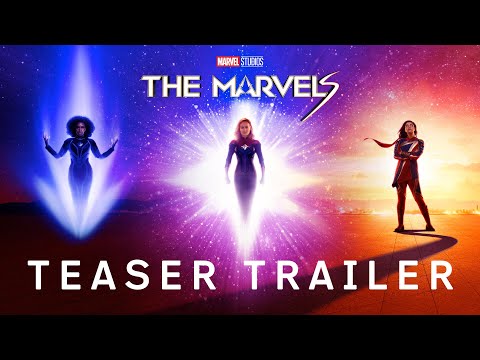 Based on how vibrant the Ms Marvel TV series was, we fully expected this upcoming film to follow suit and bring plenty of colour and energy to the MCU and the trailer certainly delivers on that. We don't want to get our hopes up, but The Marvels sure does look like a lot of fun. We are especially pleased to see the return of Goose, the loveable Flerken from the Captain Marvel movie – what a good kitty.
For more from Marvel, check out our guides to the Captain America 4 release date, the Spider-Man 4 release date, or the Secret Invasion release date. Alternatively, dive into our list of the best movies of all time.