Who's in the Loki season 2 cast? It feels like we've been waiting a long while to jump back into the twisted world of the TVA, and now the time is here for us to finally get back into the universe-hopping saddle with the God of Mischief and his buddy Mobius.
But who has the MCU pulled back into the fold? Well, when it comes to matters concerning the Marvel series, there's no doubt that Loki has housed some of the most memorable cast members playing some of the best MCU characters. Here's everything you need to know about the Loki season 2 cast in one of the best TV series to come from the comic book franchise, without a doubt.
Here's the main Loki season 2 cast:
Tom Hiddleston as Loki
Owen Wilson as Mobius M. Mobius
Sophia Di Martino as Sylvie
Gugu Mbatha-Raw as Ravonna Renslayer
Ke Huy Quan as Ouroboros/OB
Rafael Casal as Hunter X-5/Brad Wolf/Zaniac
Tom Hiddleston as Loki
Naturally, it wouldn't be Loki without the titular god causing trouble, so here he is! If you've recently re-watched all the Marvel movies in order, you might be thinking: "Wait, didn't Loki die?" Well, yeah, that's true, but these are all questions that Loki season 1 answered in order to let him have his time on the small screen. (Spoiler alert: it all has to do with the time-traveling shenanigans the Avengers got up to in Endgame.)
These days, an alternate version of Loki can be seen holding up in the Time Variance Agency, where he helps TVA agent Mobius M. Mobius re-arrange some timeline drama.
Tom Hiddleston originally started out as one of the best Marvel villains in the first Thor movie. From then on, he's worked with some of the best directors in movies like War Horse and Crimson Peak. He's also starred in some terrific thrillers and actions too, like High-Rise and Kong: Skull Island. Though he's mostly dipped in and out of the MCU, he's also starred in some of the most famous stage plays known to man, like Othello, Coriolanus, and Hamlet.
Owen Wilson as Mobius M. Mobius
As an analyst at the TVA, Mobius was tasked with the investigation of extremely dangerous time criminals. He brings on the alternate version of Loki to help him track down another Loki variant known as Sylvie. Over time, Mobius and Loki developed something of a friendship. (Or at least, they were able to work together amicably.)
However, Mobius ended up discovering that he was being brainwashed by the TVA, and formed an alliance with the variants, throwing everything he knew into disarray.
Owen Wilson is known for his work in some of the best comedy movies of all time, namely the likes of Zoolander, Wedding Crashers, and Night at the Museum. Plus, he also managed to make everyone across the world cry with that scene from Marley and Me. (Oh, and he also voiced Lightning McQueen in Cars. Ka-Chow!) You'll next catch him as Mobius again in Deadpool 3, so you'd do right to get to know him now.
Sophia Di Martino as Sylvie
This is where things get confusing because Sylvie is actually Loki. If there's one thing you need to know about the series, it's that there are multiple versions of the Norse god running around, and Sylvie is one of them. She's actually a Princess of Asgard, who caused a Nexus Event when she was a child. Sylvie has been avoiding the TVA by hiding out in different timelines ever since.
When Loki comes across her, the two form something of an alliance, and perhaps even a romance as well. (We'll just have to wait and see how that one turns out.)
Sophia Di Martino has appeared in several well-known British TV series, such as Holby City and Doctors. Later, she appeared in Friday Night Dinner, Midsomer Murders, and Silent Witness before taking her turn in the multiverse. On the big screen, her resume's a little smaller, but she did have a supporting role in the Danny Boyle alternate-universe flick Yesterday.
Gugu Mbatha-Raw as Ravonna Renslayer
Ravonna Renslayer is also a variant. Didn't see that coming, did you? She's actually a variant of Rebecca Tourminet, who was captured by He Who Remains. She then worked at the TVA and was tasked with capturing Sylvie, who managed to escape. (As far as Ravonna's concerned, she was created by the Time-Keepers.) While she worked at the TVA, she became good friends with Mobius, before being promoted as a judge.
She was initially attempting to prune Loki, but Mobius managed to talk her out of it. Since then, she's been on the side of the TVA, making her something of a foe to Loki and Mobius. However, the end of season 1 saw her turning her back on everything in order to search for her own free will.
Mbatha-Raw has appeared in so much, that you've almost definitely seen her face on the screen before. On the film side of things, she's starred in movies such as Larry Crowne, Jupiter Ascending, and The Cloverfield Paradox. Equally, her small screen career is just as impressive, and before Loki, she appeared in Doctor Who, Black Mirror, and The Morning Show.
Ke Huy Quan as Ouroboros/OB
OB is basically the guy that makes TVA tick. He can fix anything (apart from Loki's Time-Slipping of course) and holds the position of Chief Engineer. As a matter of fact, he appears to be their only engineer. Loki and Mobius to go OB to try and solve Loki's Time Slipping problem. He's pretty smart, keeping track of all the TVA's technology. It's a job that clearly keeps him very occupied, considering he spent about 400 years on his own for a while there.
Ke Huy Quan is a figure who's been present in all our childhoods, one way or another. Whether it's as Data in The Goonies or Short Round in Indiana Jones and the Temple of Doom, he's played some key roles in some of the best '80s movies of all time. (We're personally more Indy-leaning, but that's just us!)
While his career dipped for a little while, save for a supporting role in Encino Man, he's shot back into the culture after winning Best Supporting Actor at the 2023 Oscars for his work in Everything Everywhere All at Once. Here's hoping we'll see more of OB throughout Marvel Phase 5!
Rafael Casal as Hunter X-5/Brad Wolfe/Zaniac
Hunter X-5 is another TVA lackey that's working against our dynamic duo. But that's not the wildest thing about him, no no. We're more focused on his alternate timeline persona: Brad Wolfe. Wolfe is an actor, and when Loki jumps back in time to 1977, he finds himself at the premiere of a movie called Zaniac, in which Wolfe is starring. Of course, this is merely a passing in-joke, but considering how Zaniac is a villain from the Thor Vol 1 #319 comic, it's a nice little Easter egg.
Rafael Casal will be known by most for his musical background since he's a rapper as well as an actor and writer. His biggest project to date, aside from Loki, was Blindspotting, the series he created alongside Hamilton star Daveed Diggs. His next role will be in the upcoming drama movie, Wildcat, which also stars Maya Hawke and Laura Linney.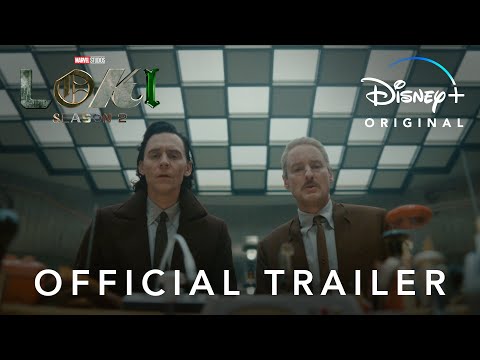 Here's everyone in the Loki season 2 cast:
Tom Hiddleston as Loki
Owen Wilson as Mobius M. Mobius
Sophia Di Martino as Sylvie
Gugu Mbatha-Raw as Ravonna Renslayer
Ke Huy Quan as Ouroboros/OB
Rafael Casal as Hunter X-5/Brad Wolf/Zaniac
Tara Strong voices Miss Minutes
Wunmi Mosaku as Hunter B-15
Eugene Cordero as Casey
Kate Dickie as Dox
Liz Carr as Gamble
Neil Ellice as Hunter D-90
Jonathan Majors as Nathaniel Richards/Victor Timely / Nathaniel Richards/He Who Remains
That's the Loki season 2 cast! Check out everything you need to know about the upcoming Marvel movies and get to know them better with our individual guides on The Marvels and Avengers 5.
We've also taken a deep dive into why Marvel needs to learn that killing characters isn't everything. Speaking of Marvel shows, we've also broken down why if Disney Plus doesn't fix this problem, we're done with Marvel series.