Who is Ravonna Renslayer in Loki? Did anyone notice a certain missing lady from the season 2 premiere? No, not the one hitting up the nearest McDonald's for a Big Mac, the other one: the former TVA's head honcho.
The latest season of Marvel Cinematic Universe TV is here with Loki season 2, and, oh boy, we are off to a great start after some missable new movies and middling Marvel series on Disney Plus. Aside from the where is Sylvie question, season 2 episode 1 was lacking one of the show's foes.
She was mentioned, and we even heard her in conversation with He Who Remains, but we didn't actually see her. So here's Ravonna Renslayer explained for those of you who want to know everything about the MCU's current best TV series.
Who is Ravonna Renslayer?
Ravonna Renslayer is a variant of Rebecca Tourminet who was captured by He Who Remains and became a judge at the TVA. She was assigned to capture Sylvie and turned against Mobius in season 1.
In a branch timeline, this variant was part of a Nexus Event and taken by He Who Remains. He suppressed her memory and made her believe she was created by the Time-Keepers. Loyal to the TVA, Ravonna initially judged Loki for pruning before Mobius convinced her to use him as a consultant to hunt down Sylvie instead.
A longtime friend of Mobius, when the truth behind the TVA is revealed, and Mobius' alliances begin to fray, she prunes him and also has a confrontation with Loki and Sylvie in the finale before deciding to jump ship and search for her own "free will."
Where is Ravonna Renslayer in Loki season 2?
The last time we saw Ravonna, she used a TemPad to open a Timedoor, leaving the TVA to search for free will. Nobody knows where she is.
Ravonna now knows the Time-Keepers are a smokescreen, but she did say she believes there had to have been a purpose behind the lie. Our best guess is that she is looking for answers about her life before her memory was wiped, or that she is trying to track down "the one in charge", who she says is the only being with true free will.
Who would that be? Well, perhaps a Kang the Conqueror variant, or a way to open communication to one of the best Marvel villains (He Who Remains is very dead, thanks to Sylvie).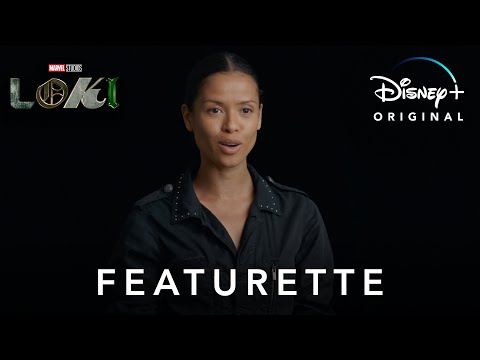 Who plays Ravonna Renslayer in Loki?
British actor Gugu Mbatha-Raw plays Ravonna Renslayer in Loki.
She's most known for roles in Miss Sloane, one of the best Black Mirror episodes — San Junipero — as well as playing a big part in season 1 of The Morning Show. A personal recommendation of ours is the sweet drama movie Summerland.
Ravonna Renslayer in the comics explained
In the comics, Ravonna Renslayer was a Princess whom Kang the Conqueror was in love with. Her first appearance was in Avengers #23 (October 1965).
Ravonna was the daughter of a 40th-century King. Carelius was the last civilization untouched by Kang at that point, and he spared her life because he was taken with her.
She refused him due to the fact he was a commoner, but he didn't give up there (they never do). Kang then hoped to win her over by displaying his battle prowess, summoning the Avengers for a confrontation. Unfortunately for him, they allied themselves with Ravonna when Kang grew tired and ordered an invasion of Carelius.
After Kang won, he demanded a wedding (he was serving Lord Farquaad). Kang's code was to kill the rulers of any conquered nation to nip the bud of any uprisings, but he didn't want to hill Ravonna. A general of his betrayed Kang in honor of the code, though, and tried to him killed.
As a result, Kang ended up on the side of Ravonna and the Avengers to stop the mutiny under him. A shot was fired at Kang, which Ravonna threw herself in the path of, saving him. She professed her newfound love for him in her dying breath. Yeah… let's keep this one on the page.
Ravonna was a little underserved in season 1, and the best MCU characters have edges to them, so we hope she gets a little more to do this go around. For more on what to expect, read our Loki season 2 review. You can also see our Loki season 1 recap if some of the details are fuzzy.
You can always delve further into the universe with our guide to the upcoming Marvel movies, such as The Marvels, and the best way to watch the Marvel movies in order. Try to say that six times fast!