Of all the movies that have been disrupted by the 2023 strike action, one of the most painful is Deadpool 3. We had all of the excitement of the announcement of Hugh Jackman's return as Wolverine, and we got a glimpse of the comic-accurate yellow and blue suit, but then production shut down.
Now, MCU fans think there's no way that Deadpool 3 can possibly make its May 2024 release date, and it will only be a matter of time before we get an official announcement that it's been delayed. The only thing we have to keep us warm over winter is that image of Jackman in yellow spandex.
Director Shawn Levy recently said that he's extremely thankful that the image managed to get out there before production on the upcoming Marvel movie shut down; "I'm so happy that we were able to release that one picture before the strike paused production. I'm glad I made you [the fans] that happy; it made a lot of us that happy."
"When we first told Kevin Feige that Hugh Jackman wanted to join the movie, damn near the first thing he said was, 'OK – but let's go with the blue and yellow, just tell me we're going with the blue and yellow!' And then when I approached Hugh with that idea, he was like, 'Fuck Yeah!' Now you have to bleep me, but you get it. He was like, 'Hell yes!'" Levy told Jakes Takes.
Hugh Jackman played Wolverine in nine X-Men movies in order spanning a 17 year period, but this is the first time we've seen him in the character's iconic colorful suit. Jackman's version of the character was synonymous with a white tank top, or frequently nothing at all on his top half.
Wolverine was killed off in James Mangold's Logan in 2017, but in the current MCU world of multiverses and numerous timelines, heroes never stay dead for long. Deadpool 3 will of course be the first Deadpool movie that is officially part of the MCU, meaning that we can expect even more cameos from Marvel characters and meta jokes than usual.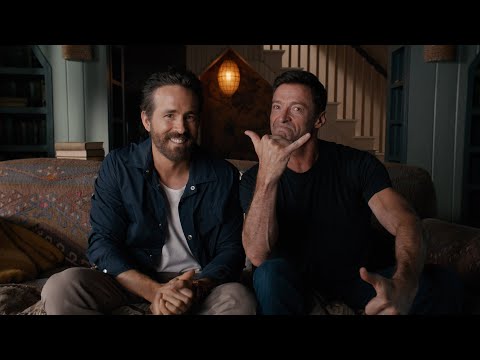 Jennifer Garner is also making a comeback as Elektra after nearly 20 years, and Liev Schreiber is reprising his role as Sabretooth. Joining her in the Deadpool 3 cast will be newcomers Emma Corrin (as an unspecified Marvel villain) and Matthew Macfadyen. Owen Wilson's Mobius is highly likely to appear, facilitating the timey-wimey shenanigans that need to happen in order to 'resurrect' Wolverine.
All of the Deadpool regulars, including Morena Baccarin, Karan Soni, Brianna Hildebrand, Leslie Uggams, and more, are expected to return. Unsurprisingly, the cameo rumor mill has gone into overdrive. Some fans think Ben Affleck will pop up as Daredevil, and others even think Taylor Swift has a role to play – potentially as Dazzler, a blonde pop star.
No matter who does end up showing their face in Deadpool 3, Jackman's return as Wolverine is enough to keep the fizzle of excitement burning while we wait for production to restart. Reynolds and Jackman have great chemistry, which we've seen in countless social media videos over the years. A whole movie that will reportedly see Deadpool and Wolverine on a road trip together is definitely something to look forward to.
While we wait, check out our guide to The Marvels – which thankfully isn't delayed. Find out what we know so far about Marvel Phase 5, Marvel Phase 6, and Spider-Man 4. With all of these delays, you have plenty of time to watch all of the Marvel movies in order – so what are you waiting for?!