There's many a Spider-Man variant out there. Heck, 2018's Into the Spider-Verse alone introduced a gazillion versions of our friendly neighborhood Spider-Man. Prepare yourselves, though, because we think we've found the absolute cutest one.
We're not talking about Tom Holland or any of the Spider-Man actors, for that matter — that's a different kind of cute — we're talking about an adorable Spidey that crash-landed on Earth-616 on his way to the greedy Collector.
If this lil' guy was in new movies in the Marvel Cinematic Universe, maybe the box office for upcoming Marvel movies would bounce right back, because just look at it!
His name is Tsum Tsum (pronounced "tsoom tsoom"). And, also, he is a Tsum Tsum, because they are a line of stuffed stackable toys of Disney characters. His appearance in Marvel Tsum Tsum #1
(released in August 2016) is basically a commercial, but who can be mad at that smooshy face?
After crash-landing on Earth and witnessing a battle between the Avengers and Ultron, Tsum Tsum adapted itself to imitate Spider-Man. This Tsum Tsum's abilities include self-replication and the power to mimic abilities by watching them being performed by others. Let's hope he wasn't watching any news coverage of Thanos' snap — he might get the wrong idea.
And it wouldn't be outside the realm of possibility, because villain Looter convinced it to turn into Ultron and create other versions of itself for more super-villiam Tsum Tsums to be made. Of course, it all turned out okay in the end, with our small friend on the right side of things by the last page.
You can see Spider-Tsum Tsum and a bunch of other ovular Avengers kicking some Loki butt in the promotional video for the toys below. Turns out the God of Mischief is one of the best Marvel villains even in the Tsumiverse.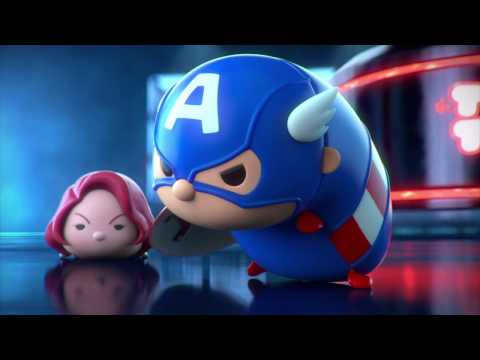 There are multiple volumes of Marvel Tsum Tsum, which may be a great way to introduce some interested kids to comic books (or just extend their already massive Christmas lists).
For more marvelous things, check out the Spider-Man: Freshman Year release date, Spider-Man 4 release date, the best Spider-Man villains ranked, and the Venom 3 release date, as well as how to watch the Spider-Man movies in order. And if you want to know where we may see Holland next, look towards our guide to the Avengers Secret Wars release date.