Something Wick-ed this way comes as John Wick: Chapter 4 shoots its way into cinemas. Chad Stahelski's third outing for the man in black once again pulls Keanu Reeves' sharp-shooting assassin back into the world of the High Table.
We've come a long way from Alfie Allen playing a Russian mobster, and much like the Fast and Furious movies, each entry in the Wickverse has been bigger and bloodier. This time around, Wick returns from his apparent death in 2019's John Wick: Chapter 3 – Parabellum, but still finds himself trying to settle his debts with the High Table.
All your favourites are back for more, with Reeves' suitably sombre performance supported by the usual John Wick cast, including Ian McShane, Lance Reddick, and Laurence Fishburne, as well as newcomers including Hiroyuki Sanada, Donnie Yen, and Rina Sawayama. As we go on a whistlestop tour of the globe and the bullets fly, it's easy to miss some of the action movie's many details. If your arsenal is fully stocked, here are 12 of the best John Wick 4 Easter eggs.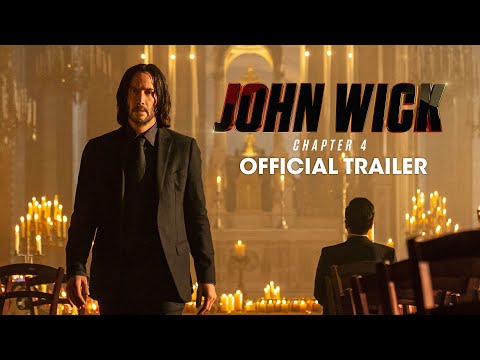 It's a Dog's Life
The John Wick movies have always had an affinity with dogs, and even though our four-legged friends don't always have it easy, there's a happy ending for all doggos in Chapter 4.
The events of the first thriller movie were kicked off when Daisy the beagle was killed by Russian gangsters. Given that John got Daisy to get over the death of his wife, it was a tragic arc. He soon got another dog – simply called "Dog" at the end of the first movie. When Chapter 4 ends, we see that Dog has been adopted by the Bowery King (Laurence Fishburne) and stands alongside him at John's grave.
Throughout the movie, Wick is hunted by Mr Nobody (Shamier Anderson) and his own loyal dog. Mr Nobody calls off his hunt against John when the latter saves his dog from being shot by the Marquis' henchman.
A Tribute to Lance Reddick
Just days before John Wick: Chapter 4 was released, there was the tragic passing of Lance Reddick. As well as roles in some of the best TV series like LOST and Fringe, Reddick played the loyal concierge of the Hotel Continental in the first three John Wick movies.
Charon is killed by the Marquis Vincent de Gramont (Bill Skarsgard) early on, which hits home even harder considering Reddick's death. We later see Winston (Ian McShane) at Charon's grave, where there's a simple epitaph of "friend."
Even though Reddick is no longer with us, he'll appear as Charon in the Ballerina spin-off. There's also The Continental prequel series (due out in 2023), which visits the famed hotel in the '70s and features Ayomide Adegun as a young Charon.
Rina Sawayama's film debut
John Wick: Chapter 4 welcomes pop singer Rina Sawayama to the fold, playing the deadly Akira. The "Comme Des Garçons (Like The Boys)" singer portrays the concierge of the Osaka Continental and the daughter of Hiroyuki Sanada's Koji.
Featuring heavily in the high-octane attack on the Osaka Continental, Akira has some impressive sword skills presumably learned from her father. Although injured in the fracas, she escapes with her life and makes a surprising cameo in the franchise's first post-credit scene.
Sawayama makes a mark in her film debut, and given the post-credit tease involving Akira and Caine (Donnie Yen), we guess she'll be back in a potential Chapter 5 or spin-off project. Akira gets her own Wick-inspired trajectory and is likely on a mission of revenge following the death of Koji.
Put on Your Dancing Shoes
Speaking of spin-offs, there's a potential wink to Len Wiseman's Ballerina. The Marquis is seen watching a ballerina in a brief scene, and given what we know from Chapter 3, there's every chance she's one of the girls trained by Anjelica Huston's Director.
Parabellum introduced us to Huston's character, who paid the price for helping Wick by having her hands stabbed with a sword. The head of the Ruska Roma crime family is the adoptive mother of John and trains young ballerinas as assassins.
Set between the events of Parabellum and Chapter 4, Ballerina focuses on Ana de Armas' Rooney hunting down those who killed her family. The character of Rooney appeared in the third movie and was played by Unity Phelan. Reeves, Huston, McShane, and Reddick, are due to appear in Ballerine, while Gabriel Byrne and Norman Reedus have undisclosed roles.
Wardrobe Choices
If John Wick does anything well, it's looking good while being shot at or being thrown down 222 steps. The black suit and tie ensemble has become synonymous with the surly assassin, but he's given an upgrade in Chapter 4.
The Bowery King gives Wick a new suit, which has a kevlar lining and is described as the latest in ballistic chic. Wick isn't actually a bulletproof Baba Yaga, so his suit comes in handy. Safe to say, he gets shot at a lot in Chapter 4.
Earlier, we see the High Table goons are equally impervious to bullets, with Marko Zaror's Chidi being something of a bullet sponge. Before Wick faces off against Caine, he removes his jacket, and we hear bullets clatter to the floor, proving his assailants have better aim than your average Stormtrooper.
What's in a Name?
In one brief moment, we hear Katia (Natalia Tena) welcome Wick back to the Ruska Roma as Jardani. In Parabellum, there was a throwaway mention that Wick's real name is Jardani Jovonovich.
Jardani is the Romani for John, whereas Wick seems like a westernised version of the "vich" part of his surname. Although he was pushed out of the Ruska Roma, he gets adopted back into the family during the events of Chapter 4. Only a select few refer to him by his birth name, and even on his tombstone, it says "John Wick."
With a post-Chapter 4 return for Mr Wick unsure, we could learn more about his story in Ballerina or, possibly, get a cameo from a young Jardani in The Continental. Either way, we can't imagine the franchise being quite as snappy if it was called Jardani Jovonovich.
The Pencil Trick
What is it with movies and coming up with unique uses for a pencil? Although not quite as brutal as Joker's pencil trick in The Dark Knight, Donnie Yen's Caine finds a new use for the writing utensil.
In the first movie, mafia boss Viggo Tarasov (Michael Nyqvist) claims that he once saw Wick kill three men in a bar using a pencil, while Abram Tarasov (Peter Stormare) mentions his pencil skills in Chapter 2. Then, in Chapter 3, Reeves fought for the iconic pencil scene where Wick dispatched two assassins by the entrance to a subway.
Jump forward to Chapter 4. Caine slips a pencil into his pocket and then uses it to stab Chidi through the hand. Sadly, we don't get to see Wick take out any attackers using a pencil.
Game of Thrones
Although you might struggle to connect the high-octane action of the Wickverse to Westeros, HBO's ice and fire epic gets the nod in Chapter 4.
As well as Tena and McShane having starred in both worlds, the handler who trained Thrones' Ghost trained the two Belgian Malinois that belonged to Halle Berry's Sofia in Chapter 3. We also had Jerome Flynn playing Berrada in the third movie.
In Chapter 4, there's a weapon called the Taran Tactical Innovations Dracarys Gen-12s. It's the fiery shotgun used in the infamous top-down fight scene. If that wasn't enough, the explosive rounds fired are called Dragon Breath and pack quite the punch.
Penny for the Blind
Up there with Anderson's Mr Nobody, Yen is a highlight of Chapter 4 as Caine. As one of the most complex characters to grace the franchise, he's something of a Chinese Wick who is dragged into the dealings of the High Table.
Unlike John, Caine is blind but doesn't let it stop him from being a skilled marksman. He doesn't go into detail, however, says he offered up his eyes to the High Table. Following the post-credit stinger that we'll see Caine again, expect his story to be expanded.
Paint it Black
Things really crank up a gear when the Marquis raises the bounty on Wick's head to try and stop him from making it to the duel at dawn. There's a particularly action-packed scene where he races around the streets of Paris and the ​​Arc de Triomphe.
While driving about in a black muscle car, there's a rousing cover of the Rolling Stones' Paint it Black. The song has been used in numerous shows and movies, with standouts being Full Metal Jacket (1987) and Ramin Djawadi immortalising it in Westworld. More recently, it was heavily featured in Black Adam.
Given that we've rarely seen Wick in anything other than his black suit and sporting a black gun, "Paint it Black" is a fitting soundtrack to accompany the scene. If you're looking for the song, it's "Marie Douceur, Marie Colère" by Manon Hollander.
A 'Killa' Look
If you thought the beefy Berlin boss known as Killa looked familiar, that's because the larger-than-life villain is actually Scott Adkins. As the star has been tipped to join the franchise since Chapter 2, it's worth the wait to see him as Killa.
Giving Adkins a makeover reminiscent of Colin Farrell playing Penguin in The Batman, you'd struggle to realise it's the Undisputed actor under the prosthetics. He previously shared the role of Deadpool with Ryan Reynolds in X-Men Origins: Wolverine and once again gets thrown around in Chapter 4.
John Wick: Chapter 5
When John Wick: Chapter 4 was first announced, it was due to film back-to-back with John Wick 5. That soon changed due to the pandemic and Stahelski not wanting to rush things. Now, we're not sure if there will a full sequel to Chapter 4.
Despite John Wick's apparent demise, many expect there to be a fifth movie. Stahelski told Slash Film warned there will likely be a wait, with him not wanting to do it simply for the paycheque. In the meantime, it looks like his next focus will be adapting Sony's Ghost of Tsushima video game.
Going against the idea of seeing Wick back for more, Chapter 4 gives him a seemingly definitive evening. It's true that we don't see the body, but collapsing after seeing a vision of his wife and then cutting to his grave suggests his death will stick. Chapter 3 gave him a fake-out death, and although there was a cryptic line about those clinging to death living, we say give John Wick his noble end.