What are the best Jackie Chan movies? For over 50 years, Jackie Chan has been delighting us all by putting his body on the line for our amusement.
He's a living legend of action movies, spending decades making some of the biggest and most dangerous films in Hong Kong before migrating to Hollywood. His time making American thriller movies didn't quite have the same impact, but we've always been glad to see more of him.
His comedy movies and adventure movies endure as some of the most fun you can have watching a film. Finding the best Jackie Chan movies isn't an easy task, but we're here to make it simple. Pick one, relax, and enjoy all the bone-breaking martial arts.
What are the best Jackie Chan movies?
Rumble in the Bronx
Police Story
Drunken Master 2
Project A
Police Story 4: First Strike
The Forbidden Kingdom
Police Story 3: Supercop
Dragons Forever
Rumble in the Bronx (1995)
By the mid-'90s, Chan had become a global star. For Rumble in the Bronx, he gets caught in some violent gang drama on the mean streets of New York City. Typical, really.
The bikers give the film a different edge from most of Chan's work, presenting a different dynamic to the organised crime he's normally up against. Throw in that he's not on active duty and you get something that feels just that bit more dangerous than usual for the daredevil.
Police Story (1985)
Jackie Chan's brainchild franchise, for which he stars, directs, and co-writes different instalments. The first is all him, as he introduces Chan Ka-Kui, a Hong Kong detective who's framed by the gang he's targeting.
Cue Chan on the backfoot for the duration, a position he excels in. The speed, pacing, intricacy, and adrenaline make Police Story lightning in a bottle, one of our great masterminds of action cinema at his height.
Drunken Master 2 (1994)
Don't mess with Jackie Chan, even when he's had a few. The follow-up to 1978's Drunken Master is more confident and more slapstick in equal measure, with Chan downing spirits and wine to make himself more powerful, like an inebriated Popeye.
Two decades of filmmaking experience have created a blend of martial arts and comedy so strong it's just infectious. Be ready for the downer ending, mind.
Project A (1983)
Legend has it the Jackie Chan Stunt Team became official on Project A, and you can tell there was some excitement in the air. The pirates of 1800s Hong Kong push Chan to do some of his wildest stuntwork and hand-to-hand combat ever, much to our amusement.
There are parts of Project A that need to be seen to be believed, from the dance-like bar fight to Chan getting himself literally stuck on a clock tower. You could easily imagine this film being a musical, but then it already sort of is, just using fists and kicks for the rhythm.
Police Story 4: First Strike (1996)
The rest of this film could be boring exposition and it'd still make the cut thanks to a delightfully springy sequence that involves Chan moving from tables to scaffolding to ladders. Stilts versus a Landrover in a shopping mall and a messy hotel teardown only cement the picture's status.
Jackie takes on Russian weapons dealers for the fourth instalment in the Police Story saga. A decade strong and he's still finding ways to pull out the stops.
The Forbidden Kingdom (2008)
Jet Li and Jackie Chan's first and only movie together is truly a product of Chinese mythology pushed through the gears of Hollywood. Li and Chan are Sun Wukong and Lu Yan, respective warriors whom American teenager Jason meets when he's magically transported back in time.
The obnoxious framing narrative ceases to matter when Sun and Lu fight, kicking life into uninspired cinematography. There's enough energy the opportunity isn't squandered, some genuine luck given it's the same director as Stuart Little.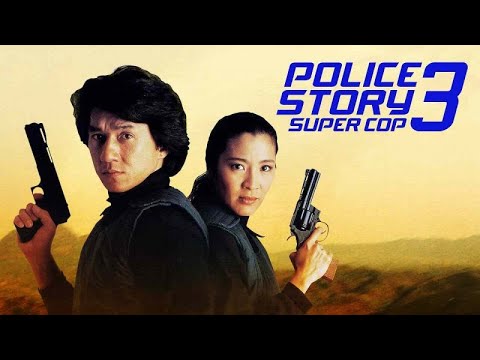 Police Story 3: Supercop (1992)
Michelle Yeoh joins Jackie Chan for the Police Story threequel, and proves herself well able to defy death to the same degree. They team up to take down a drugs kingpin, putting themselves in harm's way in just about every way you can imagine.
Chan ceded the director's chair to upcomer Stanley Tong, who keeps momentum high. A motorcycle jump from Yeoh tends to get all the attention, but every fight and chase has something to it. With these two at the forefront, how could they not?
Dragons Forever (1988)
That time Chan portrayed a lawyer – rest assured, there's not much courtroom drama. He's brought in by a company hoping to shut up locals complaining about their work. The plan doesn't work, and it turns out they were drug dealers to start, who knew?
Since negotiations are out the window, they settle everything using arms and legs. The end of an era, as it'd be the last collaboration between Chan, director Sammo Hung, and co-star Yuen Biao. A fine swansong.
Those are the best Jackie Chan movies ever made. Our guide to the Fast and Furious movies and the best spy movies will keep you on the edge of your seat. Have a look at our new movies list for more great films to watch out for.