Who is in the Jack Ryan season 4 cast? All good things must end. Sadly, this also means that Jack Ryan's last season of the hit series had to arrive sometime, and we're now left without him.
During season 3, Jack Ryan (John Krasinski) managed to save the world once again, this time from nuclear armageddon, and one of the streamer's best TV series ended with Ryan getting a medal for his bravery. So, what did the Amazon Prime show have in store for the ending?
Tom Clancy, the author who created Jack Ryan, wrote an avalanche of books featuring the character, and there are plenty of stories left to tell about the reluctant field agent. What did season 4 cover? Who is in the Jack Ryan season 4 cast? Read ahead for all you need to know about the final season.
Who's in the Jack Ryan season 4 cast?
John Krasinski returned as the CIA's best financial analyst, and he wasn't alone in Jack Ryan season 4's cast.
Here's the Jack Ryan season 4 cast list:
John Krasinski as Jack Ryan
Abbie Cornish as Cathy Muller
Wendell Pierce as James Greer
Michael Kelly as Mike November
Betty Gabriel as Elizabeth Wright
Michael Peña as Domingo "Ding" Chavez
Louis Ozawa as Chao Fah
Michael McElhatton as Bill Tuttle
Zuleikha Robinson as Zeyara Lemos
Derek Cecil as Senator Joan Henshaw
Okieriete Onaodowan as Adebayo "Ade" Osoji
Jim Lau as Tin Tun
Adam Bernett as Patrick Klinghoffer
David Bedella as President Charles Bachler
John Schwab as Thomas Miller
What are people saying about Jack Ryan season 4?
Reviews for Jack Ryan season 4 are generally positive, and at the time of writing it has a 87% critic score and a 63% audience score on Rotten Tomatoes.
Zaki Hasan of The Wrap in his review said, "Boy, is it great to have him back — even if only to say goodbye."
What is Jack Ryan season 4 about?
In Jack Ryan season 4, Jack was tasked with rooting out CIA corruption and investigating a drug cartel and terrorist organization.
The final season found Ryan on his most treacherous assignment yet: facing an antagonist both unfamiliar and close to home. While serving as Acting Deputy Director of the CIA, Ryan is charged with uncovering internal corruption and finds dubious black ops that could reveal the vulnerability of the US.
As Jack and the team examine how deep it all goes, he learns a far-worse truth: the confluence of a drug cartel with a terrorist organization, indicating a conspiracy much closer to home and testing his belief in the CIA.
Is there a Jack Ryan season 4 trailer?
The Jack Ryan season 4 trailer dropped on Wednesday, May 31, 2023, and it opened with an unauthorized CIA assignment which terrified Jack.
From there, we got to meet one of the new season's major players Domingo Chavez, the deadliest CIA operator ever, and mention something called convergence, where a cartel and terrorist organization fuse. Check it out for yourself below.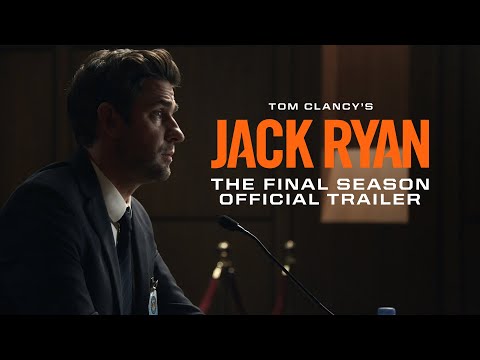 Is Jack Ryan ending after season 4?
Season 4 marks the end of Jack Ryan, so we'll probably never see Jack become president as he does in the books.
Just because Jack's hung up his guns, though, doesn't mean the whole Clancyverse is done. Michael Peña's Ding Chavez is reportedly getting his own spin-off series.
Where can I watch Jack Ryan season 4?
Jack Ryan season 4 is available to stream on Amazon Prime Video along with the first three seasons.
If, for some reason, you don't have a Prime Video subscription, you can sign up here. Once you've done that, you can check out everything that's new to Amazon Prime this month.
How many episodes does Jack Ryan season 4 have?
The final season of Jack Ryan has six episodes, unlike other seasons.
This sets it apart from previous seasons, which usually had eight-episode runs.
What was the Jack Ryan season 4 release date?
Jack Ryan season 4 was made available to watch on Friday, June 30, 2023, exclusively on Amazon Prime Video.
Season 4 premiered on June 30, 2023, with the first two episodes dropping at once. From there, two episodes were released every Friday.
If you love great television, then check out everything you need to know about one of the best sci-fi series with the Severance season 2 release date. Or, maybe you prefer your drama to be a bit more serious. Well, don't worry. We have a guide all about The Handmaid's Tale season 6 release date.
Once you've checked that out, you can also take a look at everything new on Netflix and new on Disney Plus this month, to make sure you're getting the most out of your streaming services.