In terms of the best fictional baddies, they don't come much more troubling (or frightening) than Voldemort. The big bad of the Harry Potter franchise, Voldemort has been scaring us since we were kids. Frankly, the best fantasy movies ever made are nothing without their mystical antagonists, and this snake-nosed fiend takes the top spot of best movie villains for many.
The Harry Potter characters are rarely seen without their wands throughout the franchise. And for every Hogwarts student that can handle their wand, there's a Harry Potter villain that can outmatch them.
Part of what makes Voldemort so terrifying (aside from his horrific features and general serial killer-ness), is his ability with the Elder Wand. Eagle-eyed Potter fans over the years will have noted that despite the majority of the witches and wizards hold their wands a somewhat normal way, Voldemort has a looser grip with his weapon of choice.
At times, it seems as if the wand may fall out of his hand altogether, since he barely appears to be holding it at all. But the man behind the villain – one of the best actors of all time, Ralph Fiennes – has a reason for the specific wand flair, as well as an explanation as to how they pulled it off.
"With Stuart Craig, who's the production designer, and his team, we discussed what the wand would be," he said [via GQ]. "It has a hook on it, so I can hold my hand, and then the end can hook around this finger. Like I almost have the hand open… you'd think it would fall off the hand. But I just enjoyed that it could be light in the hand."
It makes sense that Voldemort would have a different wand brandishing style than the others in the Harry Potter cast. As one of the most powerful and narcissistic magical figures, the way he holds his wand presents a sense of ease, which Voldemort would most certainly have when killing his victims and enemies.
The wands are such an integral part of the Harry Potter universe, that they almost become characters in themselves. One of the most memorable and important scenes of the first movie is when Harry enters Ollivanders to find his first wand. It's a striking moment, and proves just how valuable and treasured these magical items are.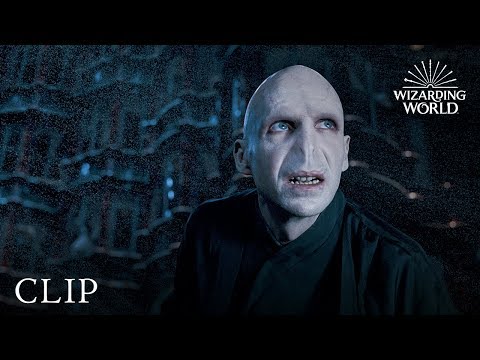 Of course, we also know that a wand channels the energy and power of the owner's abilities, so Voldemort's relaxed and skilled handling of the weapon probably manifests in his ability to take down his enemies so quickly. Or at least, it does until he finally comes face to face with Harry Potter.
Learn more about the magical world with our guide on how to watch the Harry Potter movies in order. We've also got a breakdown of the Harry Potter TV series release date and the Cursed Child release date. We've also got character guides on Dumbledore, Hagrid, and Grindelwald.
If that's not enough, you can also check out our guide to the best family movies, and read our feature on why Hermione overshadows Harry Potter in the movies, or why Harry Potter is the OG nepotism baby.