Last week's sensational episode of Foundation really fired the starting pistol on some of the main threads of the season, giving us more of Queen Sareth's plans and sending Hober Mallow off on a crucial mission. One of the best TV series on Apple TV Plus had kicked up a notch.
It's fair to say that the latest installment of one of the best sci-fi series around doesn't match the intensity – and surprising lightness of touch – we got in Foundation season 2 episode 4. However, this episode – penned by Joelle Cornett and Jane Espenson – does a terrific job of building more narrative and finally giving us a decent idea of where Seldon (Jared Harris), Gael (Lou Llobell), and Salvor's (Leah Harvey) wandering will take them.
There's no getting away from it, this episode was a dense tangle of exposition and complexity, but it also gave us perhaps the most visually spectacular planet we've seen on the show to date. Let's dive into it all, starting with the unlikely trio of mother, daughter, and recently reincarnated religious figurehead…
Ignis the way home?
We last saw Hari Seldon waking up in a corporeal body at the end of Foundation season 2 episode 3 and now he's being plagued by visions of Raych (Alfred Enoch) and his murder. Salvor says Seldon was cloned by Kalle (Rowena King) and they learn that the word of the Foundation is being spread through the Outer Reach as a religion.
They arrive on Ignis, having followed the clues they gained from Gael's vision back in Foundation season 2 episode 2. It's not a comfortable landing and Salvor is immediately alert, having seen someone watching their crash landing. She heads off into the impressively verdant forest – there are a lot of soulless spaceships and deserts in this show – to investigate, only to come face to face with her former partner Hugo (Daniel MacPherson). Bumping into your ex is weird enough, but they haven't seen each other for over a century.
Seldon is immediately suspicious and tells Gael to hide the Prime Radiant before quizzing Hugo, who we quickly learn is not who he says he is. The mysterious attacker is soon joined by armed friends, who knock out the trio. They awake in some sort of palace, where Gael and Salvor can hear a distant singing. They follow the sound until they see an ethereal child claiming to be the ruler Tellem Bond.
Seldon deduces that she's a smokescreen for the real Tellem Bond (Rachel House), who explains that Ignis is a refuge for those who "have all your senses" – known as either Mentalics or Sighted, depending on your presence. Perceptive viewers will note that the word "Mentalics" came from the mouth of The Mule (Mikael Persbrandt) in Gael's vision as an army fighting on her side of that war.
Tellem Bond explains that she and many of the other Mentalics were persecuted on their home worlds as a result of their powers. Seldon admits that they are a part of his plan and they agree to talk tomorrow. But after the trio leaves, Tellem Bond and the fake Hugo, Loron (Michael Akinsulire), discuss the missing Prime Radiant. She vows to find it and break it, declaring: "There's not going to be a Second Foundation".
Look, we said there was a lot of plot in this episode. It was certainly a challenge to keep up with it all and the Mentalics are very much a new wrinkle to everything that's going on. The ever-brilliant House, though, is an intriguing addition as Tellem Bond. Initially, it seems she's going to be something of a villain, which raises questions about how the Mentalics and Gael end up on the same side. We're along for the ride on this one, as long as we can keep up.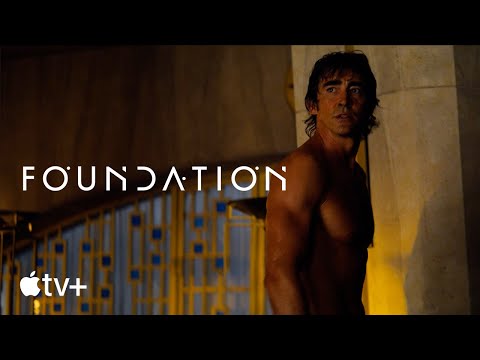 Queen of Shadows
Sareth (Ella-Rae Smith) is frustrated to learn that her Imperial informant can't get the footage of the assassination attempt on Brother Day (Lee Pace). She decides to charm her way into the bedchamber herself, so she can assess what happened. Day, we learn, is actually quite nervous about this, having only ever slept with Demerzel (Laura Birn). She, bizarrely, gives him a pre-game pep talk.
It doesn't go well, though, and Day realizes that Sareth is there to scope out the aftermath of the assassination. She claims that she was doing so not because she ordered the attack, but to decide whether she would be safe living there. Sareth says she'll accept Day's marriage proposal, if and when he finds the traitor responsible for the attack.
We see Demerzel reassuring a shocked Day that there's no evidence linking him to the death of Sareth's family. As things stand, she's right. However, by accessing the memories of one of the Imperial medical team with the help of their informant, they're able to see what happened when Day was healed. This confirms to them that Demerzel is secretly an android.
The comedy beats with Day and Demerzel in these segments are really fun and Sareth gets some great lines in their bedchamber confrontation, particularly hitting Day with the line: "the closest people to you are you". Very nicely done.
Dusk, Dawn, Darkness
Elsewhere on Trantor, Sareth's right-hand woman Rue (Sandra Yi Sencindiver) is continuing to charm Brother Dusk (Terrence Mann) and they lie in bed watching the memory of their night together 30 years earlier. She asks him whether the Cleons can modify their memories, as they do with concubines, but he says that doesn't happen. He learns from her that those who've had their memories changed can't feel that it has happened.
Demerzel later tells Dusk that only Day has the power to change memories, in the wake of his suspicions about his brothers being involved in the assassination. He points out that he wouldn't know if his memory had been modified, but Demerzel says she would tell him as her role is to serve all of Empire – not just Day.
Dusk shares his concerns with Brother Dawn (Cassian Bilton) and they go to visit Cleon I in the Principium, manifesting him as a memory to answer their questions. Cleon is dismissive about Day's overreaching and says that any division between the Cleons dishonors his plans for the Genetic Dynasty. The two brothers decide to chase up Dusk's concerns about memory, demanding the files for every Cleon in history.
The memory bank shows that almost all of the Cleons have between 80 and 90 cataphyls of memory, but Cleon I had more than 200. Dusk and Dawn now worry that something is missing from the lives of the subsequent Cleons. We know that the Genetic Dynasty might not have ever been as perfect as they would like it to be, but this suggests something really serious has been going on for generations.
Verdict
This was an exposition-heavy episode, for sure, but there was a lot of fun to be had in the scenes between Day and Sareth. It's also interesting to see Dusk and Dawn forming a little detective duo as the cracks in the Empire are coming from within, rather than from the Foundation. As for the Mentalics, we're still scratching our heads about it all. We can't deny that it's all good fun though.
Keep up with the rest of this season by following our guides to the Foundation season 2 release schedule and how to watch Foundation.
There's plenty of sci-fi to enjoy among the best Apple TV shows and we've got all of the information you need on the For All Mankind season 4 release date and the Invasion season 2 release date. We've also delved into why For All Mankind is the natural successor to Star Trek and the Ted Lasso moment that shocked even one of its stars.
If you can keep track of the myriad plot threads – we might need a Memorium of our own – then this is another enjoyable hour of Foundation. We did miss last week's lighter tone though.