Why is the Five Nights at Freddy's movie taking so long? One of the most popular videogame series is finally coming to the big screen, so that the robotic critters of Freddy Fazbear's Pizza can terrify us all once again in a completely different medium.
Five Nights at Freddy's fans have certainly had to be patient. The first rumblings of a movie came about way back in 2015, but it was years before a Five Nights at Freddy's movie release date was ever solidified. Thankfully, there isn't long to wait now – as long as we don't see another delay to what could be one of the best video game movies ever made.
So why is the FNAF movie taking so long? Well, there are a few reasons why we haven't seen one of 2023's most exciting new movies yet, but we're still hopeful that it'll be worth the wait and end up as one of the best horror movies of the year. Here are all of the reasons we haven't seen the movie yet.
"Problems within the movie industry as a whole"
Warner Bros got hold of the FNAF movie rights way back in 2015, but news quickly went very quiet. Game creator Scott Cawthon then updated fans with a 2017 post on Steam, in which he said: "Last year the FNAF movie was met with several delays and roadblocks, some involving problems within the movie industry as a whole. As a result, as of right now, the movie is back at square one."
Since then, Cawthon has been intimately involved with the movie at every stage of its development. It's unsurprising.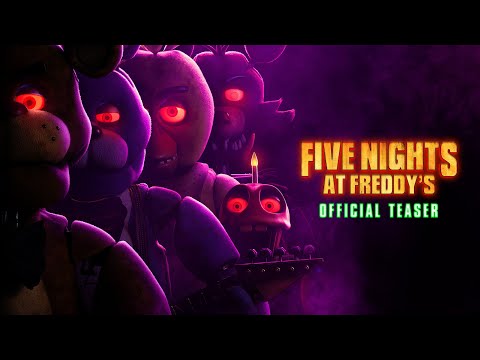 Studio and director changes
Blumhouse picked up the rights from Warner Bros shortly after Cawthon's 2017 update, with assigned director Gil Kenan (Poltergeist) stepping away at the same time. A year later, Blumhouse hired Chris Columbus – best known for the first two Harry Potter movies.
Columbus would ultimately move aside in 2021, making way for eventual director Emma Tammi. But before then, there were bigger problems behind the scenes.
Binned script
With Columbus on board, everything seemed set to go. But then Cawthon decided to junk his script, which both Jason Blum and Columbus liked, in favour of a new idea he preferred.
Cawthon confessed that this would put the planned 2020 release date in jeopardy, and he took full responsibility for the delay.
Filming delay
The FNAF movie once again seemed ready to go, with the start of filming set for early 2021. However, this date came and went, with script issues reportedly at the centre of the latest delay as well. Columbus moved away in the wake of this delay.
Throughout the process, Cawthon has been clear with his fans that he wouldn't go ahead with a movie unless he could guarantee it would reflect his vision. It's laudable for a creator to be so open and honest when things aren't going well.
Red eyes?
Five Nights at Freddy's fans finally have a concrete promise of the future. The movie is in the can after shooting in the first half of 2023, and a teaser trailer revealed that the film will arrive in cinemas and on the Peacock streaming service in October 2023. All good, right?
Well, that would be reckoning without the brewing social media storm over the fact the animatronic beasties seem to have red eyes, rather than the black and white peepers fans of the game were expecting.
Some fans are manfully trying to explain that this is all completely justified in the lore of the games (see below), while others are calling for a delay to redo the CGI, a la Sonic the Hedgehog. There could be more twists in this story just yet.
While we wait for Five Nights at Freddy's to finally show up, find out about how FNAF could be a trilogy of movies and head over to our friends at PCGamesN for more of the best creepypasta games you can play right now.
We've also got guides to some of the best movies on the way for horror fans. So take a look at our guides to the Insidious 5 release date, The Meg 2 release date, and the Saw 10 release date.