What happens in the Fast X ending? The big screen's fastest family are back, and they're wheel-spinning up a storm in yet another utterly absurd adventure. There are fast cars, exploding helicopters, and a bouncing bomb tearing Rome apart. To say it's wild would be an understatement.
The new Fast and Furious film sees the arrival of one of the best movie villains the franchise has ever produced in Jason Momoa's Dante Reyes. He's an utterly chilling clown with a ruthless streak who bears an enormous grudge against Vin Diesel's Dom Toretto. After all, Dom and his buddies were responsible for killing Dante's father, drug lord Hernan Reyes, way back in Fast Five. Come on, folks, keep up.
Dante causes real problems for the Fast and Furious characters and – as we explained in our Fast X review – things gets seriously explosive. So let's dive into the Fast and Furious 10 ending to see where we end up ahead of Fast and Furious 11.
What happens in the Fast X ending?
Fast X ends with Dom Toretto and all of his family in grave peril after Dante blows up a dam, and the rest of the team is shot down in a plane.
The final act of Fast and Furious 10 sees Dom and his brother Jakob (John Cena) trying to prevent Dante from capturing and hurting Dom's son, Brian. Jakob sacrifices himself by driving his failing car into the vehicles being driven by Dante's mercenaries, killing them all – and presumably Jakob – in a massive fireball.
By this point, Dante has been able to get Brian into his car, and soon he uses two helicopters to attach grappling hooks to Dom's car, pulling it off the road. Dom uses a nitrous oxide boost to pull the helicopters down, steering one in the direction of Dante's vehicle. He then pulls off an elaborate manoeuvre to line up the two spinning cars, allowing Brian to jump into his arms.
Before they can escape, though, Dom and Brian are cornered on a dam by two petrol tankers at opposite ends. A plane arrives carrying Roman, Tej, Ramsey, and Han, but, unfortunately, the family had been lured into a trap. They are shot down with a missile by Agency boss Aimes, who is revealed to have been working with Dante all along.
Dante sends the petrol tankers to drive towards each other, but Dom drives directly off the dam's side before the explosion can sandwich him. He zooms down the side of the dam with flames at his back and successfully splashes down at the bottom.
But their relief is short-lived as Dante reveals that the entire dam has been rigged to explode. Before we can see if Dom and Brian have been crushed beneath the rubble of the explosion, the movie cuts away to Letty and Cipher.
Both women had been imprisoned at a black site in Antarctica earlier in the movie. They became reluctant allies in order to escape, and we meet them here as they finally break free of the facility. Just as Letty is wondering what they will do next, a submarine emerges from beneath the ice.
Someone pops out of the top of the submarine, and it's Gisele Yashar – as played by the returning Gal Gadot. Cue the credits. Yes, Gisele did die a decade ago in Fast and Furious 6. Yes, we're confused too. But in Fast-land, nobody really stays dead for long.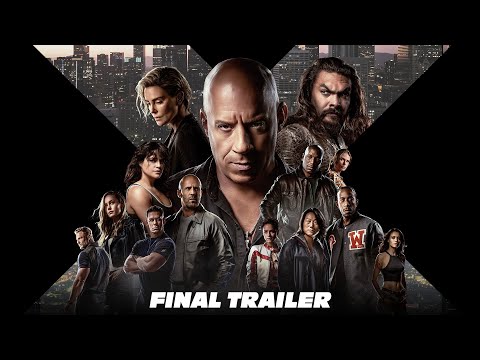 What happens in the Fast X post-credits scene?
The Fast X post-credits scene reveals a returning Luke Hobbs, played by Dwayne Johnson, and lets us know that he, too, will be a target for Dante Reyes.
As if the (literally) explosive ending of Fast and Furious 10 wasn't enough, we get a post-credits scene in which a troop of heavily-armed military types are swarming into a building. It's soon revealed to be an abandoned theatre, with a cell phone ringing at the front.
The lead military dude, wearing a face covering, picks up the phone and hears the voice of Dante Reyes, saying that he will also be made to suffer for being the man who actually pulled the trigger to kill his father.
The man removes his balaclava to reveal Dwayne Johnson as Luke Hobbs. Defiantly, he says into the phone: "I ain't hard to find, you sumbitch". The Rock is back.
If that all has you excited to find out more about Fast and Furious movies, check out the wild alternative titles for the Fast franchise in Japan and take a look at how Tommy Lee Jones in Fast and Furious would've changed cinema.
We've also got guides to the biggest and best movies coming to cinemas this year, including The Equalizer 3 release date and the Oppenheimer release date.