For director Peter Sohn, the new Pixar movie literally couldn't be more personal. Elemental is a joyous rom-com, but also an affectionate message of thanks to immigrant parents and the sacrifices they've made for their kids. The credits end with Sohn thanking his own Korean family. It's a poignant touch.
But he didn't always intend Elemental to be one of the most intensely personal new movies of 2023. "I knew that the heart of it was just about thanking our parents, but I didn't know it would have this much of a connection," Sohn told The Digital Fix.
Along with Domee Shi's 2022 movie Turning Red, Elemental is an example of Pixar giving a filmmaker of color the chance not only to tell a story, but to tell their story. As we wrote in our Elemental review, the result is one of the best movies Pixar has made in years.
Sohn said: "I've been [at Pixar] so long, and you never think about it in that way, but you're just putting a piece of yourself in as a seed to grow. I just appreciate the studio being open to more points of view and perspectives on things."
Elemental follows the romance between fire element Ember (Leah Lewis) and water element Wade (Mamoudou Athie), as they live with the other classical elements in the cosmopolitan quasi-utopia of Element City. Ember's family, however, disapprove of water elements as a result of the racism they have faced over the years.
Sohn said that he chose fire to represent the marginalized group in his world because of its status as the "change element".
He said: "Before they became characters, that concept was really intriguing. Then once I started drawing, the thing that was interesting was that fire and water had the most tension there that I really enjoyed. I related to fire. I felt like the creative spark and the passionate undertones of what fire was came very easily."
It's another original, non-sequel outing for Sohn, who has worked on some of the best Pixar movies over the years, as well as making his directorial debut with The Good Dinosaur.
Elemental producer Denise Ream said there's always an extra layer of pressure to an original Pixar adventure, rather than making a sequel to one of the best animated movies from the studio's glittering history. That was especially true for this movie, thanks to the impact of the pandemic.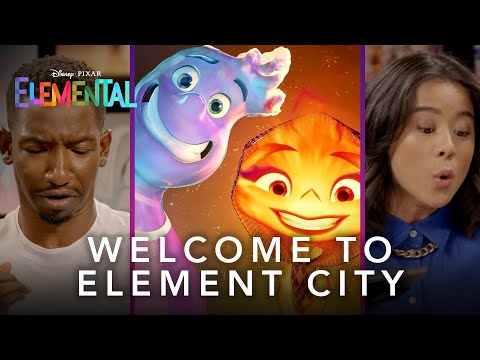 She said: "The original movies are always really interesting because you have to invent the world and find a look. So it's always about finding the right collaborators, and to work with Peter to do that on this one was a joy."
"It was more complicated because we ended up having to work from home, doing the majority of the shot production and the look development from our homes. That was something that made it more complicated. Of course we were grateful to keep working on the film, but that posed a pretty big challenge."
There's certainly some impressive technical innovation in Elemental. After all, this is a movie that took the bold decision to make its central characters' bodies out of fire and water – two of the hardest things in the world to animate.
But despite the level of focus on making those characters work, Elemental is a cavalcade of sly puns and gags, with every product in the movie given a smart bit of fire or water-based wordplay as its name. The fire family's shop sells Sparkburst candy and Frosted Flames cereal, for example.
"They're hilarious. Any time you're in a room pitching it, it's either the dad joke pun or the really clever one," said Sohn. "They're all going in there all the time. But what was fun too is that, as we were making it, we had artists that were just adding them unbeknownst to us. So there'd be just renders of stuff and you'd be like: 'Oh, Pottery Burn, that's hilarious'."
As for secret additions, Ream said there's a big-name Pixar cameo in Elemental that an animator put in there somewhere – but they can't find it. "There's a long-standing tradition and history of crews putting things in that you don't know about until after the fact. Dug from Up is in there as an earth character, and we can't figure out where it is."
With so much secret detail packed into every frame, it's no wonder that Pixar has inspired plenty of fan theories over the years – including this tragic Finding Nemo fan theory.
The most intriguing, perhaps, is Jon Negroni's enormously wide-ranging 'Pixar Theory', which posits that every single one of the studio's movies exists in the same universe. The theory tells a story of a human-animal war, the rise of machines, and evolutionary change into the beasts of Monsters Inc.
Sohn told us he's aware of the theory but, as for where Elemental might fit into that tapestry, he's leaving that for the internet to work out. "Some of these theories, I enjoy reading and I'm like: 'I can see that connection. I don't know if it was made that way, but that's a cool connection'. And then others, I'm like 'that's impossible', so I've been on both sides of the fence."
It's clear that Elemental is a movie made with love, and Sohn has invested his heart and soul into what is almost certainly one of the best rom-coms in the Pixar canon. We can't wait to see what he does next.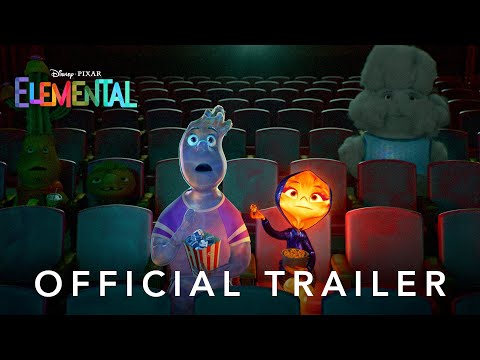 For more on Elemental, find out why we think it never stood a chance at the box office and learn whether there's a Pixar short before Elemental. Or to explore more from these animation maestros, find out why Toy Story 5 will be surprising for fans and why Pixar loves the Ratatouille scene from Everything Everywhere All at Once.
You can also take a look at our guide to the possibility of an Elemental 2 release date, as well as more of the movies coming in Pixar's future including the Inside Out 2 release date and the Toy Story 5 release date.