I feel really sorry for Elemental. Pixar's latest movie is absolutely lovely, and one of its sweetest new films in years. It's a charming rom-com set in a delightfully well-crafted world, with very important things to say about tolerance and diversity in increasingly multicultural societies. In short, it's really good.
However, Elemental has already been branded a flop. In a summer packed with new movies, in which every week seems to yield another preposterously massive mega-blockbuster, Elemental's fate has already been sealed by devastating reports in the movie trade press.
"Box office debacle," cried The Hollywood Reporter. "Elemental bombs," wrote Variety. Certainly, Elemental's sub-$30m opening weekend box office — the worst in the history of Pixar movies — doesn't make for great reading. But what's going on here, and why has such a good movie been ignored by cinemagoers?
For the answer, it's worth looking straight at the top. As it happens, Pixar boss Pete Docter has already diagnosed the problem in an interview with Variety. "We've trained audiences that these films will be available for you on Disney Plus," said Docter as part of a wide-ranging chat about the studio's strategy for its best animated movies.
Docter is absolutely right, and this was always going to cause exactly the "debacle" that the trades are currently picking through like an antelope carcass on the savanna.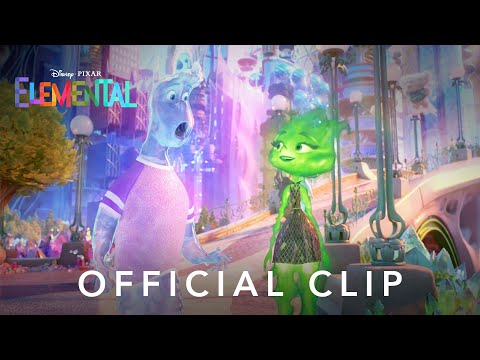 Obviously, Disney can't take all of the blame here. The company's hand was forced, at least initially. The first Pixar movie to premiere exclusively on Disney Plus was Soul, which arrived on Christmas Day in 2020. I don't know how much of 2020 you remember, but there was something quite serious and all-consuming keeping people in their homes.
At that time, the idea of delivering one of the best family movies of the year direct to our living rooms seemed like a stroke of genius. After all, Bridgerton arrived on Netflix the same day and subsequently took over the world. I was certainly glad to watch something as uplifting as Soul over that period.
When Pixar debuted its next film, Luca, in June 2021, the pandemic was far from over. Lockdown restrictions were still in a state of flux and, in any case, families weren't all rushing back into crowded cinemas. There was less sympathy for Pixar when the studio repeated the trick in 2022 with Turning Red, by which time it felt more like a bet-hedging exercise and a lack of faith in what critics ultimately called one of Pixar's best movies in years.
Later in 2022, Pixar returned to the multiplex with Lightyear — a deeply strange entry in the Toy Story franchise, as we explained in our Lightyear review. The critic reviews were mixed, audience reaction was tepid, and the movie struggled to a very disappointing total at the box office. It certainly left us wondering why Turning Red never got a chance in cinemas.
There's something illustrative about the fact that Pixar's previous cinema outing – not counting the lockdown-hit release of Onward – was ostensibly in the same franchise, Toy Story 4. That movie made $1.07bn worldwide, while Lightyear brought in just $226m. That's a deficit of $780m, which is the entire gross of the last James Bond movie. It's a stark decline, even when you account for the weirdness of Lightyear's sequel-or-not status.
Unfortunately, Elemental has not been able to reverse that decline and, barring some sort of financial miracle in the next month or so, it won't come close to doing so. And it's not as if the lack of a franchise connection is to blame. Pixar's last original movie in cinemas before the pandemic hit was Coco, which made an excellent $814m.
It's simple, really: Pixar and Disney have told families that they don't need to go to the cinema because Elemental will be on Disney Plus by the end of the summer vacation.
As of 2022, the average cinema ticket in the USA costs around $11. So for a family of four, that's going to be at least $30-£35, assuming some kind of discount. Then, on top of that, you've got travel costs, as well as food and drink — not to mention that cinemagoers living in major cities will pay far more than that.
Why not wait a month or two and experience it at home on a service you already pay for so you can watch The Simpsons?
Disney has backed itself into a corner. The same box office downturn is hitting the MCU movies, which have also become known for their swift journey to streaming services. It would be easy to draw a parallel with DVDs — and VHS before them — but the key difference is that audiences have to pay extra to own a movie on disc. Disney Plus is the equivalent of bringing someone the DVD for free and even putting it into the player for them.
The result is that movies like Elemental don't get their fair shake on the big screen, especially shuffled in with umpteen superheroes, the return of Indiana Jones, and an almighty box office smackdown between a pink doll and the inventor of the atomic bomb.
The idea of a new Pixar movie being an "event" is gone. It might well be that Elemental becomes a beloved hit on Disney Plus – it certainly has that potential, as we wrote in our Elemental review – but it will arrive there with the stench of a box office bomb.
It doesn't matter that it has a very solid 76% approval score on Rotten Tomatoes because most people don't care about film critics — and I can't blame them; I wouldn't listen to me either — but the toxic word of mouth about "flops" and "bombs" may well filter through. People will think of Elemental as a failure, even before they've seen a frame of it. And that's just unfair.
For more on the future of Pixar, check out our guides to the Toy Story 5 release date and the Inside Out 2 release date. We've also delved into why Pixar loves Everything Everywhere All at Once's Ratatouille scene and revealed if there is a Pixar short before Elemental.
And if you fancy ruining a childhood classic, check out this tragic Finding Nemo fan theory. We're very sorry indeed.