Who are the best female characters of all time? Putting together a list like this is borderline impossible because of the strides made in quality representation. The painful snubs aren't because they don't belong, but because so many do.
From the bicep-wielding heroines of action movies to the scream queens of horror movies, there are no right or wrong answers. Whether she be in Louboutin's click-clacking her way down the halls of an office à la Succession or in trainers running for her life in zombie movies, we're spoiled.
Yes, it's time to say 'girl-boss' behind a thin veil of irony and shout out the women on our screens. Jumping right out of mother lake, here are The Digital Fix's best female characters in celebration of International Women's day.
The best female characters:
Amy Dunne
Nomi Marks
Clarice Starling
Lisa Simpson
Mary Poppins
Ellen Ripley
Elle Woods
Diane Nguyen
Amy Dunne – Gone Girl (2014)
Controversial, but that's the point! It's been years since David Fincher's tightly wound Gone Girl was released, and the topics still making rounds are the Ben Affleck grinning next to his wife's missing poster meme and debates over whether Amy was a 'good for her' girl or evil sociopath activated by the behaviour of men in her life.
She made us giggle, cringe, and empathise with Affleck (hard mode for any actor). She's a nuanced character and balancing act. And be honest, who hasn't slightly embellished their diary entries?
Rosamund Pike – two for two in scary women with severe bobs after I Care A Lot – sears on screen, and while discussion around Amy's morality can be reductive, the character herself is not so easily defined.
Nomi Marks – Sense8
Netflix casualty Sense8 was cancelled back when the streaming service rarely let TV series die mid-way, as per this tweet reading, "We don't like leaving a story unfinished. We learned a lot from Sense and we're going to try not to do this in the future." Warrior Nun fans are screaming somewhere.
The series, from The Wachowskis of The Matrix fame, was a heady, beautiful portrait of how people from all walks of life are connected. The show followed eight psychically bound characters learning to walk in each other's shoes. Nomi Marks, Jamie Clayton's breakout role, was a shy and intelligent part of the collective who brought a sensitivity with her.
Nomi was a storytelling vehicle for the joys of chosen family for LGBTQ+ people, but also just a wonderful, lovable character from word go. There's a lot to miss about Sense8, including that stunner of a What's Up? by 4 Non Blondes karaoke scene, and Nomi is one of those fondly remembered pieces of the puzzle.
Clarice Starling — The Silence of the Lambs (1991)
This is possibly the hardest question I've ever had to answer ⁠— a real Sophie's Choice scenario. But while I had a plethora of on-screen gals to narrow down, I can't help but go with my heart on this and put forward FBI legend Clarice Starling as my all-time favourite, bros-for-life, ride-or-die female movie character.
As a true crime enthusiast and thriller movies fan, The Silence of the Lambs holds a special place in my heart. Clarice has a top place in the ranks of fictional female detectives, alongside Olivia Benson from Law and Order: SVU, Gracie Hart from Miss Congeniality, and Dana Scully from sci-fi series The X-Files, but the 90s movie cleverly plays on the trials and tribulations of being a woman in the FBI in a superior way to the others.
From the eerie shots capturing the towering eye contact of her male counterparts to the blood-pulsing night-vision scene that sees Clarice at her most vulnerable, The Silence of the Lambs isn't afraid to steer away from the 'strong female character' cliché and instead just lets her be.
Clarice is allowed to be afraid. She is allowed to be judged by her superiors. She has trauma and can be outwitted. But she's also sharp, sufficient, and holds her own against one of the best movie villains in Anthony Hopkins. She's just as quick and layered as she is in the novel, and Jodie Foster's Oscar-winning performance made Starling one of the most unique and admirable characters not only in her genre but in the grand landscape of female-led storytelling.
Lisa Simpson — The Simpsons
Lisa Simpson is a blessing and a curse. She taught little girls everywhere that intelligence and drive are necessary, but can also be blamed for my intense ability to show off at a young age. This saxophone-playing, academia-soaring vegetarian feminist was a rockstar to me. Although later seasons saw Lisa become a little less bearable, early The Simpsons showcased her as a passionate and thoughtful child that fought for her ideals amid her blasé family.
Throughout the animated series, we see her cry, lose control of her emotions, and struggle with the often bizarre attitude of adults around her. Although she's a super-genius, it's never lost on audiences (or the creators) that Lisa is still just a kid.
Her inquisitive nature and musical passion brought us some of the best moments in the series, such as her devoted admiration for the jazz musician 'Bleeding Gums' Murphy, or her redevelopment of the previously vapid Malibu Stacey doll. But the episode that won Lisa a place in my heart forever was Summer of 4 Ft. 2, in which the family go on vacation to a seaside town, where Lisa creates a fake 'cool' persona in order to fit in with the local skater kids. Eventually, Bart exposes her true nerdy self, but thankfully they shrug it off, revealing they like the real Lisa.
It's a sweet and simple arc that hits close to home for anyone who struggled to fit in with others their age. Over time, Lisa learned to accept herself and, more importantly, be proud of who she is. Talent and hard work are cool traits, and the ability to stand up for your beliefs is an important quality in any person, let alone an 8-year-old girl. On behalf of girls everywhere, thanks, Lisa.
Mary Poppins — Mary Poppins (1964)
Mary Poppins is a female character that stands the test of time as a trailblazer and feminist icon. The magical nanny, who is, in her own words, "practically perfect in every way," is a force to be reckoned with. From unlimited magical power and an unmatched wit that easily puts the toxic masculinity-ridden Mr Banks in his place — not including Mary in our list would be a cinematic crime.
The 1964 Disney movie Mary Poppins was the studio's accidental feminist movie. While the musical features Mrs Banks fighting for the suffragette cause in her spare time, it is Mary who shatters stereotypes and proves that a woman can have it all.
Mary's appearance and femininity broke Hollywood's intellectual, unattractive feminist trope, and her firm but rational counters to Mr Banks' tantrums regarding how the home should be run were powerful and shone a light on how fickle the 'hysterical woman' image still portrayed in media can really be.
Mary is maternal yet also a free spirit. She is beautiful and intelligent. And above all, she can charm everyone she meets — be they dancing penguins, greedy bankers or chimney sweeps. Women don't have to fit into one box, and no character proves that better than Mary.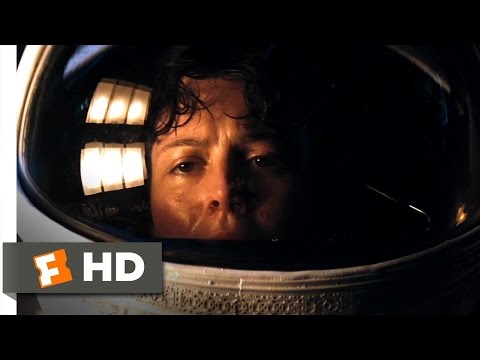 Ellen Ripley — The Alien franchise
There have been plenty of badass female leads in Hollywood, but Ellen Ripley stands out thanks to her unbreakable survival instincts and three-dimensional character. Played by Sigourney Weaver, Ripley is another happy accident when it comes to being a feminist icon — originally, the part was written for a man.
While the character was born from misogynist shock value, Hollywood's fumble led to a complete and stereotype-breaking leading role. Ripley is the central protagonist of the Alien franchise and the lone survivor of her original crew who faced the deadly Xenomorphs.
Throughout the franchise, Ripley kicked butt, proved herself a tremendous leader, and stood as a testament to the fact women can not only make great heroes in science-fiction movies but can be some of the best in the history of other genres, too.
Female action stars, which tend to be written by men, also typically have their power overshadowed by two-dimensional over-sexualisation. In media, we are forced to view women as either dependent mothers or independent, wild love interests. Ripley is, first and foremost, a person. She stands as a pillar of female representation in a genre that is still male-dominated and struggling to write gender.
Elle Woods — Legally Blonde (2001)
Elle Woods in Legally Blonde inspired me so much that I went to law school. Sure, I dropped out after a year but let's not focus on the details. As well as her drive to succeed, what I love the most about Elle is her unapologetic hyper-femininity.
There's a misconception that women have to choose between being feminine/in touch with their sexuality and being intelligent. Elle resists the outdated idea that you have to be one or the other, and society's temptation to box women in.
She's single-handedly responsible for second-wave 'bimboism', which combines hyper-femininity with smarts proving the two can co-exist and thrive together.
Diane Nguyen — BoJack Horseman
Diane Nguyen from the animated series BoJack Horseman is far from the 'perfect' woman, but here's the thing — none of us is. And that's precisely why I like her, along with the fact that she's aware of her flaws and actively strives to be a better person. There are a lot of women on TV who are 'good' people, but they're good in an unrealistic, Mary-Sue-like way which is impossible to relate or aspire to.
This makes Diane's goodness more realistic and relatable. Even if she doesn't always get it right and makes mistakes, she owns up to them and works hard to be better. She also played an important role in destigmatizing anti-depressants and weight gain, and it's refreshing to see a TV series where weight gain isn't treated as a bad thing or a plot point related to beauty standards.
Her solo episode 'Good Damage' in particular was a powerful, introspective analysis of female mental health which I believe helped a lot of women.
So, there you have it. Some of our favourite female characters of all time, across movies and television.
For more Ripley, see our guide to the best Alien movies, and replace that Sense8 and BoJack loss with one of the best Netflix series. If you're in a movie mood, check out our list of all the new movies coming out.