Good news for anyone with a sweet tooth — the Wonka trailer is finally here! Wonka is the new musical starring Timothée Chalamet, exploring the backstory of the one and only Willy Wonka.
One of Roald Dahl's most famous characters, Wonka has already appeared in the form of both a 1971 fright fest and a 2005 GCI extravaganza. But Wonka takes us back to the master chocolate maker's humble origins and how his world-famous factory came to be. Led by Paddington director Paul King, Wonka has finally been revealed to us in a shimmering first trailer.
In the trailer, we are given a full view of the world of Wonka, where a young version of the chocolatier looks to make his name in the chocolate industry. But it doesn't look like it'll be easy. Chocolate cartels, police forces, and fines for daydreaming are all set to be obstacles for this iteration of Wonka.
But don't just take our word for it. Take a look at the magical world of Wonka in the trailer below.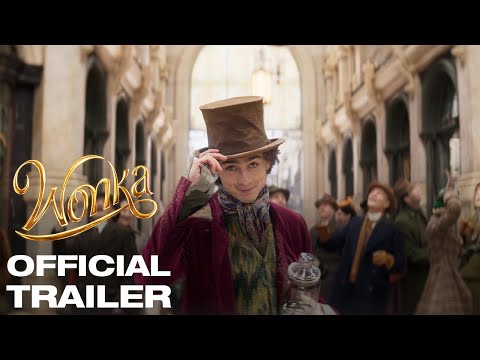 There's no doubt that this new movie will be a showstopping musical, with big dance sequences and grand sets taking up the screen. We're yet to hear a song from the film (or an example of Timothée Chalamet's musical theater abilities) but one thing's for sure — Wonka is set to be a visual spectacle.
It appears that while the movie will explore Wonka's origin story, it will also spend some time on how he developed some of his iconic candies, too. Since we get a brief glimpse of his sweets that can make people fly, maybe we can expect some Easter eggs for the most well-known Wonka treats. (Everlasting Gobstopper, anyone?)
It also looks like this family movie might be an emotional ride, as we get a glimpse of what appears to be Wonka's mother (played by Sally Hawkins), followed by a solitary moment for young Willy.
But the moment that's got us talking the most is the reveal of Hugh Grant's Oompa-Loompa. Delightful singing character or nightmare fuel? We'll just have to wait for the Wonka release date to find out.
We were lucky enough to attend the Wonka trailer event, where Paul King unpicked some of the best trailer moments, as well as dropped some hints as to what we can expect. Check out the five things we learned from the trailer event to see what you missed.
Take note of this year's new movies coming out, and find out everything you need to know about the Barbie release date and Oppenheimer release date. Check out our list of the best movies of all time, too. And, for more Chalamet, take a look at our guide to the Dune 2 release date.