Upon hearing the news that streaming service Apple TV Plus had acquired the rights to a Tetris movie, you were probably either confused or frustrated, and possibly both. Justifiably, the initial assumption for many was the Tetris movie would be some convoluted Wreck it Ralph-style attempt to cash in on name recognition and nostalgia – here we go again.
Thankfully for the team behind Tetris, their dignity remains intact as Jon S. Baird's Tetris movie is an entirely different beast altogether. Gracefully eschewing the chance to construct a narrative somehow set in the Tetris world (a universe in which, presumably, that music rings out constantly), the decision was instead taken to create a movie based on a true story, and a thrilling true story at that.
Set primarily in Moscow under the rule of Mikhail Gorbachev during the crumbling of the Soviet Union, the new movie details the journey of the brash and bold videogame designer Henk Rogers as he attempts to secure the legal rights to distribute Tetris around the world, and across platforms. Who knew that a game about falling squares could be the backdrop to so much personal and geo-political drama?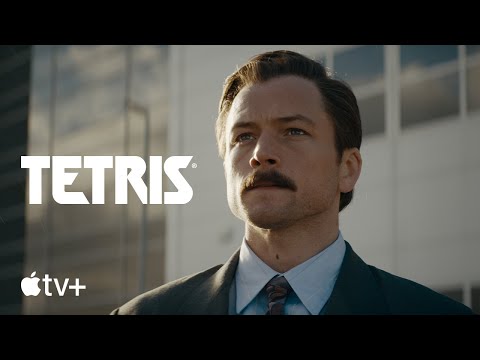 With multiple international parties involved in the battle for these distribution rights, the story is complex and detail-oriented by its nature, with Tetris' most obvious flaw being its tendency to get lost in the weeds. Especially within its middle section, the narrative is bogged down by repetitive sequences of bemused negotiation which are unavoidably dry.
Elsewhere, however, Tetris manages to build itself into a fun, smart drama movie with an abundance of style. Impressively for a movie dedicated to a game released in the '80s, Tetris avoids being swamped by over-eager references and nostalgia. Instead, it weaves in elements of the era – gorgeous 8-bit visuals, soaring anthems, and questionable fashion choices – with deft grace. It is never simply nostalgia for nostalgia's sake; something which can't be taken for granted, and ought to be savoured.
Worthy of being equally savoured is the Tetris cast. At the lead and equipped with a powerful moustache (undeniably the true star) Taron Egerton gives an enthusiastic performance as the distinctly unlovable protagonist Henk Rogers. In Egerton's hands, Rogers is pushy, arrogant, and dismissive of the needs of his family. He's the kind of person who some find persuasive and charismatic, while others (me) hate. So, placing this walking Marmite at the story's centre adds a welcome dimension of complexity.
Elsewhere, Toby Jones is a huge win for the movie, with a performance every bit as excellent as those who know his work would expect. With his character's own independent motivations and ambitions, a downtrodden Jones flits in and out of the story, extracting sympathy from the audience as he embodies a man under immense strain and impossible pressure.
While the magnetism of the cast is undeniable, the movie's own genre is decidedly more ambiguous. Is Tetris a legal drama movie? A feel-good movie with comedic overtures? A member of the Cold War spy movie club? Tetris is simultaneously each of these, and none. But most of all, the new Egerton movie yearns to be a nail-biting thriller movie à la Uncut Gems.
Frustratingly, with an array of cartoonish, toothless villains it lacks any real bite or grit. Well-crafted chase sequences in car and on foot will raise your heart rate by a few percentage points, but at no point is there ever a true sense of danger. A dedication to the true story is admirable, but a little more jeopardy would have gone a long way.
Instead, Tetris is at its best when it uses broad strokes to paint a picture of the Soviet Union and the personalities which underpinned it, while using Henk Rogers and Tetris as tools for exploration with a knowing humour. It's a far cry from what anyone could have initially imagined, and in many aspects, Tetris is intriguingly unexpected. It might not leave an indelible lasting impression, but with appealing style and moderate substance, Tetris mostly succeeds in what it sets out to achieve.
The Tetris release date is set for March 31 2023, where it will be available to watch on Apple TV Plus. For more on the movie, check out the details on the Tetris true story. Or, take a look at our picks for the best movies of all time.
Tetris review (2023)
Strong performances and stylistic flair keep Tetris afloat, even when it's anchored down by underwhelming and detail-heavy attempts to thrill.