Who's in the Shrek cast? You might think The Hulk is Hollywood's most likeable green star with a bad temper — not true! Not only is this ogre as bankable as Bruce Banner, he has his life together.
Shrek is not often talked about when we discuss the highest-grossing movies, and sure, it didnt break the industry or anything, but the best animated movies in the canon made a stellar return. And that's not to mention their meta appeal, strong audience scores, and the demand for new movies (soon to be satiated)
When it comes to the Shrek cast, there's plenty of fantastic talent attatched. And we're not just talking about Jennifer Saunders, either. Apparantly, other people were in these?! Let's look at the characters, actors, and where they are now.
The main Shrek cast list:
Mike Myers as Shrek
Eddie Murphy as Donkey
Cameron Diaz as Princess Fiona
Antonio Banderas as Puss in Boots
Conrad Vernon as Gingerbread Man
Cody Cameron as Pinocchio/The Three Little Pigs
Aron Warner as Big Bad Wolf
John Lithgow as Lord Farquaad
Mike Myers as Shrek
Putting on quite possibly the worst Scottish accent of all time, comedy legend Mike Myers stars throughout the Shrek movies in order as the titular ogre, who after falling into a routine of solitude finds himself on a knight's mission to rescue a princess from a tower. Unenthusiastic and crude but willing to get the job done, the Shrek films are largely about him adjusting to new paths in life and building a found family.
Outside of the best movies under the Shrek banner, Myers is most known for the Austin Powers movies, which were a delightful if offensive series that blended spy parody with sex comedy to create something… unforgettable. And, of course, Wayne's World and his stint on Saturday Night Live. His most recent TV and film roles were in 2022, working in front of and behind the camera in The Pentaverate, as well as appearing in Amsterdam.
Eddie Murphy as Donkey
Donkey is Shrek's companion from the very first film onward. The complete opposite of Shrek as an optimist and chatter box, Donkey is prone to landing himself in hot water (and procreating with dragons?) by irritating those around him. But he has a great heart, and often helps the gang get out of bad situations. Granted, he also puts them into those situations fairly often.
Eddie Murphy was and still is one of the most revered names in the world of stand-up comedy, and he has an extensive career lending his voice to animation as well as working in live action comedies. His biggest movies include the Beverly Hills Cop series, Trading Places, The Nutty Professor, and Dolemite Is My Name.
In 2019, he hosted Saturday Night Live for the first time since 1984. It was the most watched episode since a 2008 episode that featured Tina Fey's Sarah Palin. In somewhat of a career resurgence, next up is a George Clinton biopic.
Cameron Diaz as Princess Fiona
Princess Fiona, at the time anyway (this was before the likes of Frozen), was the antithesis to the sometimes antiquated Disney princesses of classic film. Angry at being saved, cursed by magic to have the appearance of an ogre, and a strong personality, Fiona is one of our favorite Shrek characters.
Cameron Diaz stars as Fiona, and is responsible for the iconic "I thought, 'Wow! That's just so realistic.'" meme. Her first big commercial success was in the Charlie's Angels films (bring back camp 2000s movies, please) before leading a string of some of the best rom-coms of the late 2000s-2010s: The Holiday, What Happens in Vegas, Knight and Day with Tom Cruise, and Bad Teacher.
Incredible at imbuing traditionally ditsy blonde roles with a sensitive edge, Diaz retired for some years to focus on her family but is in the middle of a planned comeback. She was named the highest-paid Hollywood actress over 40 in 2013, so we think she has the sauce to pull it off.
Antonio Banderas as Puss in Boots
Who would have thought the shift little ginger cat from Shrek 2 would go onto have the finest entry in the whole franchise? Not us, but it's true; Puss worked his way up from a supporting character to having two spin-offs, the latter of which, was a genuine masterpiece. More on that in our Puss in Boots 2 review.
Antonio Banderas was one of the bigger names brought in off the hot heels of the success of Shrek 1, and we're glad he stuck around. The actor has been working for decades, but a point of interest is his frequent collaboration with Pedro Almovar. Banderas' film debut was in Almodóvar's Labyrinth of Passion in 1982. They've since collaborated on various movies including Women on the Verge of a Nervous Breakdown, The Skin I Live In, and the highly-praised Pain and Glory in 2019. Next up for Banderas is Paddington in Peru!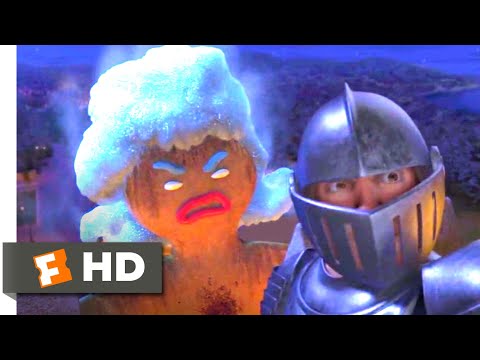 Conrad Vernon as Gingerbread Man
Gingy is a supporting character appearing throughout the series as a friend of Shrek and Fiona's. Slightly fragile and very tasty looking, he's involved in some of the franchise's greatest hits — we're talking Shrek 2's I Need a Hero scene, in particular.
Conrad Vernon is an accomplished voice actor, director, writer, and storyboard artist recognized from other films such as Monsters vs. Aliens, Madagascar 3: Europe's Most Wanted, and the animated The Addams Family movies. He often provides voices for more than one character at a time, and also does some minor work for other background characters in the franchise like The Muffin Man.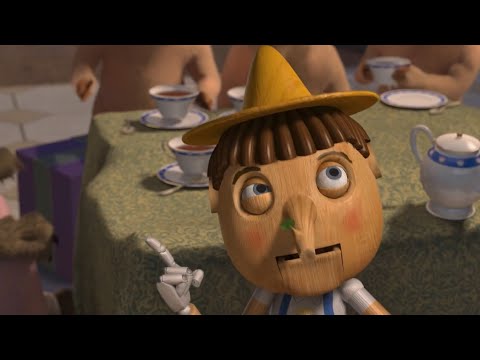 Cody Cameron as Pinocchio/The Three Little Pigs
Cody Cameron, like a few of the other most voice-focused actors on this list, pulled double duty throughout Shrek as Pinocchio and The Three Little Pigs. Pinocchio is, well, pretty much the classic character with more of a humorous twist, and The Three Little Pigs are there to be the bane of Shrek's existence.
Cameron isn't just great in the booth though, he's also a director. He helmed Cloudy with a chance of Meatballs 2. Outside of the Shrek feature films, you've perhaps heard him in the Open Season movies or in the several Shrek shorts that were released in between movies over the years.
Aron Warner as Big Bad Wolf
Aron Warner is Big Bad Wolf, who's not actually too big or bad. He's dry decoration, mostly, unapologetically showing up where he's not meant to be and attaching himself to Shrek and the rest of his crew of fairy tale creatures. Wolf frequently turns up, says something that is meant to make the adults in the room laugh, then disappears again.
The first person to win the Academy Award for Best Animated Feature, Warner actually produced Shrek. Warner began his career as a producer with Freddy's Dead: The Final Nightmare, before moving onto animation and finding heaps of success. His most recent productions are The Angry Birds Movie 2 and 2021's Wish Dragon.
John Lithgow as Lord Farquaad
The very lovely character actor John Lithgow was the very not lovely Lord Farquaad, who hired Shrek to retrieve Fiona in his stead and tried to force her into marriage in the first film — that sleazeball! Farquaad is thankfully sequestered to the original, but his contributions to the memes, like Diaz's, will never be forgotten.
You've seen John Lithgow in plenty, we promise you. An eloquent actor deft at bringing an oddball sensibility to characters, he's a Grammy, Tony, and Oscar nominee. If we listed his credits here we'd run out of space for other actors, but we he can oscillate easily between intensely dramatic roles (Interstellar, Miss Sloane, Bombshell) and silly comedic work (Pitch Perfect 3 *crowd cheers*). We're excited to see him next when the Killers of the Flower Moon release date comes.
Everyone in the Shrek cast
There are multiple films, so to credit every actor, here's a list of everyone who was in the movies.
Everyone in the Shrek cast:
Mike Myers as Shrek/One of the Three Blind Mice
Eddie Murphy as Donkey
Cameron Diaz as Princess Fiona
John Lithgow as Lord Farquaad
Vincent Cassel as "Monsieur" Robin Hood
Chris Miller as Magic Mirror/Geppetto
Cody Cameron as Pinocchio The Three Little Pigs
Simon J. Smith as Blind Mouse
Christopher Knights as Thelonius/One of the Three Blind Mice
Aron Warner as Big Bad Wolf
Jim Cummings as Captain of the Guards
Kathleen Freeman as Old Woman
Andrew Adamson as Duloc Mascot
Bobby Block as Baby Bear from the Three Bears
Michael Galasso as Peter Pan
Julie Andrews as Queen Lillian
John Cleese as King Harold
Rupert Everett as Prince Charming
Jennifer Saunders as Fairy Godmother
Joan Rivers as Red Carpet Announcer
Kate Thornton as Red Carpet Announcer UK version
Larry King as Doris the Ugly Stepsister
Jonathan Ross as Ugly Stepsister UK version
Christopher Knights and Simon J. Smith as Three Blind Mice
Conrad Vernon as Gingy/Muffin Man/Mongo/Cedri/cAnnouncer
Chris Miller as Magic Mirror
Mark Moseley as Dresser
Kelly Cooney as Fast Food Clerk
Kelly Asbury as Page/Elf/Nobleman/Nobleman's son
Andrew Adamson as Captain of the Guard
Joan Rivers as herself
Simon Cowell as himself
Eric Idle as Merlin
Justin Timberlake as Arthur "Artie" Pendragon
Amy Poehler as Snow White
Maya Rudolph as Rapunzel
Amy Sedaris as Cinderella
Cheri Oteri as Sleeping Beauty
Ian McShane as Captain Hook
Susanne Blakeslee as Evil Queen
Regis Philbin as Mabel the Ugly Stepsister
Mark Valley as Cyclops
Chris Miller as the Stromboli
John Krasinski as Lancelot
Seth Rogen as Ship Captain
Tom Kane as Guard No. 1
Kari Wahlgren as Old Lady
Walt Dohrn as Rumpelstiltskin
Jon Hamm as Brogan the Ogre
Jane Lynch as Gretched the Ogre
Craig Robinson as Cookie the Ogre
Lake Bell as Patrol Witch, Wagon Witch No. 2
Kathy Griffin as Dancing Witch, Wagon Witch No. 1
Mary Kay Place as Witch Guard No. 1
Kristen Schaal as Pumpkin Witch, Palace Witch
Dante James Hauser as Fergus
Meredith Vieira as Broomsy Witch
Jeremy Steig as Pied Piper
Mike Mitchell as Witch Guard No. 2, Butter Pants
Ryan Seacrest as Father of Butter Pants
For more of this world, check out our thoughts on the Shrek 5 release date, the shocking Shrek fan theory changes everything, and what Puss in Boots: The Last Wish taught us about anxiety.
We've also got lists of the best family movies, best comedy movies, and best romance movies for you to get your fill of fairy tales, love stories, and kid-friendly content. And for something different, check out The Marvels!