What happens at the end of Riverdale? Spoilers ahead for the grand finale of Riverdale, obviously.
Oh, Riverdale: you won our hearts despite everything. We'll probably never see another series quite like you ever again. For some fans, it's been the best TV series around with all its risk-taking and unpredictability. In fact, as it went on, the show almost became a knowing parody of itself, taking things in ever-wilder directions. That increasing absurdity ranks it among the best drama series of the decade, even if fans (and Riverdale itself) don't always take it seriously.
Now it's all over, for better and worse, and the season 7 finale has arrived to close out the series for good. RIP Riverdale 2017-2023. Always chaotic, never boring. For a full breakdown of what, exactly, we just saw, here's everything you need to know about the full Riverdale ending explained.
But first, a one-line refresher on what happened in the penultimate episode: after our characters spent a season with a fresh-slate in the 1950s they eventually got their good memories back from Angel Tabitha, though only Betty and Jughead decided to remember the good and the bad.
Time waits for no man
That leads us to a time-jump in which we skip a whopping 67 years into the future, into the present. For our characters, the timeline has progressed from the 1950s, to approximately now-ish. Betty and Jughead, in their 80s, are the sole survivors.
Except, not for long. Betty checks the obituary section in the day's newspaper, only to find that Jughead has now died too, leaving her alone. Betty asks her granddaughter, Alice, to take her back to Riverdale for one last trip, before she forgets her former life for good.
On the night before she plans to begin her trip, Betty is visited by Angel Jughead, who gives her an opportunity to go back into the past and relive one single day. Betty thinks and picks the last day of senior year (which she'd missed out on) when everyone got their yearbook.
And then, almost in an instant, Betty is back in the past and young again — renewed and rejoicing in the fresh (old) world around her. She finds Archie discussing his future with Mary and meets Cheryl and Toni, who is hosting an art show, and Fangs and Midge, who sign her book and share hopeful news about their own future.
The Four-awe-some
Perhaps the single biggest revelation (and a long-held fan theory now vindicated) though, comes from Kevin and Clay. They reveal that Betty, Jughead, Veronica, and Archie are now in a polyamorous relationship 'quad'. After Angel Tabitha had given them their memories back, the foursome each agreed that they didn't want to be forced to pick just one partner, when they all loved each other almost equally.
As the day passes and Betty basks in the glory of this new past, she visits Cheryl and Toni's art show, and Cheryl delivers a moving speech about her love for Toni: how their relationship and their art can't be separated, and feed into each other symbiotically. But not all relationships are so blissful, especially when they come in a four.
Veronica tells Archie and Jughead that she plans to move to LA in order to run a movie studio, and the two boys take it as a stinging blow. But Betty interjects, and with her age-given wisdom, she turns things into a positive.
Instead of ruminating about what they stand to lose, the squad embraces and shares their positive memories. With the evening now having arrived, the four take one last trip together to Cheryl's afterparty, though Betty struggles with the knowledge that these will be the final hours she spends with her friends and partners.
In a moving moment bound to delight long-time Riverdale devotees, Archie delivers a memory-packed poem/roast devoted to his friends and their time together. We're not crying; you are. As Betty leaves, Archie kisses her goodbye and shares his hope for their future, a hope that Betty knows can't be fulfilled. And her day is done.
Preserved by the past
Now, back in the present, Betty goes on that trip to Riverdale with Alice. But she never makes it, and she dies peacefully in the backseat before they arrive. Her final goodbye to Riverdale was not in the present but in the past, preserving this idealized version of the town as her final memory of it, untrammeled by the present day's losses.
A young, 17-year-old Betty now arrives at The Sweet Hereafter (the much-adored diner) rather than the 86-year-old Betty. The young versions of her friends are there, too: Archie, Veronica, and Jughead. And in that state of pure, unburdened joy — with milkshakes in hand — is where Riverdale ends. The characters are, as Angel Jughead declares, "forever juniors" and forever young in their death.
What happens to each Riverdale character?
So that's how the story ended. But what happened to each character individually? What did their own fates hold?
Mary meets a woman named Brooke, who she stays with. She also buys her dress shop. Alice Cooper becomes a stewardess and, in one particular adventure, even has to fly a plane herself when a pilot dies unexpectedly. She gets married to one of the passengers she saved on the flight.
Polly still has twins, as she did in the original timeline. However, the major change is that she lives happily with them and her family. Fangs dies on tour when a tire on his tour bus blows while on Rocky Mountain. However, his success secures the financial future of Midge and their daughter.
Reggie becomes a professional and joins the Lakers before returning to coach at Riverdale High. His wife and sons run Mantle Motors. Veronica's decision to move to LA is vindicated. She quickly ends up running a studio and wins Oscars.
Archie moves to California, where he meets his wife. They have a family together, and he writes alongside his career in construction.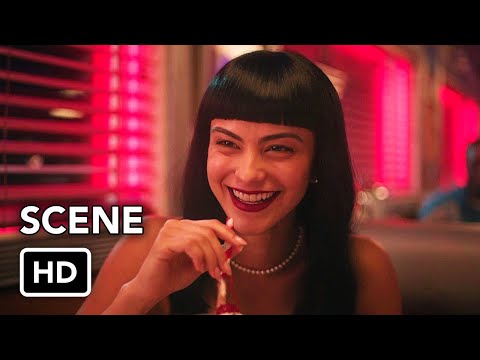 A bittersweet finale, when all's said and done, and the end of an era. Riverdale, we salute you.
For more TV delights, check out our guide to what's new on Netflix this month, and see our picks for the best Netflix series you can stream right now. Or, see what's going on over at Paramount Plus at John Dutton's house as we look ahead to the Yellowstone season 5 part 2 release date.
If you want to swap to movies, see our picks for the best movies of all time and all the new movies coming out this year. You can also keep up with the Dune 2 release date, and Wonka release date, for all the Chalamet-action.