The allure and prestige of industry film festivals and awards are fading at a rapid pace. We all love to watch a 'most awkward moments at the Oscars' compilation the day after the big night, and, like you, I leaped from my seat and flung my body across the room in sheer elation when I saw the video of Harry Styles supposedly spitting on Chris Pine at Venice Film Festival in 2022.
Venice, in particular, usually provides some excellent meme fodder each year. But I can't stand by and pretend to understand the faults of these events any longer. They're supposed to be a celebration of the best movies of the year, complete with the best actors and best directors around showing up and doing their pre-release duty. But, in reality, it's truly a nightmare.
Honestly, with Venice especially, the whole affair seems like an exercise in disconnect, with celebrities being shipped from location to location on water taxis wordlessly waving and trying to step off as elegantly as possible, surely imagining how it might look later in slow-motion. (If you're like Lady Gaga in 2018, you'll be sure to have a flower to hand to sniff occasionally.)
Everyone's looking at each other like, "Yep. We've made it," as if they haven't already made it. The entire aura of the festival feels as though it's been produced from its attendees recreating Eyes Wide Shut for a week. Everyone just can't wait to sit and ponder how great everything is in this cinematic microcosm. Now, the pageantry I could forgive…it's the clapping that's really egregious.
For as long as these prestige festivals have operated, the metrics of the clapping and standing ovations have been shared like a record to be broken. But the idea of being in a room in which people are clapping for several minutes has always activated my fight-or-flight response.
The most recent instance of this clapping phenomenon took place this year during Michel Franco's Memory premiere. When the film ended, the audience erupted into a seven-minute standing ovation. Do you know how long seven minutes really is?! Too long to be clapping, that's for damn sure.
Of course, this is pennies compared to some of the other recorded fiascos that have happened at Venice over the years. Just last year, Martin McDonagh's Banshees Of Inisherin received a terrifying thirteen-minute applause.
Of course, things aren't much better over at Cannes. Quentin Tarantino's Once Upon a Time in Hollywood was also marked by a seven-minute standing ovation. It's both a blessing and a curse that this never-before-seen level of awkwardness was captured on video. As the cameraman moves forward and swoops across the cast, Margot Robbie quickly looks towards her colleagues, trying her hardest not to make eye contact with the lens.
Opposingly, Dakota Fanning looks right at it. When the camera is pushed within an inch of its life closer to her face, she recoils. Each of the cast then gets their turn at a much too intense close-up that lasts longer than any human would feel comfortable making eye contact for. They are caught between the joy of the moment and the terror that it may never end.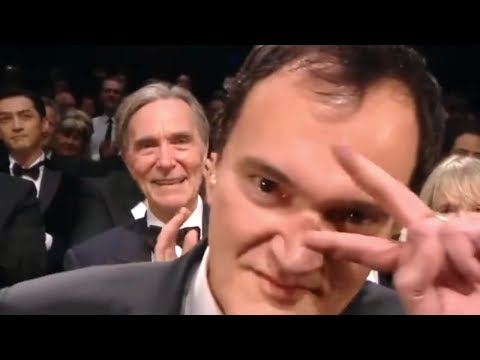 The record for longest-standing ovation at a film festival goes to Guillermo del Toro's Pan's Labyrinth, which clocked in at an eye-watering twenty-two minutes long at Cannes. Pan's Labyrinth is one of the best fantasy movies ever made, but I'd have found a way to claw out of that room from the floorboards downward before I stayed there for the full run.
Sometimes, these clapping attacks mark something a little more malevolent. This year, Venice faced controversy when Woody Allen's new movie Coup de Chance premiered. Protests ensued but did nothing, so you likely won't have missed images of his recognizable visage popping up on your feeds like a neurotic jump scare.
What's more, Coup de Chance ended up receiving a three-minute applause. (It would have gone on longer had Allen not made an exit to cut it off — probably the one good thing he's ever done, in our opinion.)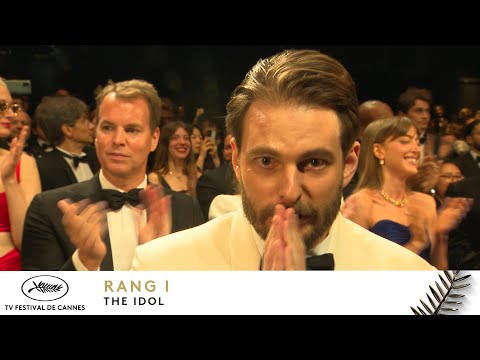 Earlier this year, Sam Levinson's ill-dated drama series The Idol got a five-minute standing ovation at Cannes. We all know how that turned out. You have to wonder who was in the room and why they were clapping at all since the majority of critics would go on to absolutely decimate The Idol in their official reviews. What's at work here? Hypocrisy or pretentiousness on a hypnotic scale?
Admittedly, there have been some moments of rebellion during these standing ovations. Back when the Don't Worry Darling boom was in full swing, Florence Pugh notably walked out during the movie's applause, effectively cutting it short for the rest of her cast and crew. Dramatic? Maybe. But I'd be lying if I said I didn't respect her for it. Elsewhere, Adam Driver lit up a cigarette during the five-minute standing O for Annette in 2021. …Okay, this wasn't exactly rebellious, but it sure looked cool.
All in all, it can't be denied that these festivals don't hold some sort of value in the industry. There's a sense of tradition that, one day, we might miss if it disappears entirely. But as someone who feels their soul shriveling upon watching awkward celebrity interviews and who feels the years coming off their lifespan after going in for a hug at the same time a handshake is offered, I can't pretend to enjoy them anymore.
How much longer can we pretend that this opulent showboating is cool? There's a big, thick line that can be drawn between celebration and awkwardness. It turns out that line is a 22-minute standing ovation.
We don't break into applause around here. Instead, we create lists to present the best of the best, such as our breakdowns of the best drama movies, best war movies, and best horror movies. What's more, we get real deep with our analysis of the best Robert De Niro movies, the best Steven Spielberg movies, and the best James Cameron movies.
You can take a look at our honest guide to film festival hype and our feature on why the Oscars must learn this lesson from the Anime Awards to survive. We've also got a list of all the new movies to come in 2023 for you to take note of.