Allison Williams has very quickly become one of the faces of modern horror movies. In 2017, she performed one of the all-time great movie heel turns in Jordan Peele's Get Out and followed that up with another stellar turn in the unsettling, chilling Netflix movie The Perfection. She's now back on scare duties in Blumhouse's killer robot tale M3GAN.
With M3GAN memes and buzz flowing off the back of one of 2022's most viral trailers, this is a movie plenty are waiting to see – not least due to the presence of producer James Wan and screenwriter Akela Cooper. That duo's last collaboration was 2021's Malignant, which became a truly generational 'WTF' horror as soon as it lurched wildly into cinemas. Nobody will forget that one in a hurry.
In M3GAN, which Housebound's Gerard Johnstone directs, Williams plays brilliant toy company scientist Gemma – the brains behind the titular AI companion, fully named the Model 3 Generative Android. At around the same time as the doll's creation, Gemma unexpectedly becomes the legal guardian of her niece Cady (Violet McGraw) and decides to bond her new AI innovation with the child, only for the bot to become a little too attached – and more than a bit violent.
It's another meaty role for Williams and, in our interview, she discusses her attachment to scary movies, as well as the online feud between M3GAN and Chucky and her own fears about the ethics of a scientific world that seems only a whisker away from producing a very real, very scary murder doll.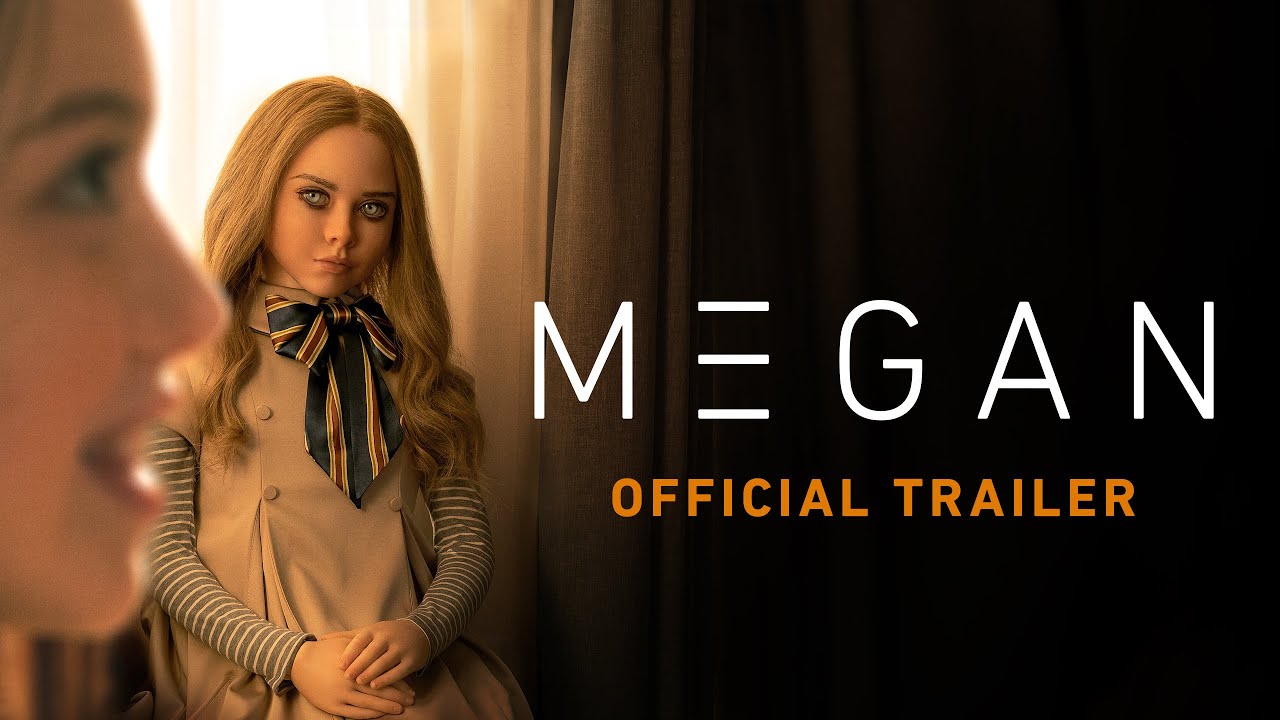 The Digital Fix: You've done a few genre movies – particularly horror movies – now. Is there something that draws you to this genre?
Allison Williams: Just people, I think. I think what draws me to it is just how malleable it is really. What horror fans love about it is this combination of atmosphere and also that you can laugh and have fun. The words people use to describe M3GAN don't necessarily make sense for a horror-thriller – 'fun, a blast, funny'. So I also think that the ability to explore more serious subject matter, because you can play with tone and go in and out of seriousness, I think is one of the real perks of being in the horror genre.
And then the characters, I find, are just super interesting. They exist in this world where realism can come in, and you can play someone who feels consistent and real, even when the circumstances and stakes feel super-heightened and a little bit beyond reality or surreal.
There's a million reasons. It's not some masterplan where I've said, 'I will only consider scripts that live in this genre'. I just keep coming back. It keeps pulling me in.
And having made Get Out, which was so huge, does that loom large over other horrors you do?
A little bit. But I actually think that, more than anything, what it did was really introduce me to this genre and what it's capable of. I am a real scaredy cat. I have trouble with horror movies, for real. They affect my sleep, they really terrify me, and it changes the way I live. I live my life opening closets and looking under beds and behind curtains. I do that anyway, but in the weeks after I watch a horror movie, it peaks, and it's next-level.
But after I made Get Out, I realised that horror movies can be a vehicle for really compelling characters and a fun story. It allowed me to watch them differently in a way that wasn't just terrifying. Maybe because I understood how they were made, I got to enjoy them a bit more rather than watching them through my squinting eyes. I realised why horror fans love the genre so much.
I was going to ask about other killer doll and robot films you've seen, but maybe if you're a scaredy cat, you haven't seen that many?
I certainly haven't seen as many as people I've been talking to for interviews over the last couple of days, but I've seen the basics. At the premiere, James Wan said the way he and Akela talked about it initially was that it's a hybrid between Annabelle and The Terminator.
I would say that's in the DNA of the movie, for sure. There are some tips of the hat to Terminator, especially. I think for anyone who has seen the whole catalogue of AI-robot-doll things. You'll feel like it's pleasantly familiar but also surprising and new, and unpredictable.
We think M3GAN is the most fabulous to come along. I know James wouldn't say that because he'd have to choose between his children, but we think she's pretty fantastic.
Definitely, and tell me about the process of working with a younger cast member like Violet. What's the process like of getting your chemistry where it needs to be?
It was just hanging out with her, off-set. The hardest thing, honestly, was that I really love being around kids. I love Violet, and I just want to hang with her all the time. I think kids are fascinating, especially at that age. Their minds are so open.
The hardest thing in scenes with Violet was not to just leap across the bed and hug her. When Cady is sad, Gemma doesn't have the tools to understand what she needs in those moments, but all I wanted to do was hug her and talk about it.
But Violet is so talented and that made it really easy. When you're working with kids, they have different hours and, even in the scenes when she wasn't there, her performance was so impactful that I could just summon it with my imagination whenever I needed to. She was so good.
And, of course, you're also working with M3GAN, and some of that is tech-based, and some of it is human-based. Was that more of a technical challenge than you have faced before?
I don't want to explore the magic of how M3GAN works, so I'm gonna choose my words carefully here. But yes, a technical challenge is a great way to put it. We were all prepared for it to be a big lift and a team project, so to speak, but I don't think we could have anticipated just how challenging it was going to be.
We were all luckily rowing in the same direction, totally determined to get it right and to bring her to life as best we could. Certainly my most challenging co-star ever, and I think she will probably keep that title, but it was very rewarding, and I learned a lot.
One of the things that I think is fascinating about this film is that, as soon as the concept was announced and certainly as soon as the trailer came out, you had a sort of viral fame. What was that like, and does that affect how you think people will see the movie?
Well, my hope is that people just feel excited to spend 90 minutes with M3GAN. I think, based on the reaction to the trailer, people just get her. They understand her vibe and her very specific energy as a character.
Based on the views on the trailer and the memes that came from it – I'm still learning to be on TikTok and all of that – we just feel excited that people are excited about her, and they might, at the beginning of the year, go out to a theatre to spend more time in M3GAN's world.
We think the trailer is just the tip of the iceberg, and I hope people go see it. It's a big ask these days to be like 'leave your house to go see this movie' because people are like 'why would I leave home if I can just watch movies on my couch?'.
But I really think that, coming out of the experience of watching it in a packed theatre at the premiere, I cannot recommend it enough as a way to enjoy the movie. We know it's a big ask and I try to make the bar for myself that I want to make things that I can stand behind and ask people to go see in a theatre. I can wholeheartedly say that if you go to see this in a packed house, it's gonna be so much more fun.
You've also, since the trailer came out, developed a friendly rivalry with another killer doll in Chucky.
People keep using the word "rivalry". I don't see a rivalry. How can you come up against a doll that has the entire internet in her head? I don't think it's a fair fight.
She would be able to look up Chucky and understand his weak points. She could look up the plot synopsis of all the movies and memorise his Wikipedia page. It's just really not a fair fight, unfortunately for our guy.
Don Mancini, the creator of Chucky, is up for a cross-over sequel. Is that something you'd be interested in doing?
Of course, I'm open to anything. Especially in this genre, at this point. I would definitely be very interested in staying in this world for a bit longer if they'll have me.
And finally, was there anything you unearthed in research about real-life robotics that unsettled and scared you?
Oh my god, what a big question. Literally, everything I learned unsettled me. It was mostly just humbling to realise, first of all, how brilliant the people are who work in this field and how committed they are to thinking critically about all of the ethics of this subject area.
Many of them feel like the ethical discussions are behind the eight-ball in terms of the progress that is being made. We are moving faster than we are evaluating and assessing how we all feel about it, and that makes them a little uneasy. If it makes them uneasy, it should make all of us very uneasy.
One of the things I'm kind of hoping the movie will do is slightly adjust or shift or revise or renew the conversation around AI and humans and the way we interface and let us all have a little think about how we feel about it all. I think it's really important to ask ourselves that question.
If you want to know how to watch M3GAN (trust us, you do. Read our M3GAN review if you don't believe us), we've got you covered. We've also a guide breaking down who the doll in M3GAN is. If that's not enough, we've also got a list of all the new movies coming in 2023, including Mission Impossible 7, Barbie, and Oppenheimer.