Harrison Ford has been on something of a decades-long victory lap in the last few years, revisiting and saying goodbye to the roles that made him a Hollywood superstar — Han Solo, Rick Deckard, and now Indiana Jones.
At the Cannes Film Festival, during the premiere screening of Indiana Jones 5 (or Dial of Destiny to give the adventure movie its proper title), Ford was awarded an honorary Palme d'Or as a lifetime achievement award for his fifty-plus career. The normally emotionally-lacquered Ford was visibly moved by the gesture, commenting that this was truly the end of an era for him.
Ford has spent 42 years playing the whip-cracking archaeologist. His previous attempt at an Indy-swansong came in 2008 with the Steven Spielberg movie, Kingdom of the Crystal Skull, which left critics and fans divided. Many believed that would be the last we saw of him in the role.
But much like his Indiana character in the fifth and (most likely) final film, Ford was swayed by director James Mangold (Ford vs Ferrari) to come back for one final globe-trotting frolic. This is the first time Steven Spielberg hasn't been in the director's seat for an Indy picture.
However, given Mangold delivered a terrific much-deserved sendoff to Hugh Jackman's most recognisable role (Logan), many thought Mangold could do the same justice for Indy. Is this the farewell our heroic Indy deserves? Is Dial of Destiny redemption for Crystal Skull's nuclear fridge and Tarzan-swinging monkey antics?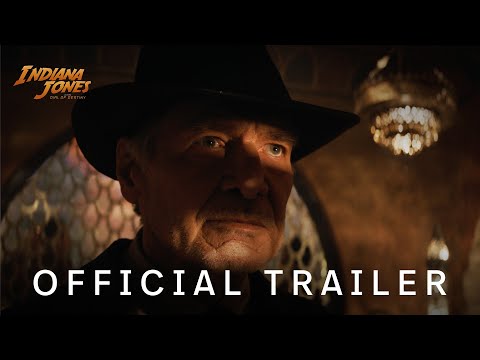 Sadly, there's not much snap in Indy's whip this time around, either. Whilst the action movie has no shortage of fun action set-pieces, the screenplay reeks of too many chefs in the kitchen. Jez Butterworth, John-Henry Butterworth, David Koepp and James Mangold all contributed to the writing process and what we get is a paint-by-numbers, find-the-MacGuffin plot and an even more bizarre final act than what we got in Crystal Skull – and that's saying something.
The film opens with a prologue set in 1944 where a younger Indy (played by a convincingly de-aged Ford) tries to reclaim some of humanity's most precious historical artefacts from the Nazis along with the help of his friend Basil Shaw (Toby Jones).
We then jump to 1969, where a now 70-year-old Indiana is about to retire from his job as a university professor. His glory days are long behind him, that is, until Basil's daughter (and Indiana's Goddaughter) Helena "Wombat" Shaw (Phoebe Waller-Bridge) tracks him down.
She informs him that her deceased father's work points to the location of a priceless ancient artefact that her father and Indy encountered during the war. A mysterious Antikythera – a dial that once belonged to Archimedes with unknown properties but was split into two pieces out of fear of it falling into the wrong hands.
Naturally, Indy joins Helena for one last adventure to find the pieces of the dial before a cunning physicist from Indy's past; Jürgen Voller (Mads Mikkelsen), gets to it first.
If you think the plot sounds familiar, you would be right. Find-the-item-before-the-Nazis is essentially the same plot as the Raiders of the Lost Ark. So right out the gate, this outing feels like a retread of the first – only less fresh and with half the charm.
Mangold does his best to honor both Spielberg and the adventure serial style of the '30s and '40s. There's map-jumping to numerous locations, booby-trapped caves and encounters with creepy crawlies, and John Wiliams's impossible-not-to-hum-along score swells on more than one occasion. Still, all these nostalgic throwbacks come across like an exercise in corporate box-checking rather than natural film-making.
Despite the screenplay's goofy shortcomings, it's not all chase scenes and punching Nazis. At its best, Dial of Destiny serves as a celebration of Harrison Ford's tenure as Indy. Ford is now 80 and still more than up to the physical demands of a grave-robbing hero.
Ford's age is actually integral to the plot because time is a prevalent theme. From the opening tick-tick-ticking, Mangold lays it on thick that time is not on Indy's side. He makes many remarks about his battered body – that he's a relic in a young man's game. Ford still commits fully, even during the most absurd hijinks the writers put him in.
Mangold also answers some burning questions, such as the whereabouts of his son Mutt and ex-wife Marion – played in the previous film by Shia LaBeouf and Karen Allen, and it's in these few quieter vulnerable moments that Ford really shines. Whether it's grieving the loss of a close friend or the end of his marriage, Ford makes each moment count.
Phoebe Waller-Bridge meanwhile serves as the film's comic relief. She brings her signature quirky energy to the resourceful and quick-witted Helena – although, at times, it does feel a little too close to her synonymous Fleabag character. You can practically see her fighting the urge to turn towards the camera as she finds a flask of alcohol and lets out a cheeky "promising".
She and Ford make for a fun pairing, but the rest of the players have very little to work with. Mads Mikkelsen does the best he can with the paper-thin material he's given. Antonio Banderas stops by for a thankless part as Indy's buddy-with-a-boat Renaldo. Not to mention the return of John Rhys-Davis to play the role of Egyptian Sallah seems shortsighted by Disney's standards.
Even this film's substitution for Short Round, pickpocket Teddy (newcomer Ethann Isidore), doesn't have the cute sparky energy that Ke Huy Quan brought to the table with Temple of Doom.
In the end, Dial of Destiny is a poignant sendoff for everyone's favourite whip-slinging archaeologist. Even if the finale misses the target, there's a lot of joy to be had to watch Harrison Ford dust off the leather jacket and pop the fedora on again for one last escapade.
If you love great films, check out our list of the best movies ever made. We've also got a breakdown of all the new movies coming in 2023 and have separate articles revealing everything you need to know about the Dune 2 release date, the Oppenheimer release date, and the Barbie release date.
Indiana Jones 5 review
Indiana Jones and the Dial of Destiny gives Indy and Harrison Ford poignant send offs but it's let down by an over reliance on nostalgia.