Why is Gabriel not in heaven in Good Omens season 2? Good Omens is finally back on Amazon Prime after a very long wait. It's good to be reunited with our favorite angel and demon duo, Aziraphale (Michael Sheen) and Crowley (David Tennant). But this time, they have a gatecrasher in the form of the Supreme Archangel Gabriel (Jon Hamm). But why is Gabriel not in heaven, and instead in Aziraphale's Soho bookshop?
In Good Omens season 2, episode 1, Gabriel arrives on the door of Aziraphale's bookshop naked, holding a seemingly empty cardboard box. This puts Aziraphale and Crowley into a panic, as they have to hide him from both heaven and hell while they try to figure out why on earth he's there. They give him the alias Jim and perform a miracle to conceal him. But it's not until the Good Omens season 2 finale (episode 6) that we find out why he's not in heaven.
In season one of the fantasy series, Gabriel was an autocratic bureaucrat and a thorn in Aziraphale and Crowley's side. At the end of season one, Gabriel tried to kill Aziraphale in hellfire as punishment for thwarting Armageddon. Therefore, there's no wonder that Aziraphale isn't exactly pleased to see him in season two. So why is Gabriel not in heaven in Good Omens season 2?
Why is Gabriel not in heaven in Good Omens season 2?
Gabriel has been cast out of heaven because he refuses to participate in another war with hell, leading to another Armageddon. Heaven wipes Gabriel's memory before casting him out. The reason Gabriel doesn't want to fight hell is because he's fallen in love with the Grand Duke of hell – Beelzebub (Shelley Conn).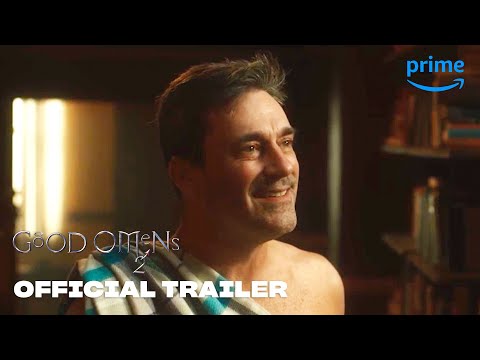 In Good Omens season 2, episode 6, Crowley goes to heaven with Muriel (Quelin Sepulveda) to finally discover what's been going on with Gabriel. They find a recording of a meeting between Gabriel and the other archangels – Michael, Uriel, and Saraqael. Gabriel says; "Armadeggon: The Sequel? That's a nah." Gabriel seems quite happy with being cast down to hell as punishment (for reasons which will transpire later).
The Metatron (Derek Jacobi) tells Gabriel that he'll remain an angel (although a junior one), and have his memory of his time as Supreme Archangel erased. He says; "well I just need to take off my clothes and clean out my desk then." Gabriel can be seen writing something on the bottom of the cardboard box and dropping the matchbox later found by Muriel. Gabriel leaves heaven before being officially "let go," prompting the search for him. With his memory wiped, some instinct leads him to Aziraphale – perhaps he remembers deep down that Aziraphale doesn't want Armageddon, or a war between heaven and hell either.
In the present day, Beelzebub arrives in Aziraphale's bookshop, gives the fly containing Gabriel's memories back to him and we discover the truth. In a series of flashbacks, Gabriel and Beelzebub make a deal for "no Armageddon" and keeping the status quo. They also start bonding over their similar positions of responsibility (in heaven and hell) and over Buddy Holly's song Everyday.
They go to The Resurrectionists pub in Edinburgh and Beelzebub gives Gabriel the fly, telling him that it's a container and he can put things in it. Gabriel says; "no one's ever given me anything before." Back in the present day, Gabriel says; "I would like to be with Beelzebub. Where Beelzebub is, is my heaven." They start singing Everyday and disappear – how romantic.
So, there's the explanation for why Gabriel leaves heaven and arrives at Aziraphale's bookshop. There are now two star-crossed couples to 'ship' in the world of Good Omens – angel Gabriel and demon Beelzebub, and angel Aziraphale and demon Crowley. The other romance in season 2 was between humans Maggie (Maggie Service) and Nina (Nina Sosanya).
If you want to know more about Good Omens season 2 ending explained and Do Crowley and Aziraphale get together – we have guides on these topics too. Be sure to check out our Good Omens season 2 review and our Good Omens season 2 cast list as well.
If you're a fan of fantasy series, check out our guide to The Wheel of Time season 2 release date, and to The Sandman season 2 release date. You can also find out what else is new on Amazon Prime.