What do I need to know before Good Omens season 2 starts? Good Omens is finally back with a new season on July 28, 2023, and we highly recommend that you watch season 1 on Amazon Prime before tucking into season 2. However, the first season was aired over four years ago, so even if you did watch it, you might need reminding of a few important things before you catch up with your favorite demon and angel.
In Good Omens season 1, the angel Aziraphale (Michael Sheen) and the demon Crowley (David Tennant) join forces to thwart Armageddon. This particular apocalyptic event would have been caused by Heaven and Hell going to war. This battle over Earth made the first season one of the best fantasy series of the last decade.
That's right – the forces for good residing in Heaven (up to and including God) were so hellbent (sorry) on a war with the evil forces of Hell that they didn't care that a by-product would be the destruction of Earth and the entire human race. Aziraphale and Crowley have both resided on Earth throughout all of human history and have both become very fond of it. So that's their motivation for defying Heaven and Hell in Good Omens season 1, which has alarming consequences.

What happens at the end of Good Omens season 1?
In the Good Omens season one finale, Aziraphale and Crowley successfully prevent Armageddon – yeay! But Aziraphale is summoned to Heaven to be punished, and Crowley is summoned to Hell to meet his fate. Both are sentenced to 'death' – or what 'death' looks like for an angel and a demon.
The only way the angel Aziraphale can be destroyed is in hellfire, which Archangel Gabriel (Jon Hamm) has brought to Heaven by a demon, especially for the occasion. The only way the demon Crowley can be destroyed is in a bath of Holy Water, which Archangel Michael (Doon Mackichan) delivers to Hell personally.
How are Aziraphale and Crowley still alive?
Miraculously, Aziraphale is unscathed by the hellfire, and Crowley enjoys his bath in the Holy Water so much that he asks for a rubber ducky. It is revealed that Aziraphale and Crowley swapped bodies so they could not be harmed by their respective punishments.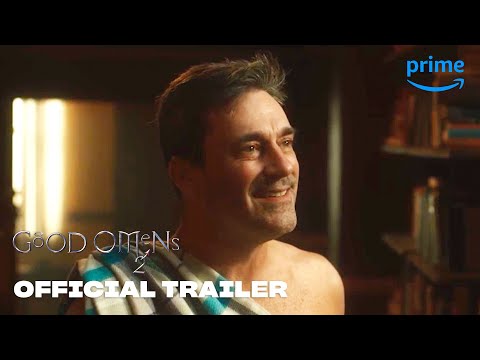 Heaven and Hell are now scared of the rogue demon and angel (who appear to be more powerful than they thought), but they also distrust both of them and are surveilling them. They are both now outcasts, residing on Earth – which suits them just fine. After all, their goal for centuries has been to be left alone by the bureaucrats of Heaven and Hell so they can enjoy their earthly delights in peace.
This peace is disrupted for both Aziraphale and Crowley in the first episode of Good Omens season 2 – a demon Shax (Miranda Richardson) keeps tabs on Crowley, then he's summoned to Hell by Beelzebub (Shelley Conn). And the Archangel Gabriel arrives at Aziraphale's door….naked.
So, that's the important information to remember before you start season 2. Crowley is 'persona non grata' in Hell, and we presume the same is true for Aziraphale in Heaven. The last time Aziraphale saw Gabriel, he was trying to kill him with hellfire, so he's understandably unsettled when he arrives on the doorstep of his beloved bookshop.
While you wait for Good Omens season 2 to start, you could always check out some other fantasy series. Check out our guides to The Witcher season 3 part 2 release date, Wheel of Time season 2 release date, and The Sandman season 2 release date.
If you're looking for something less fantastical to binge, we've got a list of the best TV series ever made for you to peruse. We've also got an article breaking down everything new on Amazon Prime video for all your streaming needs.