Action movie lovers, rejoice! The trailer for Chris Hemsworth movie Extraction 2 has finally dropped, with the former Thor cast member looking better than ever as he reprises his role as Tyler Rake. But wait, didn't Tyler die in the last Extraction movie? Yes, but there's no time to talk about that now.
The sequel plunges Hemsworth straight into action as he brawls in what looks like an icy prison yard, and in another scene seems to be protecting an as-of-now-unknown woman (Tinatin Dalakishvili) and using a riot shield to both absolutely batter people and to ward off a Molotov cocktail. He also throws a flashbang into the sky and punches someone while his arm is literally on fire, so it's safe to say there won't be a dull moment in this upcoming sequel.
Not much is known about the plot for the upcoming thriller movie, with the official synopsis remaining brief. "After barely surviving the events of the first movie, Rake is back as the Australian black ops mercenary, tasked with another deadly mission: rescuing the battered family of a ruthless Georgian gangster from the prison where they are being held," it reads.
What we do know is that, like its predecessor, the Netflix movie will be directed by former stuntman Sam Hargreeve. Also returning are the Russo brothers, with Joe Russo writing the script and Anthony Russo staying on board as producer.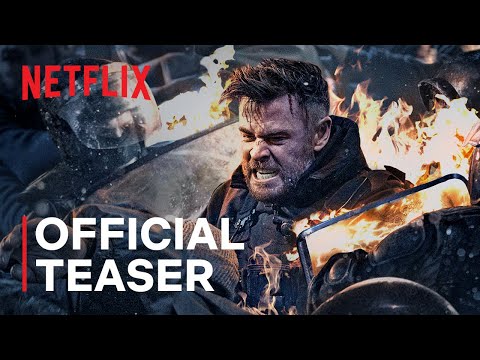 Speaking to Entertainment Weekly last year, former superhero movie star Chris Hemsworth said of Extraction 2, "We sort of went for the moon. In a very crowded world of action, I think we did something that's very unique."
The Extraction 2 release date is June 16, so you won't need to wait long to see how exactly Tyler Rake cheated death. But if you need something else to watch in the meantime, check our guides on the best movies like John Wick, how and when to find John Wick 4 streaming, all the new movies coming this year, and the best movies of all time.