What was the Disenchantment season 5 release date? With five seasons and many adventure-rich episodes under its belt, the story of Bean, Elfo, and Luci came to a close with the latest season of the show.
Disenchantment quickly became one of the best Netflix series the streamer had to offer adult animation fans, and after all the plot twists of season 4, fans were anxious to know what would happen next. From an evil Bean doppelganger to summoning Satan, and Queen Dagmar continually up to no good, season 5 needed to answer lots of questions and solve a lot of mysteries. Plus, a chance to fly in the freaky skies once more didn't go amiss.
Luckily, if you're looking for intel on the Disenchantment season 5 release date, cast list, and more, you're in the right place. Here's everything on the final misadventures of Bean and the gang. And hey, if you're in need of a replacement, we have guides listing the best animated movies and best animated series.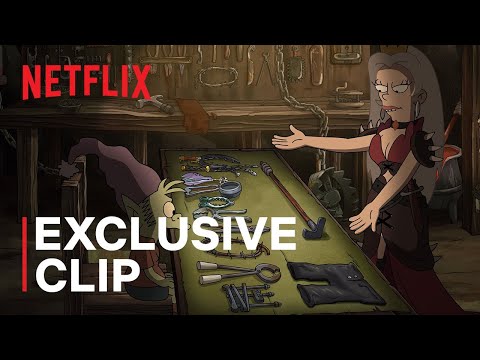 Who's in the Disenchantment season 5 cast?
Disenchantment was known for its stellar voice actors, so fans were pleased to know that the majority of cast members returned for season 5, including Abbi Jacobson as Bean.
Here's the Disenchantment season 5 cast list:
Abbi Jacobson as Princess Tiabeanie, aka Bean
Eric André as Luci
Nat Faxon as Elfo
John DiMaggio as King Zøg
Sharon Horgan as Queen Dagmar
David Herman as The Herald
Billy West as Sorcerio
Maurice LeMarche as Odval
Tress MacNeille as Queen Oona, Prince Derek, and Jasper
Rich Fulcher as Turbish
Richard Ayoade as Alva Gunderson
Matt Berry as Prince Merkimer
Noel Fielding as Stan the Executioner
Meredith Hagner as Mora the Mermaid
Lucy Montgomery as Bunty and Becky the Enchantress
Billy West as Sorcerio, the Jester, Mertz, King Rulo, Leavo and Pops
Disenchantment season 5 release date and reviews
The fifth and final season of Disenchantment was released on Netflix on Friday, September 1, 2023. Season 5 was met with positive reviews.
Ready Steady Cut's Romey Norton wrote, "Is Disenchantment Season 5 worth watching? Yes. It's a first-class fantasy sitcom. The characters are impressively silly and dramatic, mixing that with entertaining, easy-to-follow storylines, making this a must-watch series."
What is Disenchantment season 5 about?
To save Dreamland from Queen Dagmar, Bean must defeat her mother and outrun a prophecy that predicts she will kill someone she loves. Our heroes face Satan, an evil scientist, and their destiny in Disenchantment season 5's plot.
Let's recap a little on the ending of season 4 (spoilers ahead, of course!). Viewers watched as Bean majestically defeated her dream doppelganger, Bad Bean, before falling (quite literally) from height as Queen Dagmar threw her into the sea. Luckily, Bean bounced back to take on her mother in season 5.
Disenchantment season 5 trailers
The first trailer for Disenchantment season 5 was released on August 1, 2023, and gave a summary of the story so far, as well as a glimpse of the mischievous adventure to come!
The trailer told us that Bean and the gang were set to face "their greatest challenge yet", and that the very fate of Dreamland hung in the balance. Further clips were released after, and you can see them above and below.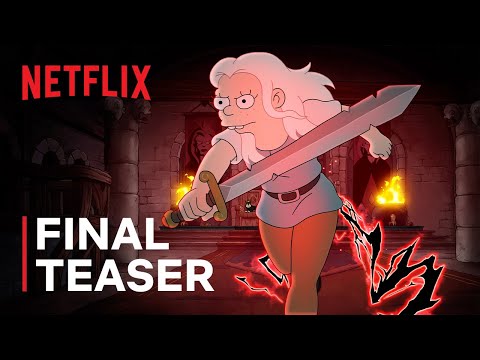 Where can I watch Disenchantment season 5?
Season 5 of Disenchantment is streaming on Netflix, just like the seasons prior.
The first four seasons of Disenchantment have found their home on the streaming service, too. If you're looking to re-watch or watch for the first time, then that's where you want to head.
How many episodes of Disenchantment season 5 are there?
The final season of Disenchantment consists of ten episodes. That makes perfect sense since all the seasons up until now have also had ten parts.
That's it for now (and forever), folks. We hope you enjoyed this series as much as we did.
If you love great television, check out our list of the best TV series ever made, or we've got a list of everything new on Netflix this month. If you'd like to know more about the best cartoon characters, check out our lists of the best Simpsons characters and the One Piece characters ranked.
To see what's next on our radar, take a look at everything we know about the Solar Opposites season 4 release date, the new movies coming soon, the Lower Decks season 4 release date, and the Invincible season 2 release date.