When is the Despicable Me 4 release date? It has been several long years since we last saw Gru and his adorable adopted daughters (if you don't count the Minion movies, which we don't), so what's the deal, Universal? Are we ever getting a sequel?
The good news is that more Despicable Me is on the way. But what form will it take? New movies, spin-offs, more Minion adventures? We've done some digging in the yellow dunes to unearth the details.
Some of the best animated movies for kids from the last decade, Gru and his family have won over many hearts. So without further ado, here's our guide to everything you need to know about the Despicable Me 4 release date, including whether it'll be on any of the best streaming services.

What's the Despicable Me 4 release date?
Unless it's delayed, Despicable Me 4 will be released in theaters on Wednesday, July 3, 2024.
The sequel was announced in February 2022, and subsequently scheduled for a theatrical release just a few days out from The Lion King prequel Mufasa, but there hasn't been any news about the film since then. We know the saying goes 'No news is good news.', but we personally think the lack of any more information may point to a delay, especially given the strikes that started in 2023 in Hollywood.
That being said, Steve Carell told The Digital Spy production is underway as of June 2022, saying: "I've started, we've done a couple of sessions so far." Sounds promising!
Who's in the Despicable Me 4 cast?
Despicable Me 4 will bring back the established cast from previous movies, including Steve Carell as Gru and Pierre Coffin as the Minions.
Kristen Wiig is also set to return as Gru's love interest, Lucy Wilde. More Wiig is never a bad thing. Some names, such as Julie Andrews, have not yet been confirmed.
The expected Despicable Me 4 cast list:
Steve Carell as Gru/Dru
Kristen Wiig as Lucy Wilde
Pierre Coffin as the Minions
Miranda Cosgrove as Margo
Dana Gaier as Edith
Nev Scharrel as Agnes
Steve Coogan as Silas Ramsbottom
Julie Andrews as Marlena
What is Despicable Me 4 about?
Despicable Me 4's plot might pick up after the events of Despicable Me 3, and see Gru, Lucy, and the girls working as a family with the Anti-Villain League.
That information comes from Carell himself, who told The Digital Spy, "It's a continuation of the story. Gru and Lucy are married [and] they're a family at this point," he said. "It's the next step in their world with the Anti-Villain League and how their kids are included in the whole process."
Chris Renaud in the director's chair after skipping the third movie with Patrick Delage co-directing and Mike White penning the script. Admittedly, 3 wasn't one of the best movies in the franchise, so we're hoping for a return to form.
Is there a Despicable Me 4 trailer?
Despicable Me 4 does not have a trailer yet, but we think the first footage will be released around six months prior to the film's July 3, 2024, release.
If it ends up moving, then the trailer timeframe will shift with it too. With Despicable Me 3, Illumination released the first trailer in December 2016 before the movie's June release. Some projects have much less time between the first trailer and the wide release, but we're going to bet on a similar strategy to Despicable Me being used for 4.
In the meantime, find out how to watch Minions 2.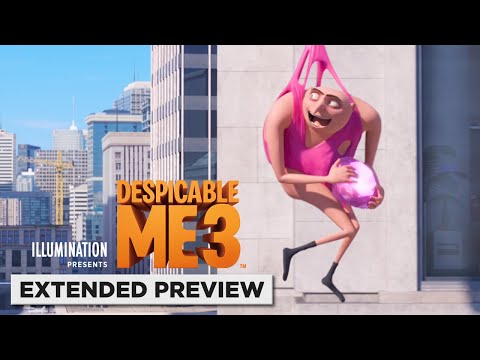 Where can I watch Despicable Me 4?
You'll be able to watch Despicable Me 4 exclusively in cinemas on July 3, 2024, before it trickles down to VOD platforms and then eventually to a streaming service.
Typically, Peacock gets the rights to new Universal movies after their theatrical and rental/purchase-only windows, for at least the first four months. And right enough, the third film is currently streaming there.
Get amped for other releases with our guide to the Shrek 5 release date and the potential DC League of Super Pets 2 release date. And if you need Minions memes explained, we've got you covered (not for kids). Also, Minions cannot die, in case you were wondering. Outside of the yellow mushroom cloud's best family movies, we've got a guide to the best cartoon characters for you to enjoy.