When is the Black Adam release date? The hierarchy of power in the DCEU is about to change… or at least it is according to Dwayne Johnson. The former wrestler's Black Adam movie has been in the works for so long that at one point, it looked like it would never see the light of day. But as more DC movies arrive starring its costumed crusaders, the anti-hero is finally making his way to cinemas.
Johnson has circled the character ever since 2007 when DC and Warner Bros. were originally developing the Shazam! movie, and although he was originally set to star as Billy Batson's alter-ego, the studio also told him about Black Adam. The star told Slash Film at the time that "he's a character that I can't wait to play" — well, he's finally got his wish.
It took well over a decade, but production finally started in April 2021, eventually wrapping a few months later in July. DC and Warner Bros. have kept the project well under wraps, but we already know plenty about the Black Adam release date and what to expect when the Dwayne Johnson movie eventually crashes onto the big screen.
What is the Black Adam release date?
Black Adam will be in theatres October 21, 2022. Black Adam's original release date was December 22, 2021, but it was delayed due to the pandemic.
Black Adam was then slated to open on July 29, 2022, a delay that worked in the studio's favour, since its original December 22 date would have seen it go up against the release of a small, independent film called Spider-Man: No Way Home.
Tom Holland's third Spidey sequel has since gone on to become the sixth highest-grossing film of all time – so yeah, Warner Bros probably made the right choice.
WHAT happens IN BLACK ADAM?
The film follows Teth-Adam (Dwayne Johnson), a vicious fighter whose family is killed when a hostile force invades his homeland of Khandaq, and he's forced into slavery.
Black Adam breaks his chains to become a vicious anti-hero after the Shazam Wizard grants him thunderous abilities – but he's such a powerful force that he's imprisoned for 5000 years. When he breaks free, he winds up crossing paths with a group of heroes called the Justice Society of America.
The team is made up of heroes like Atom Smasher – who can grow to gigantic sizes and has super strength, Hawkman – a winged adventurer who reincarnates when he dies, Doctor Fate – a sorcerer with ties to mystical entities called the Chaos Lords, and Cyclone – a woman who can summon whirlwinds on command.
Johnson teased that the film will take place in the modern-day timeline of the DCEU, although it's not clear if the JSA are working together at the same time as Superman, Batman, Wonder Woman, The Flash and Cyborg.
Power of the wizard: Best fantasy movies
Since Black Adam is the archenemy of Shazam – who has his own movie starring Zachary Levi – it wouldn't be surprising if the solo film sets up a future conflict between the two characters. Although they both have similar abilities, they've got a vastly different perspective of the world. Shazam has an optimistic, fun approach to his powers – while Black Adam believes he should use them to dole out justice by any means necessary.
Since Shazam: Fury of the Gods is currently set to release on March 17 2023, it wouldn't be surprising if a third film starring Levi pits him against Dwayne Johnson's antihero.
Is there a Black Adam TRAILER?
There is a full Black Adam trailer, and it was shared by Dwayne Johnson in June 2022. We got a look at Black Adam's powers, as well as other DC heroes like Hawkman and Atom Smasher.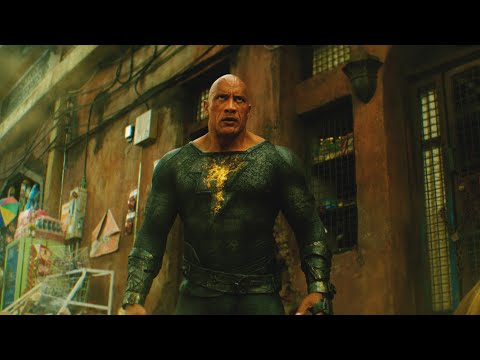 We got a new Black Adam trailer at San Diego Comic-Con 2022, which saw Adam battling the Justice Society.
Before this, we got a brief teaser at DC FanDome 2021. The teaser used animated artwork explaining who Black Adam is and what his backstory is while Dwayne Johnson delivered an atmospheric narration.
The artwork shows Teth-Adam as a slave in Khandaq, before he's granted those thunderous powers – and it also gave fans a glimpse of what to expect from his costume.
Although it's a similar design to the Shazam outfit with a large lightning bolt on his chest, Black Adam's suit is much more intimidating with armoured gauntlets and gold trimmings. It's a bold look, that's for sure.
Shazam! Best action movies
Who is in the Black Adam Cast?
Although Dwayne Johnson is leading the charge in Black Adam, this isn't a one-man show. Warner Bros and director Jaume Collet-Serra have assembled an impressive array of stars to play other heroes in the DCEU, most notably Piers Brosnan.
In fact, the Justice Society of America will definitely impress long-time fans, with To All The Boys I've Loved Before star Noah Centineo appearing as the powerful Atom Smasher – while horror fans will recognize Hawkman as Aldis Hodge from The Invisible Man.
Suit up! Arrowverse in order
Quintessa Swindell is best known for playing Anna in HBO's Euphoria, but they'll suit up as Cyclone for Black Adam. But the DC film has also snagged (former) James Bond himself, Pierce Brosnan, as Doctor Fate A.K.A. Kent Nelson. He's an archaeologist whose Helmet of Fate grants him magical abilities.
The JSA aren't the only people Black Adam meets in the film, as Person of Interest star Sarah Shahi is set to play resistance fighter Adrianna Tomasz AKA Isis. Viola Davis is also set to reprise the role of Amanda Waller.
Uli Latukefu also has an unknown role in the film, but since he played a younger version of Dwayne Johnson in the Young Rock TV series on NBC, it seems likely he'll star as a young Teth-Adam.
If you're excited about the future of the DCEU, you may be keen to check out our guide to the Aquaman 2 release date.